The Rose Chapel
#99 in USA
#19 in Fort Worth
Chapels
1519 Lipscomb Street, Fort Worth, TX 76104
Claim Listing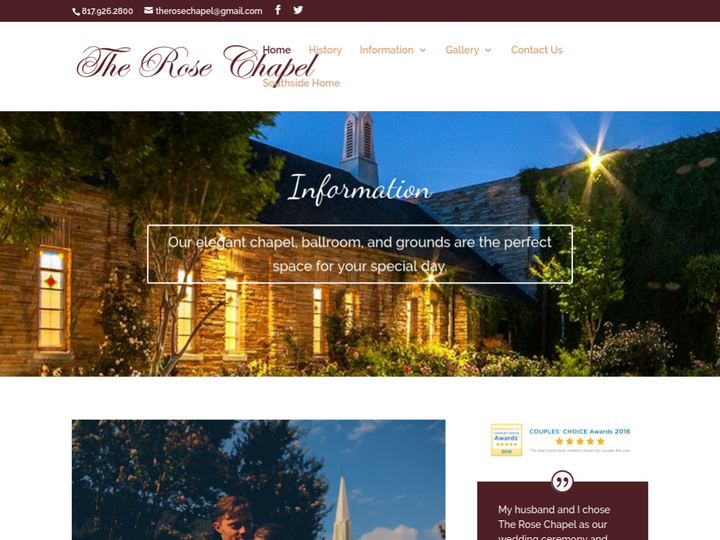 Company Description
Wedding Venue Complete with Indoor Chapel and Outdoor Courtyard full service wedding venue ready to host your dream wedding! We can accommodate indoor weddings in Rose Chapel and outdoor weddings in our immaculate courtyard. Once you are hitched, stay and celebrate in the Grand Ballroom or the reception salon
Review & Rating

The venue is absolutely beautiful! The staff were incredibly pleasant to work with. I was so impressed with how they just took control so I could relax and enjoy my daughter's wedding. And then there's Roy. He needs a rating just for himself. When you meet him you'll know what I mean. One of the funnest, most animated people I've ever met. He was amazing!

Beautiful wedding and gorgeous reception place

Roy the director was rude, other than this the chapel was beautiful with a nice sized banquet room

Went for a wedding reception, it's a beautiful venue. Gets a little hot if there is a large group in the smaller reception room, but a really cute setup overall. The landscaping outside is also nice and inviting.

Beautiful little venue for a wedding! So happy that our friends found this sweet chapel to make their lifelong commitment surrounded by us who love them. Venue staffpersons were delightful!

My husband and I were married June 16, 2018 at The Rose Chapel. When in search for a wedding venue my fiance and I almost overlooked The Rose Chapel simply because their pictures on the website were very dated, thankfully they were hosting an open house and we decided we would go look at it in person and I am so glad we did. We always envisioned a vintage wedding and as soon as we walked through the doors of the chapel we just knew this venue was everything we were looking for. We rented the chapel, reception salon and ballroom and couldn't be happier with the outcome it was a smooth transition for our guest and less stress for us being able to have our wedding in one location from start to finish. Roy and his staff were absolutely amazing we never had to worry about anything throughout our wedding planning process. Roy maintained constant communication with us and checked on us constantly to make sure we were okay. Before our wedding Roy meet with all our vendors to answer any questions they may have as well as to ensure him and his staff had everything they needed in place for when they arrived. The Rose Chapel and it's staff is the perfect place for a wedding. Thank you Roy and Rose Chapel staff for making sure our wedding day was perfect it is a day we'll never forget and we'll always be thankful for that!

I was in a wedding on November 3Rd. The space was beautiful and set up almost completely right. Despite a missing table, trees not being lit, photo booth not being set up. My biggest concern was Roy, the chapels director. He was the most unprofessional person I have ever dealt with. He got into the brides face, snapping his fingers, calling her a liar, rolling his eyes etc. I will NOT recommend this establishment ever again due to his working there. If you like being disrespected maybe this is the place for you. Seeing as he was disrespectful to the whole family, the day of the wedding.

Beautiful venue fantastic staff what more could you ask for. Tell them "DjJohnnyG" sent you and they'll treat you right. Highly recommend this venue

Let me start by saying the chapel itself is beautiful, and so is the ball room. The day before my wedding we had our rehearsal, the new "director" was a nightmare. They got our timeline messed up, and expected us to decorate within an hour, and show back up an hour and a half before the wedding started. So I asked him could we come in an hour sooner. He put his hand in my face, snapped his finger and threw a complete fit. He called me a liar several times, in a room full of people. When I asked for the owner of the buildings information he then came back and told me "I'm the director I can do that". If this wasn't the day before my wedding I would have gotten a refund and moved my wedding else where. The day of the wedding, was horrible. When I showed up the photo booth wasn't put up. When I asked where it was at they informed me there wasn't enough room. When there was. They put it together away from the tables so no one knew to use it. And they forgot a whole table, so I had 10 guests with no seats. I was so embarrassed. The coordinators didn't stay on top of anything. One of them stayed in the chapel and I didn't see her for more than half of my reception. They didn't time keep for me like they promised they would. And none of the trees were lit up. I'm so disappointed. And will NOT recommend this establishment ever again.

I was a bridesmaid for a wedding a couple of weeks ago. During our rehearsal the director Ray, was very unprofessional and rude. He stuck his hand in the brides face, stomped around like a child, and called us all liars. He didn't have the ballroom set up correctly then got an attitude with the brides grandmother when she asked for it to be fixed. When I say the bride was in shock during his tantrum, I mean it. She didn't argue back, just stared at him dumbfounded. The coordinator that was supposed to come with the venue also disappeared during the reception. She did not time keep like promised and when things went wrong the bride herself had to deal with it. I would not recommend this venue, to anyone. Yes it was beautiful, but not worth the headache of the staff. AND there's 1 star only because I didn't have the option to put none

Authorize your self with either of these to view contact details, your information will not be shared to any one
Newsletter Subscription for Virtuous Reviews LLP
One more step and you will be subscribed to our newsletters
We have sent you a verification mail on your email id, please verify it.