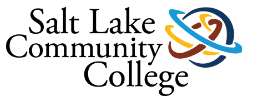 Salt Lake Community College
Hospitality, Aviation & Tourism
4600 South Redwood Road, Salt Lake City, UT 84123
Claim Listing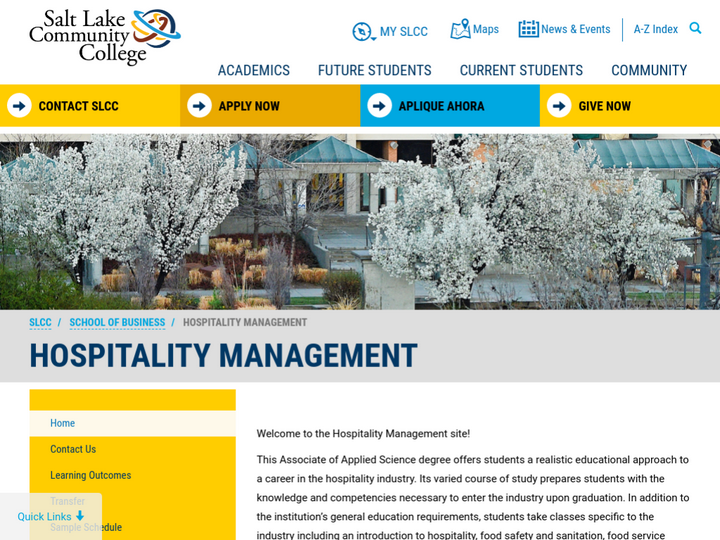 Company Description
Salt Lake Community College is Utah's largest college with the most diverse student body. It serves more than 60,000 students on 10 campuses and with online classes. All ages. Many interests. Flexible scheduling. With an exceptional range of academic and career-oriented options.
Review & Rating

I have been blessed (for many reasons) to work at Miller campus, where the automotive classes are taught. The students have been working on my van since Tuesday, chasing down a coolant leak I couldn't figure out; doing diagnostics like coolant system pressure, cylinder compression, and a tune up. They do really good work, past and present with their teachers teaching and supervising them (They will learn a lot fixing some of the many problems on my van). This service is available to the public but your problem has to match what they are currently teaching. They do take a little longer than a commercial shop (I'll probably get my van back next week) but there is no labor charge, only a $25 shop supply fee and parts. Another blessing has been the intercampus shuttle, the B-Line, since I live close to the Redwood campus it has made getting back and forth to work easier than public transportation with all the people coughing and sneezing. Lots of positives at SLCC.

I've been informed that someone in my family is getting treated poorly by a mentor of some kind in the computer tech program they have by a guy named Brett and was told that if the person isn't understanding the networking section that they should just reconsider being in the program. Very unprofessional and the thought of not being able to go to some for help or the people you're supposed to look up to for help won't help and just says something like that to you really shouldn't be working in that kind of job field. The person I'm talking on their behalf knows that it's not an easy course and that they just need to try but you'd think that if you don't understand something that someone would direct you to someone who could help you understand instead of telling you that you might as well quit now.

I was very glad that I attended the LUW Spring conference. I was able to network with many authors, publishers and editors. The classes were informative and exciting. I'm just beginning with these groups and I feel like I need to draw back my novel before sending into layout for publication, one more time to check everything with a fine tooth comb - and this is after having paid three professional editors! One thing for certain, it is a continual learning process and the more you get involved and active in the art form, the easier it will become. Thanks to the League of Utah Writers for hosting a successful and well organized conference!

Cashier Services are terrible! I called in to make a tuition payment, and the lady I talked to was extremely rude. It transferred and had dead air for 2 minutes before I finally said "Hello?" And she picked up. Then she took forever to verify my account which should have taken 2 minutes to do (I work in customer service so I know when I see terrible service) and then when processing my payment she decided to put me on hold without letting me know, or mute. But I was waiting for it to process and hadn't heard anything after a good 3-6 minutes and was asking "Has it processed yet?" No answer. I patiently waited and then she rushed me through the end of the call. I said Thank You and she just said "Okay Bye" and it really doesn't take longer than two seconds to courteously say "You're welcome." The whole call was terrible and I think that there definitely needs to be some training for the cashier services.

Although I do love the school and the teachers. I think the academic advisors are awful. They give you zero "advice" only shovel papers on what requirements you need. They won't help you register or make sure you take the right classes first or give you degree advice. I've been into the Taylorsville office over 5 times now I leave upset, with a stack of papers and no further information or questions answered. If you are attending or planning to attend, your own research will be better than this department of non helpful staff.

I'm not at all happy with library staff over at the Taylorsville campus. If the same lackadaisical attitude prevails in the whole school, I need to go enroll somewhere else. Like it or not Utah has the reputation of being LDS which means I should expect to be treated with good Christian morality no matter where I go here; but when the morning tech, with the black beard, dark skin and weasely voice over by the men's bathroom on the first floor of the library, is too busy study...

The academic advisors and the financial aid people are awful. Very disappointed with how these two entities are ran. The financial aid office has screwed up so many times it is ridiculous. I wouldn't have a problem if they would actually do their jobs right. Stopping in almost every day and checking emails/student portal daily so if there was anything more we needed it could be done quickly and efficiently. They kept saying no, you're fine we have everything etc, then low and behold we find out some weird tweek and it is to late to do anything about it. Paying out of pocket for one semester was hard enough but two isn't possible. Very unhappy with the lack of help and people taking responsibility.

The Redwood campus administration are a joke. Every single financial advisor I spoke to was rude. There are three ladies that work in this field that completely ruined my experience. These advisors need to take a look at their career and where they are in life. Because obviously they should not be in contact with the general public. I walked out of the financial aid office feeling like a second tier student and individual due to the belittling and general maltreatment I received. That being said the professors at this campus are incredible. Most of them genuinely care about their students and treat you like a human being rather than a number. To avoid Medusa (the soulless lady who will suck all the joy of life from you), and her colleagues do all of your financial aid business at South City. The lines are shorter and the staff make you feel as if they genuinely want to help and actually give a damn about their job.

Amanda Christina Naylor
UK
I'm so sad to be called a student for such a poor school. I pay thousands of dollars to this institution just to told abortion is wrong no matter what. I don't know if I can stay as such an institution. I was honestly excited to going to school here and further my career into nursing. But having anti-abortion posters shoved down mine and my fellow peers throats, being instigated and harassed for having different views, and potentially having charges against me is completely a...

Yesterday I left my phone in my class on the table where I was sitting along with 3 more students, it took me less than 5 min to realize i forgotten it when I came back, the classroom was empty and none my team class mates saw the phone (which is weird). To the person that had my phone and dropped somewhere on campus (gps tracker show me where is it but there is nothing there) If i leave my phone, wouldn't it be easier to grab the phone, contact me via email and tell me you have it and that we can meet later to get it back?!? Or better yet, give it to the professor so that when I come back he gives it back to me?? And to think that all 4 of us are working together on the class project.... You should be ashamed. I don't know what else to think about this situation.

Opening Hours
Mon

Closed

Tue

5:00 pm - 9:00 pm

Wed

Closed

Thu

5:00 pm - 9:00 pm

Fri

Closed

Sat

Closed

Sun

Closed
Authorize your self with either of these to view contact details, your information will not be shared to any one
Newsletter Subscription for Virtuous Reviews LLP
One more step and you will be subscribed to our newsletters
We have sent you a verification mail on your email id, please verify it.