San Francisco State University
#91 in USA
#35 in San Francisco
Hospitality, Aviation & Tourism
1600 Holloway Avenue, San Francisco, CA 94132
Claim Listing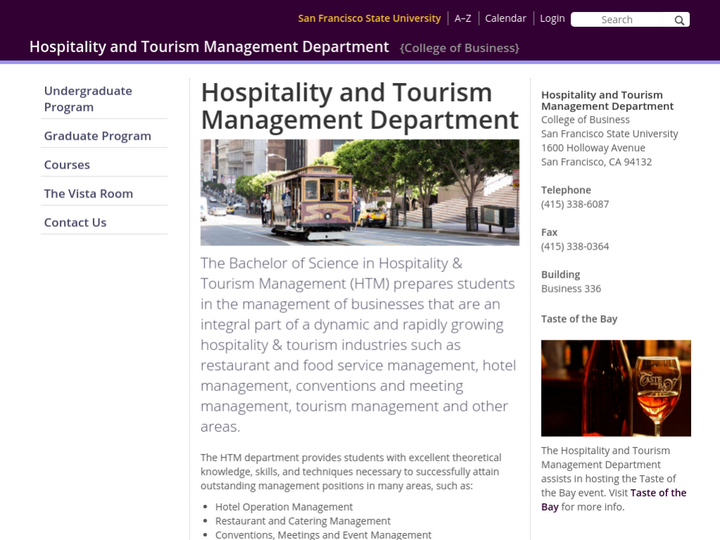 Company Description
The Bachelor of Science in Hospitality & Tourism Management (HTM) prepares students in the management of businesses that are an integral part of a dynamic and rapidly growing hospitality & tourism industries such as restaurant and food service management, hotel management, conventions and meeting management, tourism management, and other areas.
Review & Rating

San Francisco state university is very good and nice education system Thanks.

Such a lovely campus with such nice friendly people very excited for my daughter to attend here...Go Gators!!!

Great school, great area to have fun on the weekends especially Golden Gate Park, West Portal, and Westlake Shopping Centre. Campus is right next to Stonestown Galleria. Lots of things to do outside of campus like hiking through woods, going to the beach, going to art museums, shopping, etc. Great professors who care and are open to helping their students and actually promote self-learning and asking questions. My recommendations for chemistry professors are: Dewitt, Trautman, Palmer, Painter, Runquist, Anderson, Guliaev, Komada, and Baird. My recommendations for good physics professors are Man (she's the best!) and Marzke. For biology, I recommend Tanner (amazing professor and very down-to-earth). Mall is right by campus. Great amenities for students such as the library and relaxing space in the quad. Lots of student groups and societies to promote career advancement and preparation for post undergraduate education/studies. Bus system is easy to use and get around to great places to eat and to the beach.

I am very excited and proud of myself because I will be attending SF State in the fall. I am excited for new opportunities and for a new journey.

San Francisco State University is Best University in San Francisco, California, USA. Very Nice and Helpful Professors, and Nice Environment to study and make friends. Easy to get job when graduating from State University. But from private university like Northwestern Polytechnic University in Fremont, California, Teachers are helpful, lots of homework, visa problem at private but not at State University. No credits will transfer from private university like NPU in Fremont.

I enrolled in SFSU Master of Public Administration Program in Fall of 2015 and enjoyed every moment. I graduated in Spring 2017. The classes were located in the beautiful Downtown Campus beside the dome in the Westfield Office Center. The program had a conference room, mini library, and easy access to BART and the Westfield foodcourt. A campus officer greets you in the entry to the campus and I always felt very safe.

This environment helped peel off my conservatism and search for truth.. i came in a Christian Catolic and came out stronger and still loving my faith .not because this was a catholic environment but my faith was challenged studied philosophy .. i studied philosophy and religion and found that God existed and the Christian God is the Truth and the Way.

Such a beautiful campus. Take as many electives from the Ethnic Studies department than you can. Highly recommend Professors Walker, Nelson and Rojas. The business department was a mixed bag of professors, hitting some incredibly high notes (Hover, Gaglio) and some mediocre ones. Management was pretty solid, as well (JHB, Sullivan, Nathanson).

We took our son who is a high school senior on a campus tour and it was great, the gal was a soon to be college senior at the 10 am tour on Thursday July 26th. Well spoken and quite smart, she led the group across the campus, highlighting in just an hour the beautiful campus and what the school offers.

It's not the university that I'm going to talk about but the apartment that my son moved in this year. Last year he stayed in a furnish dormitory and I was very disappointed on the condition of the room. It's not worth the money that we paid monthly. This year he moved to an unfurnished apartment and I was very happy and very satisfied on the condition of the apartment. The monthly payment was half the price of the furnished apartment but it's worth it.

Authorize your self with either of these to view contact details, your information will not be shared to any one
Newsletter Subscription for Virtuous Reviews LLP
One more step and you will be subscribed to our newsletters
We have sent you a verification mail on your email id, please verify it.