Sharon Driving School
Training Institutes
59 Pond St, Sharon, MA 02067
Claim Listing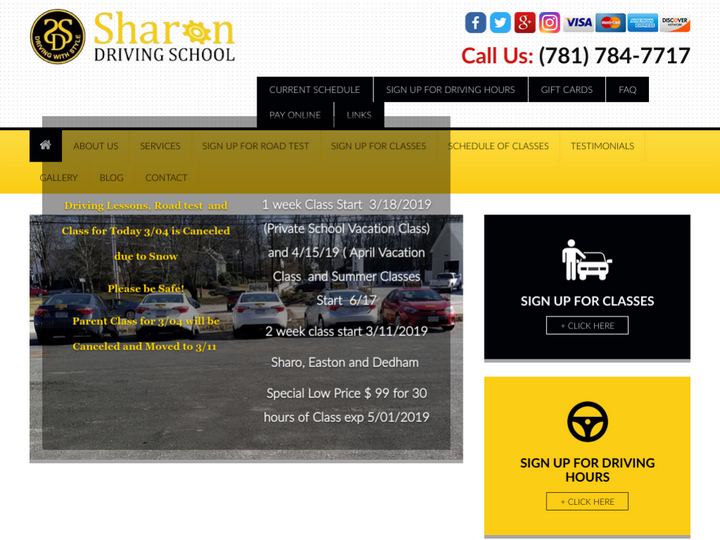 Company Description
Sharon Driving School a is family owned and operated business. We've been around for over 18 years and have trained over 18,000 teen drivers. We have been servicing South Shore towns since 2003. All courses are accredited and licensed by the Registry of Motor Vehicles (RMV).
Review & Rating

Worked with me well. Taught me to be a safe and efficient driver. Passed my road test first try with flying colors. Best school around in my opinion! Is there a way I can add more stars?

I loved my instructors. I had learned everything and more. Thank you for teaching me how to drive. I passed my test today in Sharon. It was easy! Thank you again. I will tell my friends to join this school

Really good instructors, I loved everyone I met. They booked my test in Sharon and I passed on a First Try. Thank you for everything. I learned how to drive on a Highway. They taught me to parallel Park. Thank you for being Great!!

If I could give it 0 stars, I would. First off, my son told me that the instructors were extremely rude. Second, even though I payed close to $70 per an hour of driving lesson, they only took my son around for 40 minutes. It was also very hard for me to communicate with the owner who doesn't know even know how to speak proper English! And she was really rude as well!! They obviously do not know how to run a business. They make the kids scared because all they do is yell. My son is now at Labontes Auto School and he absolutely loves that school. His driving is improving because he says that the instructors were patient and nice. Not like the Sharon Driving School. I would 100% recommend Labontes but definitely not Sharon's. Please spend your money elsewhere!!

Paid around 140 for two lessons and scheduled it two weeks prior and what do they do? First one they cancelled ten minutes before the scheduled time saying that since the owner's son was sick, the instructor cannot leave the office. Alright, fine. A day later, they cancelled the next appointment. And what was the reason? The instructor's son was ill and cannot come in. Wow, I'm sure you can all tell how responsible this driving school is now. They said they will take $5 off of the $140. Yeah $5 will compensate for the time I lost and the work that I could've got done in that time. NEVER COMING BACK AGAIN. AND YOU SHOULDN'T EITHER!!

Thank you for teaching me how to drive. Office staff is so informative. I highly recommend this school. They booked my test in 2 weeks. I took 6 lessons, they showed me everything that was going to be on a test. I took it yesterday and Passed! Thank you

They are an excellent driving school. In the 12 lessons, I've had I feel like a confident and good driver. The instructors break everything down for you, and answer all questions. They made parallel parking easy for me! I highly recommand this company to all drivers, teen and adults. You won't regret it!

If I could give it zero stars, I would! This place sucks. The instructors are rude and impatient. The owner, Gilli, is very rude. She has no respect for anybody, even the instructors there! She likes to cut short on driving time and is very impatient with the kids. My son took a couple lessons with them and immediately switched to another company. Now he's on his way to getting his license. He definitely would not have passed with this company. Final verdict: PLEASE STAY AWAY FOR YOUR OWN SAKE!

I had the BEST experience TODAY! I passed my Test in Brockton with Sharon Driving School. They took me for a lesson and showed me everything I needed to know for my test. I can not thank you Guys enough. I have my Freedom Now! I will recommend this school to Everyone. The are Professional and Knowledgeable. I loved their small Car. I could not do it without them!

Everyone was very nice to me when I emailed them about scheduling a road test. On the day of my test, I was taken about 15 minutes earlier than I was scheduled which was nice and the test was very easy, basic driving knowledge, and the examiner and the instructor in the car were extremely nice. Also scheduling a test with them is really quick and easy and you don't have to wait a long time to get your test in. Definitely recommend going here for your test.

I had a very unpleasant experience with Sharon Driving school, to say the least. I would experience high levels anxiety before each of my driving hours due to how the instructors would treat me during each lesson. When I was first learning how to parallel park, I may not have done it right the first few times. Having the instructor yell at me and make me more nervous is not encouraging. Maybe the reason I was "having a bad lesson" as one of the instructors put it, was because I was extremely nervous that I was doing something wrong and was going to be yelled at by the instructor. There is no need for the instructors to raise their voice or yell at me when I'm simply practicing the maneuvers in a quiet neighborhood with absolutely no vehicles in sight. It's not like I was doing anything dangerous on 138 or 106. I was literally in chessman in sharon. The instructors also over use the emergency brake. The key word "emergency" means the brake should only be used in an emergency!!! Having the instructor slam on the emergency brake for going 5 mph over the speed limit and giving me whiplash is definitely counterproductive. I am so glad I'm done with those lessons and am relieved of the stress and anxiety they brought.

Opening Hours
Mon

Closed

Tue

5:00 pm - 9:00 pm

Wed

Closed

Thu

5:00 pm - 9:00 pm

Fri

Closed

Sat

Closed

Sun

Closed
Authorize your self with either of these to view contact details, your information will not be shared to any one
Newsletter Subscription for Virtuous Reviews LLP
One more step and you will be subscribed to our newsletters
We have sent you a verification mail on your email id, please verify it.