Shepherd Center
Doctors
2020 Peachtree Road NW, Atlanta, GA 30309 USA
Claim Listing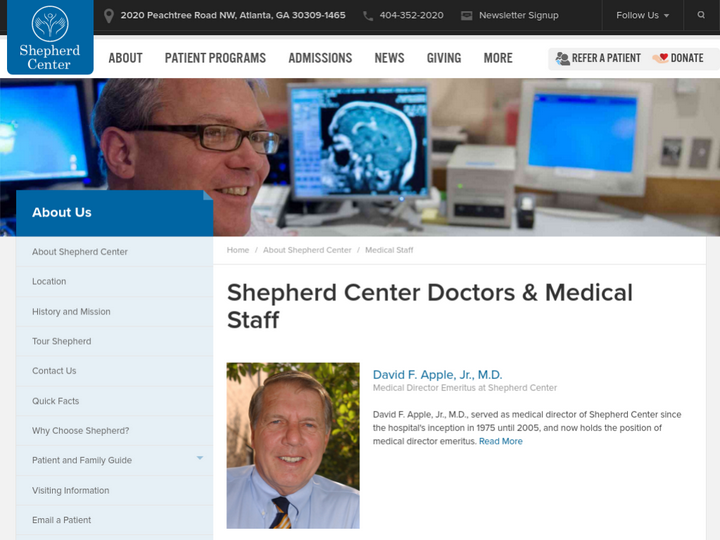 Company Description
Shepherd Center, located in Atlanta, Georgia, is a private, not-for-profit hospital specializing in medical treatment, research and rehabilitation for people with spinal cord injury and brain injury.
Review & Rating

Best doctor and facility I have ever been to.

Everyone says Shepherds is the best, which I don't doubt that Shepherds would be the best. My problem is, my husband suffered severe brain damage and we asked for my husband to be sent to Shepherds once released from the hospital. Shepherds Center refused to take my husband due to his injury being from a suicide attempt. It seemed like he was being judged without even trying to help him first. They then referred us to another place that I wouldn't even send a plant or a stray animal to. It felt like a slap in the face. Do I think that Shepherds could have been the best to treat him, absolutely, but they didn't even give him a chance.

My father was in shepherd last summer(2017). He was in a car accident that rendered him unable to walk or use his arms. He was beginning to have movement in all four limbs! He had a surgery and was in the best of hands We could go home every evening KNOWING that he was cared for in a compassionate, caring and professional manner Unfortunately the next " Recovery rehab" ( nursing home) after Shepherd dropped the ball. I will always be extremely grateful to Shepherd for the wonderful care of my father . Thank you 3rd floor staff. We are forever grateful. My son is a disabled Veteran and we hope to soon donate to the Veterans program. Thank you Jane Woodruff Much love , Dee Dinsmore Spivey

Best place to get treated, all the members of this Center go out of their way and beyond to help you in any way they can!!

It was a ok place to recovery from but i feel there is or should deffenitly be better places. Half of the staff was nice and had humor. And half of them was stuck up and acted like there to good or couldn't put thereself in somebody elses shoes and see how to treat somebody with a bad injury. They came in way to early every morning just to write there name and walk out, which woke me up everyday for no reason. And the whole time I went i only left the facility once, it got boring fast and wasnt doing near as much as stuff and learning how to do things publicily. It could have been alot better of an experience, some of the staff should try to put thereself in your shoes and maybe they would act differently.

Was at Shepherd January-April of 2015. Suffered a severe TBI at work. Was in local hospital in North Carolina for 12 days. Every nurse in the neuro ICU at the hospital I was at all told my wife that Shepherd Center was the only rehab hospital that they would want their family member to go to. I honestly don't believe I could have gotten better care anywhere else. They took care of me and my wife both. They even let her stay in an on campus apartment while I was in the hospital there. After I "graduated" from Shepherd Center they even let us both stay in the apartment while I attended their day program called Pathways. Thank you to everyone there for everything you did for me and for my wife too. I don't even like to think about how I might have turned out if I didn't get to go there.

This place is so overrated. My son has a traumatic brain injury from a car accident. We did so much research to find the best facility for him. Money was never an option. We just wanted him better. Every single day they would come in and ask him if he was hurting? All they wanted to do was keep him medicated. Most days he couldn't even function enough to do therapy because of all the meds they were pumping into him. Those wonderful therapist recommended a neuro behavioral center. Said that's what he needed. He never had a behavioral problem. He has a brain injury. You know, the kind where you aren't able to make decisions. The kind where you are at the mercy of your healthcare providers. Shame on you Shepherd Center. You did nothing but take money from his insurance company. But just so you all know...My child has come such a long way since we left your facility. The best thing you ever did for us was kick him out. You did him a favor. I wouldn't recommend the Shepherd Center to my worse enemy. How do any of you sleep at night?

We live in South Georgia and come 3 or 4 times a year and we absolutely love the place! The staff is so friendly and helpful and the Doctors are some of the best in the world! We're so thankful for the Shepard Center!

I am a current patient in the MS department and will not be leaving due to needing a MS specialist. The doctors are fine but the nurses' line is not the best. #1 they do not seem very knowledgeable or friendly and #2 it is only available 9am - 3pm. If I have a question or emergency due to my disease, I should be able to reach a nurse much easier than this. This isn't even a typical work day. Upsetting to me that I cannot get quality care unless my illness strikes 9am - 3pm (not even normal business hours). Shepherd, you should work to fix this.

My husband suffered a TBI earlier this year and was transferred to the Shepherd Center from the ICU/hospital. I have nothing but wonderful things to say about this place from the cafeteria employees to the nurses, doctors, and therapists that we came into contact with during our stay. The care my husband was given was top notch, and the care and consideration that I was given helped me more than I could ever say. It was very obvious if you want a job there, you can't just have the teaching or experience, you also have to have a caring heart, because just about every single person went above and beyond. I am very thankful for this facility and its staff.

Opening Hours
Mon

Closed

Tue

5:00 pm - 9:00 pm

Wed

Closed

Thu

5:00 pm - 9:00 pm

Fri

Closed

Sat

Closed

Sun

Closed
Authorize your self with either of these to view contact details, your information will not be shared to any one
Newsletter Subscription for Virtuous Reviews LLP
One more step and you will be subscribed to our newsletters
We have sent you a verification mail on your email id, please verify it.