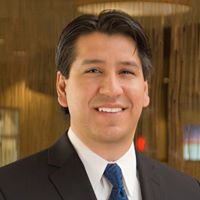 Texas Clinic Pain & Spine
Doctors
6957 W. Plano Parkway, Suite 2300, Plano, TX 75093 USA
Claim Listing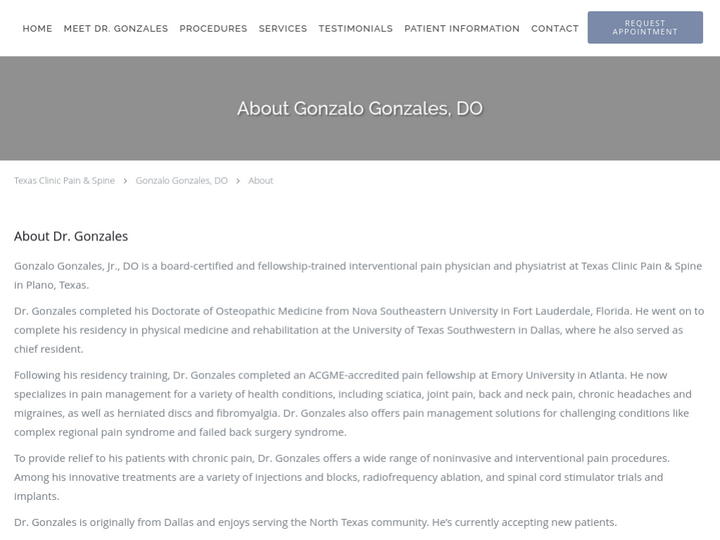 Company Description
Gonzalo Gonzales, Jr., DO is a board-certified and fellowship-trained interventional pain physician and physiatrist at Texas Clinic Pain & Spine in Plano, Texas.
Review & Rating

Great staff always friendly and professional. Donna, Brittney, and Dr. Gonzales are wonderful.

I have nothing but great things to say about both Dr. Gonzales and his staff. I had been suffering from acute onset back pain for several months before I found Dr. Gonzales. In only one weeks time Dr. Gonzales ordered the correct tests and was able to diagnose the root cause of my back pain. He is very thorough and took the time to both listen to me and explain what actions he deemed appropriate for me to get better. He did more for me in a week's time than other doctors did in five months. If your looking for a doctor who cares and is great at what he does you should go see Dr. Gonzales.

I had seen 5 different pain management doctors over the coarse of 7 years for my liwer back. All were masking the pain with medication and a temporary nerve stimulator. The ones that tried nerve root injections were unable to hit the "sweet spot" to numb the nerve affected. Dr. Gonzales found the areas in my lower back to help relieve the pain and was able to ween me off narcotic meds I had been on for years. When my shoulder arm and hand started going numb and shooting pain, Dr. Gonzales helped pinpoint where in my neck the pain was coming from, did temporary nerve blocks until they no longer helped, the work with my surgeon to fuse 2 areas of my neck.

I was referred to Dr Gonzales about 5 years ago.I suffer from sciatica and back pain and neck problems. He changed all my treatments and my life changed forever. The way he administer's his shots for whatever reason the pain just disappears. He is caring and listens to ever thing that you are concerned about. I have been disabled about 30 years and he is the best by far. Also his Staff, Donna and Brittiney are Amazing and always professional. Ok. I am not done yet: My daughter has CRPS for the last Year and a half she has suffered very bad pain and in bed everyday. We saw numerous doctors and they helped some but not able to get her pain under control. There is No Cure for CRPS at this time. So her last pain doctor said get a second opinion . And I said ok now it's time for her to go to Dr Gonzales. She started procedures in July and after three aggressive sympathetic nerve blocks and change of pain medication strategy. My daughter is up and walking more and laughing again instead of crying everyday. This is life changing for her.He has planned other methods of treatment for her future. Thank you Dr Gonzales for Giving my daughter a chance to laugh again!!! God Bless🙏🏽

It was a very nice and clean office and the staff was very knowledgeable. I would highly recommend his office foe all your Spine Care needs. He was such a pleasure to meet. And, he made sure I knew he was listening and taking notes on all my pain care and spine care needs. I'm highly satisfied and looking forward to working with him as we get me back to living life again at my fullest potential. Thanks, Staff & Dr.Gonzales

Dr. Gonzales & the excellent team of staff who work with him are great!! Patients and family members are greeted warmly and most importantly, I am treated with respect and compassion. At every appointment, I feel like I am truly a partner in my own care. Dr. Gonzales describes my options fully and I am able to make well informed decisions about my treatment. I have never felt that he took a recipe card approach to treating my pain issues or that he thought my pain was anything other than how I described it to be. I have seen many Pain Management specialists in the past and never felt that I was making any progress or gaining any relief. Finally, after finding Texas Clinic Pain & Spine, I am able to achieve adequate pain control that I can manage rather than being constantly in pain out of control! I highly recommend!!

Dr. Gonzales has completely changed my life! After being diagnosed with CRPS (Complex Regional Pain Syndrome) I was bedridden & in tears day by day & month by month! After my 1st Appointment with Dr. Gonzales he put together a plan that has been consistent & promising...he listens & is concerned with every worry that you may have & his work is remarkable as I'm now up walking around my apartment excited as if I've never walked before...😌 I have received several Sympathetic Nerve Blocks that have worked wonders for the pain that I have with my condition that has NO cure! I had seen a couple of doctors that just threw me on medicine until the next appointment! Dr. Gonzales has my medicine down to a science that helps me not be in constant pain everyday as I had been for a year & 1/2! He is so patient & honest & for that reason I trust him with my life completely! God Bless Dr. Gonzales & his entire staff! You all are AMAZING! THANK YOU...🙏🏼

Authorize your self with either of these to view contact details, your information will not be shared to any one
Newsletter Subscription for Virtuous Reviews LLP
One more step and you will be subscribed to our newsletters
We have sent you a verification mail on your email id, please verify it.