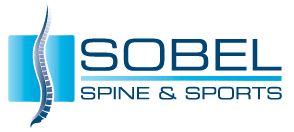 Sobel Spine & Sports
Doctors
4550 East Bell Rd., Suite 110, Phoenix, AZ 85032 USA
Claim Listing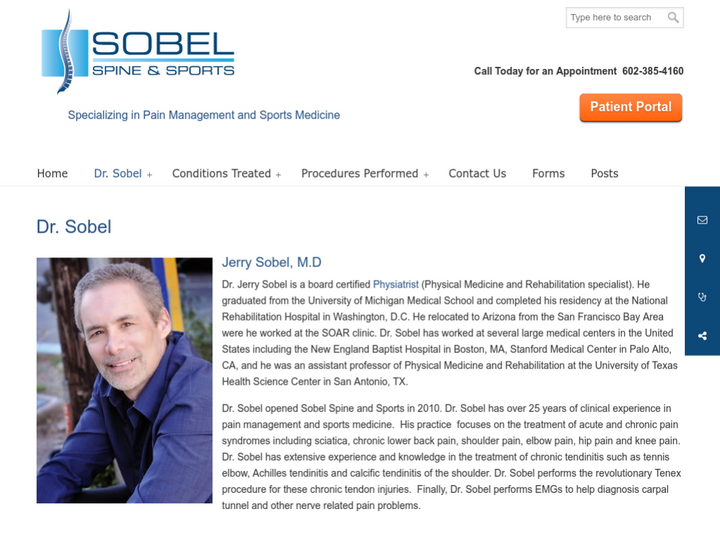 Company Description
Dr. Jerry Sobel is a board certified Physiatrist (Physical Medicine and Rehabilitation specialist). He graduated from the University of Michigan Medical School and completed his residency at the National Rehabilitation Hospital in Washington, D.C.
Review & Rating

Dr. Jerry is great! I've had multiple spinal injections and dr. Appointments and he's wonderful. I'm far from being pain free but it's tolerable. He really listens and understands.

I've been to numerous specialists and Dr. Jerry Sobel was the only one to get to the root of my problem. I've been very pleased as my condition has gotten much better since I've been under his care. He is very up front which I prefer and the staff has always treated me well. Sobel Spine and Sports is the best medical group I've been to in years!

Used their online booking system and received an email confirmation, which I showed the receptionist. They didn't have me on their schedule. I would have waited, not a single person in the waiting room and she made zero attempt to get me seen. I told her I drove 40 min in traffic and would wait, she said I could come back tomorrow. Instead of taking even more time off work, not sure if I make an appt if I will actually get seen. Not a good customer experience

I can not say enough good things about Dr Jerry Sobel. He always takes his time with me, never rushes thru any appointment and he makes sure that I understand everything. He is definitely my favorite doctor. Appointment, injections, follow ups or even my crazy questions, what ever the reason for my visit he is truly the best. I could never thank him enough for helping me with my pain management.

I cannot say enough good things about Dr. Sobel. He is an amazing doctor and always takes time to explain everything in detail to you and make sure you are fully taken care of. I don't hesitate to recommend him to anyone I can.

Administration at this office is terrible. I get billed for service i had 5 years after i was there and a 30% additional fee added on. According to them they "reached out via mail once the year of service and one other time the year after". I don't recall of either of these attempts otherwise we wouldn't be here right now. So 5 years after they reach out (also when i happen to be outside the country so i had no idea they tried getting a hold of me) they decide to turn my case over to collections, and tack on a 30% fee. Not a person who dodges bills, reach out promptly and you'll get response back instead of doing it 5 years after the fact. Attempted to cover my original bill that i don't recall ever receiving in the first place through Victoria in billing, to get that its over in collections now and there is nothing she can do nor can she take off the 30% (I call bs). Disgusted by the wait time of staff on outstanding accounts and ways to work on resolving these issues with customers.

2 very good friends of mine for the past few years have had moderate to severe neck and lower back pain. I have talked to each of them about the treatment that they have received and the outcomes. They have been to a handful of pain specialist in the valley and both found no one better and easy going than Dr, Jerry Sobel, MD. I had to ask what made him so special and both without any hesitation stated that his concern for their problems were sincere and he was going to find a way to find relief and rectify their problems. A funny thing to is that both laughed and said that his wit and sense of humor lets us know that he too is only human, but also has a great gift of healing. I took their advice and became a patient of Dr. Jerry Sobel. He was kind, sincere and very easy going. He listened to my problem and dug a little deeper into my health history and personal lifestyle to help find out what could be the cause of my problem and to figure out the best plan of action to follow. He told me what he thought and what he felt was the best for me. After seeing Dr. Jerry and following his plan of action I am a much happier person and my issue is a great deal better and well managed and under control. Dr Jerry, Thank you.

What an outstanding doctor and surgeon you can look but I can't believe you will ever find anyone better. Dr. Sobel and staff are the best offering great customer care and follow up. Thank you so much for treating me and making my back better.

I am an orthopedic surgeon and I know Dr. Sobel by reputation and have shared patients with him over the years. I have found him to be an ethical and excellent physician. I am very disheartened to see patients malign a doctor's reputation because they do not agree with the physician's treatment plan. A physician who allows a patient to dictate their plan of care, especially when it is not the best thing for the patient, is not a good physician. In a recent review, Dr. Sobel made a decision that he knew would draw the ire of a patient (and certainly was against Dr. Sobel's financial interest). He did it because he felt it was the right thing. That's what good doctors do. Bravo, Dr. Sobel.

I have head shots in my back for over 20 years. None have given me the relief that I got from Dr. Sobel. He is far and away the best doctor I have ever had.

What can I say this one of the better Dr I have had the pleasure to meet and treat my injury. I was able to schedule as needed and work with Dr Sobel to form a plan for my knee injury. I had an injection done and it went smooth as can be. For those that don't know some draining and injections from knee can be extremely painful I only felt the poke of the needle. I felt Dr Sobel had a genuine interest and listen to my concerns and questions and also followed up with me to see how I was doing. Staff as mentioned in other reviews are great and easy going. I would definitely recommend Dr Sobel if your in need of this type of specialty care.

Opening Hours
Mon

Closed

Tue

5:00 pm - 9:00 pm

Wed

Closed

Thu

5:00 pm - 9:00 pm

Fri

Closed

Sat

Closed

Sun

Closed
Authorize your self with either of these to view contact details, your information will not be shared to any one
Newsletter Subscription for Virtuous Reviews LLP
One more step and you will be subscribed to our newsletters
We have sent you a verification mail on your email id, please verify it.