Shops Around Lenox
Bridal Wear Alterations
3400 Around Lenox Drive, Atlanta, GA 30326
Claim Listing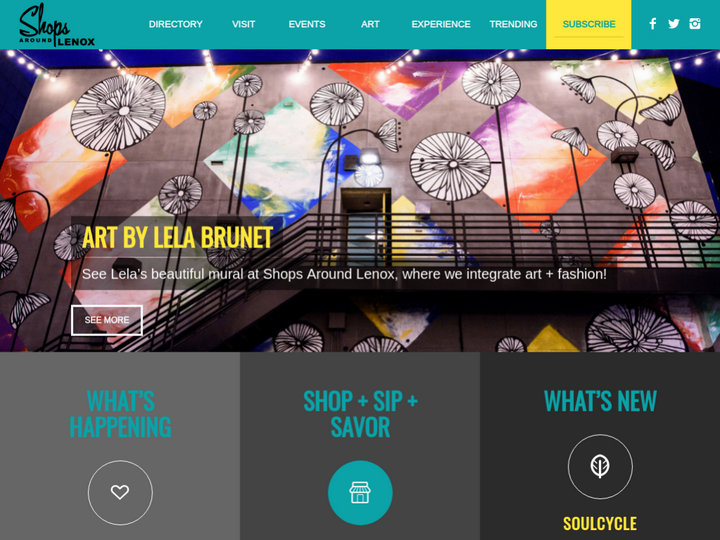 Company Description
Convenient and complimentary parking is available just steps away from the shops and restaurants at Shops Around Lenox. You will find overflow parking behind Crate & Barrel as well as in the paid parking garage adjacent to Dantanna's. It is our goal to provide ample parking to our guests.
Review & Rating

Love that they have a Lululemon and a CorePower!

BE WARNED!! I had a negative experience here due to the extensive attention that the booting company EPS was offering to my visit. Minimal signage offered by Shops Around Lenox management and a confusing layout means that shoppers may not have any idea as to whether there are even any rules to follow and where "Shops Around Lenox" actually starts and ends. I was honestly concerned for my own well being and ability to leave with my car unbooted, due to EPS's previous keen interest in booting people and take a profit from people's misunderstandings and inconveniences. I counted no less than four EPS employees prowling around watching to see if myself and other visitors would "walk off the lot", as is said in their commonly used defence which they use to validate to anyone why they do what they do. To Shops Around Lenox management, perhaps you'd consider charging for and enforcing parking in different ways? Unless perhaps you are keen to make a profit from this too? You'll notice from my photo that on the row of cars out the front of Ministry and Blow Dry Bar tonight (Feb 2nd 2018) that you don't have ANY parking signage. This is also where I noticed at least two bootings in the time that I was there. Perhaps these people didn't know any better and would have liked to know the rules in order to follow them?? I am always VERY happy to pay for good service, including parking. You have a beautiful shopping complex here but it's overshadowed by EPS being on site. They do not have a very good public reputation. I don't think it's fair that you take advantage of people's misfortunes in such a way where, when offered, the majority of people will always pay for parking. Would you be willing to reconsider your alternatives?

Nice place to go for shopping and food. Variety of shops, different brands.

I absolutely adore the Shops At Lenox! This is "my mall". The Anthropology here is always amazing. :)

DO NOT VISIT THIS COMPLEX! Out of town visitor and I parked here to shop then shopped at Lenox. Management booted numerous vehicles charged $75 fee to remove. Signs posted on some poles in small print do state to remove your vehicle if you visit Lenox. RIP OFF! Do not support stores who allow this action to continue. Spend your $75 at Lenox! You have been warned.

Shops across from mall. Eateries, Sprint store, cute boutique style stores. Pricey for some of them. Plenty of parking.

Do not shop here. They have a scam going on by forcing their customers to pay $75 dollars for parking. They claim it is because customers park at their lot and walk to the mall. However, even if you show a receipt where you have been purchasing items at their retailers, you still have to pay up. Once again, do not fall for this, go elsewhere to do your shopping.

Upscale Mall with all kinds of different restaurants one of them or better restaurants there is the Cheesecake Factory there's all kinds of shop there and Apple Center there a great place to shop

While the shops may be good the parking company they contract with is ripping people off. The lot is poorly posted with restrictions and they target out of state plates with a boot that cost 75 bucks to remove unless you have a purchase.

With the renovation and new shops, this plaza is great. Best part...it has a restaurant by one of the best Chefs in Atlanta, Seven Lamps! I highly recommend that you stop by for lunch or dinner, it's always fresh and fantastic. There's also a bar with craft cocktails staffed by a creative bartender. If I could give more stars I would.

Opening Hours
Mon

Closed

Tue

5:00 pm - 9:00 pm

Wed

Closed

Thu

5:00 pm - 9:00 pm

Fri

Closed

Sat

Closed

Sun

Closed
Authorize your self with either of these to view contact details, your information will not be shared to any one
Newsletter Subscription for Virtuous Reviews LLP
One more step and you will be subscribed to our newsletters
We have sent you a verification mail on your email id, please verify it.