Sonias Driving School
Training Institutes
192 Bennington St. East Boston, MA 02128
Claim Listing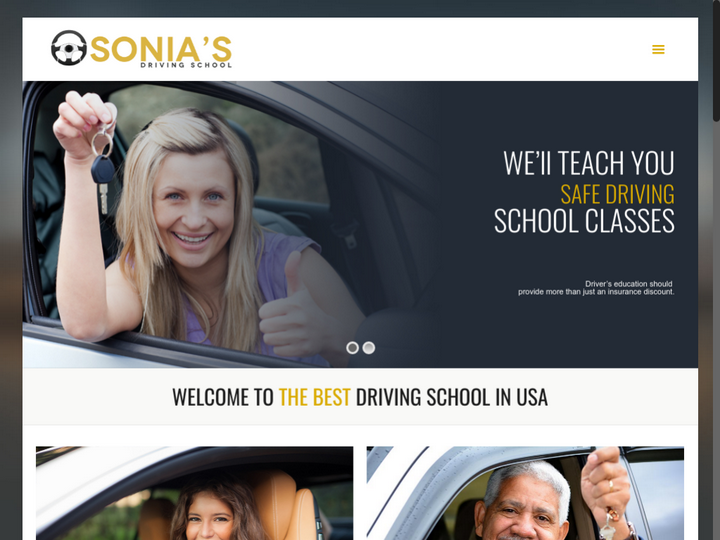 Company Description
Driver's education should provide more than just an insurance discount. That's why Sonia's Driving School offers a comprehensive driver training program that ensures teens have the skills they need to survive on today's roads and make the new driver experience easier and less stressful for parents. Our only goal is not to produce licensed drivers, but also safe, confident drivers.
Review & Rating

Paid almost $600 upfront for a drivers Ed class would not schedule any one on one driving until two months after the class was completed and you already tested and had your permit. Left 2 messages with a love person for someone to call back, They never did. Left voicemails, never called me back either. Very poor communication skills with their customers information like that should be told up front so the person has the opportunity to decide if they want to take all these months. Also the customer service when trying to resolve issue is not good they could not give me any information of who I had to talk to when I should call back time of day he told me I should just keep calling until I reach somebody is the answer I was given.

Would give them zero stars if i could, most unprofessional driving school in the boston area. They've cancelled my drivers test without consulting me. My permit expires soon and every time you call none answers. Unprofessional and lack of communication. Im sure they are only in business due to the lack of driving schools in boston. Disgusted charging 35 and hr and they always cancel. (Booked my driver test to learned that i had to pay an extra 90$ in fees to get my license since sonias driving school kep on scheduling me with Rmv without my knowledge) Save your time and money and Look else where !

i have wasted money as well as time. i wouldn't recommend to anyone. if i could give no stars i would. driving instructors don't like to give you exact change back and they like to cancel and tell you things last minute. they are literally a scam. although one thing i can say is some of the staff can be really nice people...

Worst DRIVING CLASS ever! The people don't know what they are doing. I spent all my money taking classes with them, when I scheduled my road test they wanted to call me 1day before the test and tell me I'm not eligible to take the test with them. They had the worst excuse ever. I felt disrespected. The worst customer service representative . I wish I can give it 0 stars! They never answer the phone. When you go there, there's 3 of them sitting around and just socializing buy can't answer a phone call.

People usually get mad when they fail their test and can't accept their mistakes . Overall I had a great experience the staff was helpful .. it does take a while for them to pick up but when I vistited the office I understood why because the phone never stop ringing ! I took classes and passed , I would recommend this school to anyone and I usually don't comment but I wanted to share my experience . Good job Sonia !

Do not go here. I booked my road test in beginning of September and my road test was supposed to be tomorrow and they told me my name was never on the list. Everytime I call them they never answer the phone. Do not waste your time and money on this.

If you don't pass it's cause you suck, don't be mad at the people. They help you out aslong as you show you want to learn and about their place it may be small but it's not like you're gonna live there. They're good, deff 5 stars.

If i can get a lower score I would. Very unorganized, liars and just try to scam people out of their money. I paid for my godson to get a junior operator license in 2017 as a Christmas gift. He started that following April 18' he's just now getting his license in 2019 he passed everything and was on time for every class. Don't teach how to drive either. He learned from us, he only really went there to get the hours. PLEASE STAY FAR FAR AWAY FROM THIS PLACE.

Sonias is the best for someone trying to get their license I went through their driving school and their nothing but professional and honest with you they helped me learn and drive better i will never forget this place

I would recommend this place for anyone trying to get their license. Ask to drive with Jairo (Jay). He is an excellent teacher. Highly recommend this school and driving with Jay. He makes you feel comfortable and not afraid of the road. He's the best!!

If you are serious about driving and want to get your license soon, then I don't recommend this driving school. They are always booked and they cancel my road test 3 times that I scheduled at September and kept rescheduled until November. Read the comments, I didn't and that's was a mistake. Go to city auto school:)it's cheaper and they gave better driving techniques.

Opening Hours
Mon

Closed

Tue

5:00 pm - 9:00 pm

Wed

Closed

Thu

5:00 pm - 9:00 pm

Fri

Closed

Sat

Closed

Sun

Closed
Authorize your self with either of these to view contact details, your information will not be shared to any one
Newsletter Subscription for Virtuous Reviews LLP
One more step and you will be subscribed to our newsletters
We have sent you a verification mail on your email id, please verify it.