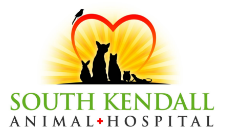 South Kendall Animal Hospital
Hospitals
9501 SW 160th St, Miami, FL 33157
Claim Listing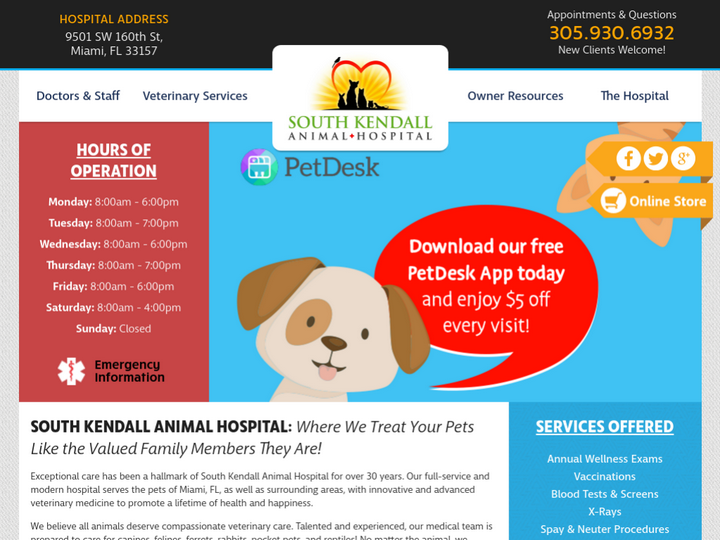 Company Description
South Kendall Animal Hospital is dedicated to your pets' health and wellbeing. Widely recognized as a compassionate, skilled, and cost-conscious hospital, our medical team provides pets and pet owners with only the finest veterinary care available in the Greater Miami and Dade County Florida area.
Review & Rating

This is an example of a vet that puts its business and financial gains before your pets Healthcare. I thought I knew these people. Sadly, after my last experience, I will never take my pets to this place again. Dr. Pane has obviously checked-out professionally and seems to only care about booking appointments and charging customers for products and services, whether your pet needs it or not. This vet does not seem to keep or review any medical records during or before visits and clearly only wants your money fast so that they can bring in the next appointment. Samantha, the front desk manager was unhelpful and even confrontational when I asked her to please correct the huge mistake made by her office. Also, This vet does not like to authorize your pets Rx for 1800petmeds because they sell the same medicine in their own office and do not like you buying somewhere else. I have to buy insulin and syringes every month. This vet has helped me put-down three of my beloved pets over the years and I truly regret that they have forced me to go elsewhere because of their own lack of ethics and lack of care for my 2 dogs. I have since found a new vet near my house and will establish a relationship with them for my pets. I need an honest and attentive vet to help me with managing my pets healthcare needs.

Very disappointed, no followup. On 6/8/18 I brought my dog there, he was already established patient. They did blood work took x-rays and referred me to ER. Sadly, due to severity of illness less than a week later she died This office NEVER called to check on her well being. Worse, I called to let them know that I was surprised there was zero followup and even with the call no acknowledgment.

A good doctor stands out for his/her honesty, experience and knowledge to follow the symptoms up to the causes. Dr. Pane definitely holds all this qualities and cares for the wellness of his patients. He and his team have always done an excellent job with our dearest dogs. Thanks!

Amazing. Great doctors. Don't upsell you on needless surgeries and the prices are not Exorbitant

Best Vet EVER!!! Falkor loves Dr. Pane - they keep my boy HEALTHY. They make setting up and keeping appointments easy. The staff calls promptly with results - first Vet we really enjoy.

Please DO NOT take your pet here. I took my baby in for a consultation to perform surgery on her right leg. Day of surgery I took her in and dropped her off. When I came back the surgery was done on the WRONG leg. When I spoke to Dr. Donocoff about the wrong leg being done. She said no we did surgery on the right leg not the left. I said my dog is in front of me and it's the left leg. I asked to see the X-rays and guess what? They said they can't find the X-rays BEFORE the surgery. I called my original Vet that did X-rays of both legs. He specifically said the left leg is a good solid leg. He gave me her entire medical records including X-rays and of course nothing WAS wrong with her left leg.

Been going there for years. Multiple pets. Staff are the best. Dr. Weir is so good with my dogs. Love her and the office.

Excellent staff , excellent doctor, take time with his patients explain everything 5 starts to this place

great staff. they make your babies feel extra special! love Dr. Pane

This past week my 15 year old Lab Shepherd mix, Bella collapsed and was in bad shape. A visit to Dr. Pane verified she had a 104.5 fever and her white blood count was over 27,000, more than double the norm. It did not look good. Dr. Pane prescribed two different antibiotics. Bella had to be carried on a stretcher to the car and upon arriving home I had to carry her inside. Once inside my wife got on the floor and hand feed our "baby". Luckily she ate all her food and drank have a bowl of water. I then gave her the medicine. About two hours later she came walking into the living room and sat down next to us. I took her temperature and it was normal. The next morning she was up and waiting for her morning walk. She was fine the rest of the day! The Doctor called and was thrilled with the news. The next morning we went back for a follow-up check up. Bella's blood count and temperature was NORMAL! My wife and I both realize Bella is way past the life expectancy of a dog her size. We are thankful for every healthy day she has left. With this said, the expertise, care and compassion we constantly receive from Dr. Pane, Dr. Weir and their entire staff is very much appreciated. They really are dedicated to the well being of their patience. Thank you all! I have been taking my "kids", three cats and a dog, to S. Kendall Animal Hospital for a few years now. Dr. Weir and Dr. Pane and their entire staff are amazing. Professional, friendly and caring! I was referred to them by my friend Lee. (She rescues cats and dogs) Thanks Lee!

Opening Hours
Mon

Closed

Tue

5:00 pm - 9:00 pm

Wed

Closed

Thu

5:00 pm - 9:00 pm

Fri

Closed

Sat

Closed

Sun

Closed
Authorize your self with either of these to view contact details, your information will not be shared to any one
Newsletter Subscription for Virtuous Reviews LLP
One more step and you will be subscribed to our newsletters
We have sent you a verification mail on your email id, please verify it.