The Grapevine Restaurant & Bar
Restaurant
4013 North Brown Road, Scottsdale, AZ 85251
Claim Listing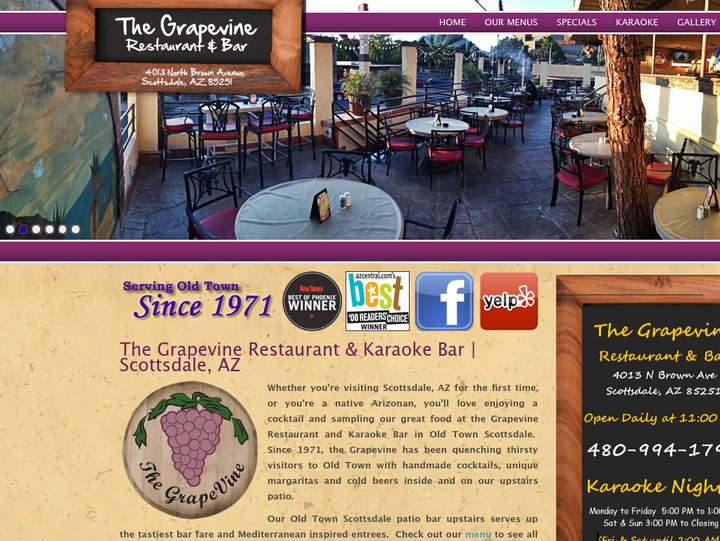 Company Description
Whether you're visiting Scottsdale, AZ for the first time, or you're a native Arizonan, you'll love enjoying a cocktail and sampling our great food at the Grapevine Restaurant and Karaoke Bar in Old Town Scottsdale. Since 1971, the Grapevine has been quenching thirsty visitors to Old Town with handmade cocktails, unique margaritas and cold beers inside and on our upstairs patio.
Review & Rating

Delicious pizza in Old Town Scottsdale. The rooftop patio has a great ambiance and a great view of the activity on the street below.

The service lady was nice but we went to karaoke and my husband but his songs in and we waited hour and half then the next round started and he was never called up. Other people came up and put song in and got right in and sang...sad to come from out of town and was told this was a fun and great play to come to sing. Prices are higher so if we spend special nights out and we search for great place it's so disappointing to be treated like we don't manner....so sad....

Singing was all based on who knew who. I am visiting from out of town and waited 2.5 hours for the lady running it to tell me "you're up next" three times and never got to sing. Even though people that I got there before sang twice and I never got to sing. By the time I was up it was closing time. Sucked.

The best potato skins anywhere. ANYWHERE! I asked for mine well done and they arrived thin, crispy cheesy and wonderful! Just the right amount of cheese. Potato stayed crisp and flavorful. Order them now!

Fun little karaokee spot! Everyone in there gets turnt tf up😂

Started at happy hour, kareoke low key older crowd. Wonderful voices in this crowd! Think locals. Nice afternoon with happy hour specials. We rolled it into closing down the place! Later in evening it was a bit younger crowd had a fun time!

Been coming here for many years! Love and adore James!!!!! Will always come here, also same staff for years!!!! Great little Scottsdale Gem!

Drinks and karaoke were great, but thank goodness we were seated in the back because the front of the place smells like a public restroom.

Wedge salad was super good. Reuben is so-so. French onion looked really tasty. Dog friendly patio, but only on bottom. Really wanted to sit on balcony seating to people watch. Very yummy food, great service, will be back if I'm ever in old Town Scottsdale again.

Never have a bad experience here. The atmosphere is beautiful, and the food is great. Love the gyro sandwhich! Our waitress Cami was awesome, super helpful and fun!

The host let the same person sing three times in a rotation because she put her friends name in. Her friends didn't even try to sing. One refused to even hold a mic. I sure miss James and Lou as hosts. They would never let that happen during happy hour karaoke

Fun karaoke place to listen at. Gave $20 to sing a song, never got called after a couple hours while I saw all the people go up and sing the same songs and tip $5. Place is fun, just get a better DJ.

Excellent food, staff! Love the Mediterranean atmosphere upstairs! Too many favorites on the menu but the salmon is sooooo good, and the soups, and the sandwiches... Everything about the Grapevine is inviting and wonderful. Evenings are fabulous when the torches are lit and music fills the air. A must go at any time!

Ordered the St. Louis BBQ chicken with diced tomato, scallions, jalapenos, cheddar and havarti cheese. Was very disappointed in the texture and the flavor of the dish. The bar keep was very polite I was service was good. Skip eating here and just go there to sing and drink.

Authorize your self with either of these to view contact details, your information will not be shared to any one
Newsletter Subscription for Virtuous Reviews LLP
One more step and you will be subscribed to our newsletters
We have sent you a verification mail on your email id, please verify it.