The Miami Hand Center
Surgeons
2750 Sw 37 Ave, Miami, Fl 33133 USA
Claim Listing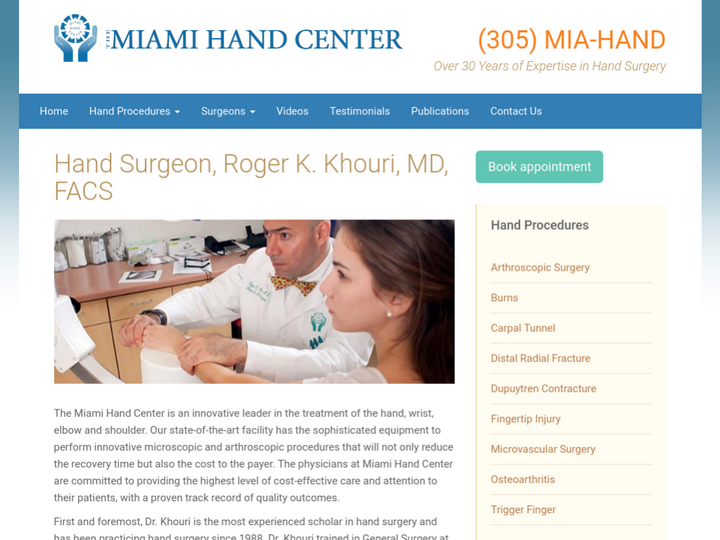 Company Description
We are a recognized center of excellence for the treatment of hand & upper extremity disorders. For more than 20 years we have earned our reputation in the community as the place to go for the most expert care and advice.
Review & Rating

I was referred to the Miami Hand Center by my insurance company. The office staff appeared tired, not rude, but not particularly nice. I had to place my hand under warm water before getting stitches removed, and was left for an entire HOUR, before finally being told to stop. I felt neglected and forgotten. My appointment was at 4 PM and I left the office at 7:PM. When the first doctor (I'm assuming he was a doctor, as we were never introduced) finally came to see me after 2 hours, he kept getting up and leaving the examination room, to either speak to office staff or to see another patient. I definitely didn't feel as if I was a priority. He would appear confused when he came back to me, and was constantly referring to case notes. Customer service does not seem to be a priority and there is little respect for the length of the office visit. I cannot speak on my hand surgery as of yet, since I still have a cast and pins which will be removed in a month.

I broke my hand last week playing soccer. This office got me an appointment same day which is surprising. Very professional office and fast. Was seen by PA Omar and then Dr. Khouri, both were great and very knowledgeable. Thanks guys for helping me!

I am so thankful for Miami Hand Center. I am currently a patient right now and they have been great. The staff is very professional and is the best. As for Doctor Khouri he is a great doctor and has restored my arm to the way it was before if not better. I highly recommend coming here. Thank you to everyone at the Miami Hand Center.

Made an appointment for 5:30pm on a Monday - get to the office on time - doctor hasn't even showed up and there's 6 people waiting ahead of me. Asked to reschedule- " the wait it's always like this."

I especifically requested an appointment with Dr Khouri; and after driving 1 hour to get there, waiting to see him, the Physician assistant is the one who comes in. The lady at the desk tells me that the Dr doesnt work there on Monday mornings, and tries to avoid any responsibility to anybody that works there for making the wrong appointment. To top it off, i'm prescribed an MRI; its been a week and they haven't even sent the "notes" to the insurance. Complete dissapointment; bad service overall.

The worst appointment management ... they gave me an appointment at 5:50 pm and at 8:40 pm they had not treated me. I left

About 6 weeks ago, I received a radial fracture from using really poor wrist guards during an aggressive game. I had never broken anything in my life. As a Mom who still could not miss work, i wanted to be sure to find a place that i felt safe with. Baptist referred me to Miami Hand Center. When i researched this place, the reviews horrified me. There are more bad reviews than good and i read every single one. Because of the reviews, I called at least 4 other centers/orthos to avoid having to go there. All of them could not see me for weeks or didn't care. I had a big deformity and could not wait weeks. So, hesitantly, I went to Miami Hand Center. I arrived already thinking negatively and walked in with a bit of an attitude, looking for truth to all the bad reviews. Long story short, this place is awesome. Yes, they seem to be busy and they have a small team. However, they have a system going. They're not at all rude and were direct and honest with me. They were honest about a wait and ended up moving faster than i expected/read. They were informative and explained everything to me calmly and kindly. Even with my attitude! I don't speak Spanish very well and even that was not a problem. The doctors, nurses and xray technician all communicated with each other. Everyone seemed trust worthy and knowledgeable. From the front desk to the nurse to the doctors...everyone was great! My second visit was even better! I had my screaming toddler with me and they still took the time to treat me like the only patient they had that day. The nurse asked if she could include someone in training to watch and i'm so glad i agreed to do so. Listening to her confirmed what i already knew, she knew her trade. I saw patients there with mild to severe injuries and everyone seemed just as important. They never mistreated me even though my attitude gave them reason and they all seemed very qualified. I had one million questions and they patiently assuaged all my worries. If i get injured again, i will most definitely return. They're a great team. I work in an upscale medical environment and we even have slight wait times and sometimes recommend what people don't want to hear. Wait time is better than no time. And for those who commented they received poor medical advice, as a mother who has a son who has lived in hospitals since my son's birth, this is why we have hundreds of people in areas of specialty; you don't have to agree with every doctor. It's OK to get second opinions. Actually, that is promoted if you are uncomfortable. If waiting and not receiving news that YOU wanted deserves a bad review than you're more likely the problem, not the business. I even mentioned to the poor front desk women how i read the reviews and i was worried and she was honest to my face and said, yes there is a wait. More positive notes to consider as a patient; they're equipped with an xray room/machine 5 feet way from the medical rooms and their medical rooms are a decent size, equipped with all tools and technology to aid a huge range of injuries. I LOVED how fast i took my xray, sat in my room and was already reviewing my images with the doctor. Point is, they communicated every step and make sure you're comfortable. As busy as this place gets, i'm shocked at how well they all accomplished such great care. I enjoy every professional there and trust all of them. My next appt is this Wednesday !

Dr khouri operated my hand, and inserted a pin in my little finger and casted. Everything was going good until they had to take that pin out. It was a fiasco in the operating room. Dr Khouri was not the one that took it out. It took them many tries to be able to take it out no anesthesia, i was fainting and screaming until they sedated me, needless to say the screwed up my finger and hand. And when I went back to see Dr Khouri after several attempts getting an appt. With him and another Dr. Showing up, I finally saw him. You know what he told me? it is too late now to do anything you should of come and see me sooner. My God, I felt like so helpless, upset, i just walked out, before I did something I would of regarted later. Needless to say my right hand is disabled.

Great place my wrist was healed quickly and with no pain. Great customer service and care!

Amazing Experience !!!!! Came to this practice through reference from the hospital and I could not be happier with the outcome !! I am very grateful for the whole team over at Miami Hand Center !! From Leo, the tech, who did an extremely professional job with the cast for my injured wrist !!! The nurse Practitioner Ms. Thompson who was very courteous and knowledgeable !! And Dr. Calva was a true gentleman helping me feel comfortable and ready for surgery ! Amazing staff, I will recommend to all my friends and family !!!

Execellent team. Dr. Calva and Olga are very professional. Sonia handled my appointments appropriate, and the OT team SUPER great team!!! George (the rock😂), Sarah very sweet person and Alain are the best hand therapy! Thank you team for fixing my hand. Soooo happy :)) EXCELLENT PLACE. No pain no game!!!!!!

Authorize your self with either of these to view contact details, your information will not be shared to any one
Newsletter Subscription for Virtuous Reviews LLP
One more step and you will be subscribed to our newsletters
We have sent you a verification mail on your email id, please verify it.