A.C.W.A. Combatives & Self Defense
School
1740 N Greenville Ave, Richardson, TX 75081, USA
Claim Listing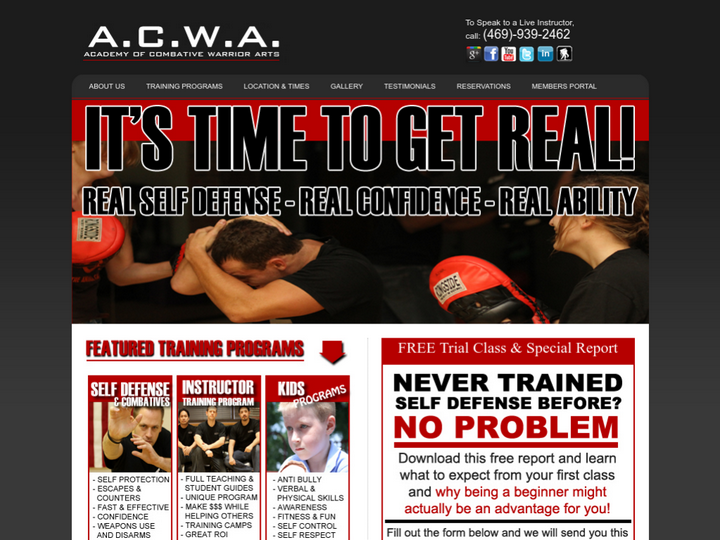 Company Description
The truth is that most sport/traditional martial arts do little to prepare you for a real world violent confrontation in a timely manner. You need to be safe now, not years from now! This is why our material is instinctual, easy to learn, and addresses the problems we face today. Reality demands practical, no nonsense solutions that can be used by anyone, anytime, anywhere. Come see for yourself why so many people are moving from traditional arts to our reality-based system. No silly outfits, no outdated traditions, no games, just the skills you need to get you home safe.
Review & Rating

A.C.W.A is unlike any self-defense training that I have seen. For years I have been looking for self –defense training that would get to the point, while being very useful in real life situations. The closest training that I was interested in was only offered in the military Special Forces. I was immediately interested when I researched A.C.W.A. So I called to further check it out. I was invited for a close up visit. I was impressed with the positive family environment. I became a team member on my first visit because I knew this was where I needed to be. The classes are always mentally challenging. Justin makes learning fun and very effective. Not only am I learning how to defend myself and get home safely. I am also learning life skills that can be applied in every aspect of my life. I highly recommend this to anyone. Leonard J.

Great instructors with the knowledge to convey how to properly defend yourself and feel comfortable doing it. Everyone teaches everyone atmosphere. From the start you can tell it is nothing like a "normal" self defense class or martial art. A very welcoming feel and safe environment that helps you to overcome any doubts you have about self protection and ability. Very glad I joined this group of people and look forward to more training.

Love this class! Everybody is super helpful and Justin is incredibly knowledgeable. This class is making me more confident and also teaching the psychology behind the techniques. So worth coming!

I was worried that it was going to be expensive, stressful, or time-consuming. It was all those things combined. The question is whether or not it was worth it, and the answer is a resounding YES. The Urban Escape & Evasion course will teach you how to be aware of your surroundings and how to save your life (or the lives of others) in hostile situations. With all that's going on in the world, it would behoove everyone to take this course.

I've loved every class so far and can't wait to do more! The techniques are practical and logical. I love that the trainers are patient and take the time to work with you one-on-one to go over things again and to answer questions. They work on rewiring your brain to use your natural instincts and turning them to your advantage. I like the personalized attention in each class; it doesn't matter how much experience you have - just join right in at any time.

FIVE STARS for the ACWA team and overall experience! I traveled from Southern California to train and participate in their Urban Escape & Evasion(UE&E)course. The owner Justin and his team are top notch in their customer experience and customer service. The team is welcoming and really make an effort to insure that everyone feels welcome and included regardless of their previous training(or none at all). We had participants with all backgrounds from college students and retried executives to former marines. The UE&E was a real eye opener, fun and very challenging. Special shout out to Team Member Eric(and the TEAM of trackers) for keeping the pressure on. Definitively worth the travel time and investment. Thank you Justin, Lindsey, Eric and the rest of the TEAM MEMBERS!

This is practical, usable stuff that you can use the minute you leave the class. You don't have to wait years gradually working your way up through the ranks. This is way different from any martial art and Justin and his amazing instructors keep it light and interesting without losing effectiveness. It is instantly useful. There isn't a situation that you can present to the instructors that they can't give you a dozen ways to handle. I felt empowered and more self-confident after the first class yet, at the same time, want more and more. In short, this stuff works. You don't have to be fancy to be effective. Love the instructors and love the camaraderie.

My teenage daughter and I have been taking the regular self-defense classes here for a while. I wanted her to be as prepared as possible to defend herself before she leaves for college. I love the philosophy behind this program. It's not about how big or strong you are. It's also not a competition based on colored belts or winning trophies. It's about giving you the tools you need to get out of bad situations alive. We recently went through the Urban Escape and Evasion class they offer and while it is different than the regular classes, the philosophy is the same. I highly recommend both programs to anyone.

Had an amazing experience with Justin and the instructors at ACWA this weekend. The Urban Escape and Evasion Experience course was full of useful information that could save your life if you ever find yourself unlawfully detained or kidnapped. I know, it will never happen to you right? There are countless news stories of people becoming the victim of a home invasion because the bad guys simply got the wrong house. This is a crazy world, it can't happen to you just isn't an option anymore. The skills and practical knowledge you learn in this course are invaluable and there aren't a lot of places outside of the military teaching this. It's a fun and informative way to spend a weekend!!!

I have been going to A.C.W.A for a year now and it has been awesome. I have learned a lot, and Justin and his staff of instructors are very patient and helpful. Would definitely recommend!

Opening Hours
Mon

Closed

Tue

5:00 pm - 9:00 pm

Wed

Closed

Thu

5:00 pm - 9:00 pm

Fri

Closed

Sat

Closed

Sun

Closed
Authorize your self with either of these to view contact details, your information will not be shared to any one
Newsletter Subscription for Virtuous Reviews LLP
One more step and you will be subscribed to our newsletters
We have sent you a verification mail on your email id, please verify it.