Impact Krav Maga Self-Defense
#85 in USA
#14 in San Diego
School
2545 El Cajon Blvd Ste A, San Diego, CA 92104
Claim Listing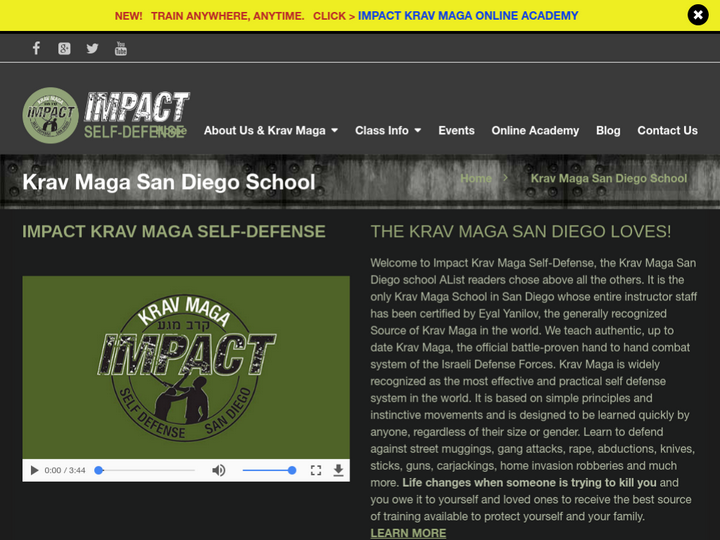 Company Description
Welcome to Impact Krav Maga Self-Defense, the Krav Maga San Diego school AList readers chose above all the others. It is the only Krav Maga School in San Diego whose entire instructor staff has been certified by Eyal Yanilov, the generally recognized Source of Krav Maga in the world. We teach authentic, up to date Krav Maga, the official battle-proven hand to hand combat system of the Israeli Defense Forces.
Review & Rating

I love training with the instructors at Impact Krav Maga Self Defense. Yuri and Veronica are very patient and also evidently passionate about their craft. It is a warm, welcoming and friendly environment which is essential for taking on Krav Maga. Krav Maga can be intimidating but not so at Impact. They make me feel at home away from home and that is why I want to be there. In addition, Yuri and Veronica are extremely knowledgeable in Krav Maga as their training under the Krav Maga Global network is proven extremely valuable. I've trained at other locations and with different Krav organizations and I found my experience there was more or less incomplete. I had to learn a technique but was never give reason as to why and when I should use it. At Impact, I get an all encompassing Krav Maga education. I highly recommend it to anyone who is even thinking about trying or expanding their Krav Maga training!!!

I honestly cannot say enough great things about Yuri and Veronica. They truly exemplify not only what great Krav Maga should look like, but how GREAT Instructors should be. They have to be 2 of the most patient instructors around...... always encouraging and always willing to show over and over again what it is they want you to do. They really want their students to understand the HOW and WHY behind every technique. At Impact Krav Maga, you will never feel like you're just there to "pad their wallets." They value relationships and people over profit. Because of this, they are successful. There is no other place in San Diego that I would want to go for Krav Maga...... trust me when I say this, not all Krav Maga schools teach good Krav Maga. Impact = Quality. Period!!

It's a great I have my son enrolled.

I started attending these classes after a frightening experience where I was followed and trapped in my car, and I completely froze. I've been to 5 classes so far and have learned SO much in such a short period of time which has really boosted my confidence in how to deal with attackers. Each class is different and the instruction is clear and thorough so you learn the 'how' and 'why' behind each defense tactic. I can't speak highly enough about Yury and Veronica. The skills they teach could save your life. Thank you!!!

I have always been interested in a self defense practice. As I got older I wanted to feel more in control and confident. Always thought the window of this opportunity was slipping away with age not desire. So with the encouragement of my youngest who's a black belt in his discipline I decided to attend a class with him and from there this Gma (yep grandma) decided to turn my self doubts into victories. I absolutely love the studio and the instructors are knowledgeable, passionate,patient and very gracious to all levels of abilities. Actually, I also found the advanced students reflect all of these qualities too. Which is a testament to the quality and professionalism at this studio. Everyday I look forward to going and every completed class is one step closer to my goal of becoming a Gma that can kick some a$$

Impact Krav Maga March 1, 2018 Meticulous Teaching, Professional Instructing When I decided to take up Krav Maga, my purpose was not only for self defense but using tactics that would make sense in a street environment. A street fight has the potential of being brutal, unpredictable, and lethal combining an unregulated use of force by skilled vicious attackers-criminals; who could care less if their victims survive or not. It made sense to explore a combative that would not only give me a tactical advantage ensuring my survival and as a way of escape. The additional benefits are getting in shape, enhancing my stamina and instilling self confidence. The combative system that Yuri and Veronica teach is when an attacker strikes, the intended victim has to initially defend himself and the combatives taught by these two highly qualified instructors, is that after defending against the first strike, you immediately, brutally and efficiently reverse the confrontational dynamic by attacking the attacker. The final issue concerning what's being taught, specifically the curriculum, is that it is lean, valid, relevant, and practical. The attention to detail given to each student makes me feel like I'm the only one in the class. The teaching technique is exact and precise, yet explained in a way that's easily understood no matter what your level of instruction. This is a class well worth the time and expense.

Debbra Tessmer-Wagner, LMFT
UK
As a therapist whose specialty is trauma, I encounter many individuals who've had life threatening experiences and who are in the process of healing. I make part of their healing journey a self-defense course. Since I'll never ask a client to do anything I wouldn't do, I decided to enroll in the 6-week self defense women-only course. I had taken a 4-hr "self defense" course years ago, so I thought this would simply be a refresher. Boy, was I wrong!!! This is the real deal, and if you truly want to equip yourself with confidence and skill to defend and protect in a life-threatening situation, you MUST take this course. At 19 I experienced a life-threatening assault, but couldn't defend because I simply didn't know how. Now, 30 yrs later, I've learned not only what to do, but also how it "feels" to do it - meaning to strike a perpetrator. If you're a parent, please enroll your teen. If you're an adult, it's a powerful and empowering gift to yourself. Veronica is amazing as an instructor, and I'm tremendously grateful for her passion to strengthen us and equip us to survive.

Yury and Veronica are phenomenal instructors. They are caring for their students and push them to grow. The training sessions are meticulously broken down clearly and eloquently to make complicated concepts and actions seem doable. They become doable due to their instruction and help. The techniques I have learned to protect myself and others are so valuable and I am grateful for having found this gem of a school.

Veronica and Yury run a truly awesome facility. They've built a supportive community and a really fun place to train. The classes are easy to follow and build on from beginner all the way up to advanced level. I would recommend their training facility to anyone! A challenging and fun place to train!

This review is long overdue. I loved this place. The owners are experts, they are friendly, and they are very helpful. The atmosphere is not hostile at all. I've been to a few different gyms and have practiced a few different styles of self defense. This place was by far my favorite. I had to move out of state and I wish I was able to attend. Don't hesitate, try them out.

Authorize your self with either of these to view contact details, your information will not be shared to any one
Newsletter Subscription for Virtuous Reviews LLP
One more step and you will be subscribed to our newsletters
We have sent you a verification mail on your email id, please verify it.