Shaolin American Self Defense Academy
School
4723 Lankershim Blvd, North Hollywood, CA 91602, USA
Claim Listing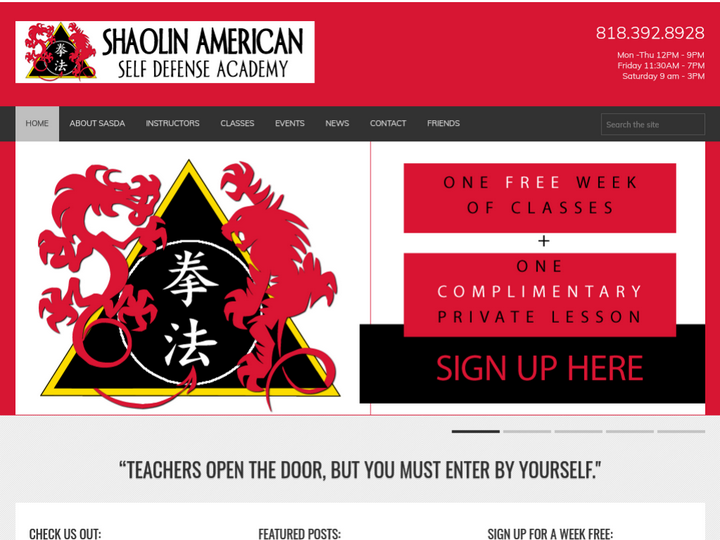 Company Description
We teach Kenpō Karate, which blends Chinese circular movements and hard Japanese linear movements to produce an effective self-defense system. Our students experience the beauty of the traditional Martial Arts and gain a strong sense of DISCIPLINE and CONFIDENCE that are essential for real-life situations.
Review & Rating

I started my training at SASDA just shy of two years ago. As with any new endeavor I was slightly nervous going into my first lesson. However, within the first five minutes that feeling disappeared as I instantly could see I was in good hands. Sensei Donnie and his instructors do an amazing job of teaching by tailoring each lesson to the individual and making classes informative, challenging, and fun all while teaching REAL and PRACTICAL self-defense.

The Shaolin American Self Defense Academy helped me start down a martial path towards a stronger mind, body and spirit. While I enjoy the practicality of the self defense aspect of the art of Kenpo, the conditioning and discipline of the body and mind has given me tools to make my life more fruitful and positive and to find peace and stillness when chaos surrounds me. Though I am still at an early stage in my training, I'm excited for what awaits further down the road. The dojo itself is welcoming with knowledgeable and fun instructors in Senseis Donnie, Lucas, Jared, and many guests instructors that visit, all providing multi-faceted perspectives on the art to supplement curriculum and allow adaptation for personal growth. If you have an interest in the martial arts, are looking for a non-traditional workout, or just some peace of mind, you should definitely stop by and check it out.

Sensei Donnie has the rare combination of being a talented martial artist, being able to communicate and teach the art -- and he's a great guy. I've been training in kenpo since 1991 and very few of my instructors teach with Sensei's confidence, ability and kindness. For adults, you learn fluid, realistic fighting techniques to protect yourself in any situation. However, parents can trust that their child is being taught is a safe and supportive environment. This is the kind of dojo where the people become family and it feels like home.

Shaolin American is a great school to learn kenpo. All of the instructors are helpful & friendly, yet very serious about teaching kenpo. I love that they emphasize having good character and respect for self and others. While we as parents are stressing to our children to have good character at home, it's nice to know that same positive directive is being echoed during classes. It takes a village :-)

The true essence of this Dojo is exhibited by the dedication, compassion and passion by Donnie and staff during the yearly women's self defense class. The information was invaluable, and remembering just one move, or technique may preserve a life. This is a must class for every female.

Let me just say, it's hard for me to try new things. I was never the kid in class that naturally excelled at anything. So you can imagine that coming into a karate class as an adult was pretty difficult. I'm that "challenging" student (that's the nice way of referring to me) that gets frustrated and wants to give up. The teachers (Senseis) at Shaolin American have never once allowed me to give up. I have to give a special shout out to Sensei Gabe for the most inspiring lesson I've had to date. Teaching me to breathe through my moves and showing me how to let go while performing a technique has opened up a whole new world for me in my training. It's proven to me that karate isn't just a way to defend myself, it's a way of life and Sensei Gabe lives and breathes that every day. He has the mind of a warrior and the heart of a monk. Thank you to all the Senseis here for your patience and wisdom. I learn so much about myself as well as Kenpo every time I walk through these doors. I can't sing their praises enough.

This is absolutely the best Martial Arts school for kids in North Hollywood. Since my son started taking Karate lessons at Shaolin American I have seen a notorious positive change on his self-esteem and mental attitude. He is now more confident and happy. I am so grateful with Sensei Donnie and Lucas. I highly recommend to join their classes.

Coming from a classic martial arts background I find the training at Shaolin American Self Defense Academy practical and useful. These techniques are the missing link to the traditional arts while still respecting the tradition of a good Martial Arts dojo. These guys and gals know their stuff and the classes are motivating, informative and effective. All the while being super friendly, supportive and ego free. I'm so glad I'm now studying with SASDA!

Our family loves this school for our 4 year old daughter. Highly recommended. The teachers are spectacular. They teach important conceptions such as focus, patience, self defense and accountability for ones actions. Our 4 year old has really benefited! The space is also very beautiful and clean.

This is one of the best places you could ever train and really learn. The environment is great and the energy is positive. They work hard and are like a family. Welcoming. I came in to check things out and fell in love instantly. And the amazing positive energy is from the sensei's and students alike. If you want to learn and work hard, have experience or none at all I'm telling you this is the place. It's really hard to find genuinely kind people who also do the job so amazingly.

Opening Hours
Mon

Closed

Tue

5:00 pm - 9:00 pm

Wed

Closed

Thu

5:00 pm - 9:00 pm

Fri

Closed

Sat

Closed

Sun

Closed
Authorize your self with either of these to view contact details, your information will not be shared to any one
Newsletter Subscription for Virtuous Reviews LLP
One more step and you will be subscribed to our newsletters
We have sent you a verification mail on your email id, please verify it.