Advanced Medical Imaging Center
Centers & Stores
111 N. Wabash, Suite 620, Chicago, IL 60602
Claim Listing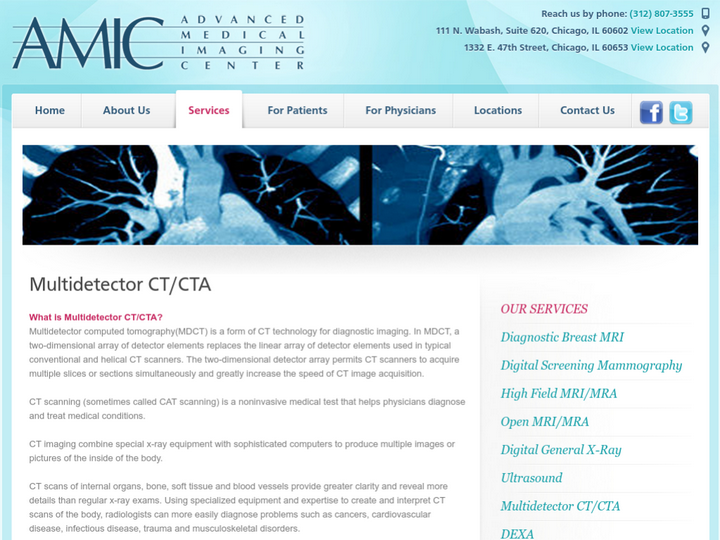 Company Description
Advanced Medical Imaging Center (AMIC) is the largest and one of the oldest Imaging Centers in Chicago loop. AMIC has been providing quality radiological services since 1985.
Review & Rating

Receptionist Didn't really know what she was doing. Almost sent me in for the wrong imaging service. Wouldn't recommend.

My wife has been waiting for more than a month for her mammogram results; for weeks, there was simply no answer when she telephoned, and she left voice mail after voice mail after voice mail. Finally, she got a human who "assured" her that the results would be in the mail. Well, it's two weeks later, and surprise, surprise, surprise! No test results to my wife. No test results to her OB-GYN. They have another week to get their act together before they get a visit from NBC 5 News Investigates. NBC 5 Investigates tends to get stuff done. I would NOT recommend this organization to anyone. There are other, more professional places to have your lab work done.

Went for a scheduled MRI TWO times only to be told EACH time that the machine had just broken that morning! Will not go back. Don't trust this place.

Was told I needed a kidney function test for an MRI as a perfectly healthy 25 year old. This is not normal.

I should have checked their reviews before i booked My mistake. Wasted my day. I walked i and no one was there. 5 min later someone came. I was handed a form and it said i owed before i went back. When i said i met my out of pocket she said hold on i didnt even check your insurance. So she told me to sit and wait and she would bring a form to me. 20 min later i wnet to the desk and no one was there. So i called Billing. She had to track the girl down. She comes back and says are you ready? I said I've been ready 20 min did you get that paper. She says well i cant Figure out your insurance. So i waited 20 min for what? I took My script and left and called the supervisor. I was Put on hold and told they would call me back. That right there shows why the place is run that way. Wasted day.

Phlebotimist couldn't draw blood when I never had an issue before. Told to come back again. Got 3 different answers regarding fasting time. They cancelled my appointment 1 hour before time slot because radiologist was on vacation and substitute wouldnt be there for at least 2 hours. I'm a diabetic and I'm supposed to fast until 2:00? When I voiced my concern, the person that was online said there's a lot of confusion there right now. I'll say, to much for me. Will never go there again.

My chiropractor sent me here for X-rays after I was involved in a car accident. I work in the building so I came down early to fill out all of the paperwork. I got to the appointment only to find out there's more information the receptionist needed. I should've been told that ahead of time, now my appointment has to be rescheduled. Is there a negative 0 rating?

This place is HORRIBLE!! AMIC used to be sooo much better than this. Horrible attitudes and treatment. No regard for appointment times at all. I have to find another imaging office. Such a shame because the location is perfect and it easy to go on your lunch. The new management is just horrible. Maybe its not the Management but the people that they hire need coaching! Horrible customer service!

I've had two patients who have had studies done only to have no report show up at my office. The last person showed up at 3pm on a Friday and was told the x-ray tech went home for the day. This place has done a nose dive over the past few years.

I have had my spinal CT scans, MRIs and other tests performed at this site for over ten years. They have consistently been professional, caring, and attentive during my tests. Degenerative spinal diseases and pinched nerves can cause acute pain and they have been sensitive and careful when I have undergone tests. They are also excellent in their recordkeeping. I highly recommend them.

Opening Hours
Mon

Closed

Tue

5:00 pm - 9:00 pm

Wed

Closed

Thu

5:00 pm - 9:00 pm

Fri

Closed

Sat

Closed

Sun

Closed
Authorize your self with either of these to view contact details, your information will not be shared to any one
Newsletter Subscription for Virtuous Reviews LLP
One more step and you will be subscribed to our newsletters
We have sent you a verification mail on your email id, please verify it.