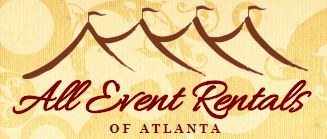 All Event Rentals
Wedding Equip Rental
1744 Connally Dr, Atlanta, GA 30344, USA
Claim Listing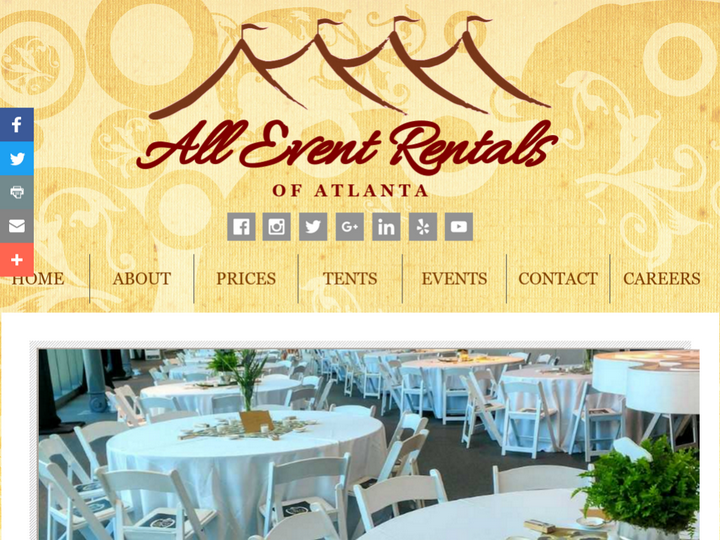 Company Description
All Event Rentals of Atlanta was opened in 1980 and has provided the residents and businesses of the Metro Atlanta area quality customer service for 35 years. Our staff has over 50 years of experience combined in the Party industry. We have helped lead the way in the party rental industry.
Review & Rating

GREAT PLACE

I cannot begin to say how good and dependable these folks are.. I have been renting from them for over since 2009 and they have been very helpful... The older gentleman on the generator side and the lady at the main store who was lately joined by the owner's son are always helpful and friendly.. I rent BBQ grills from them twice a year and lately for the past 2 years generators which we needed to use the facility we rented for the holiday weekend... They are great and will go back anytime... Satisfaction guaranteed with them....

I hired All Event Rentals of Atlanta to provide equipment for a 5k fundraiser the organization I work for was hosting this past weekend 04/30/16. We have dealt with many rental companies, but All Event was the best by far. Jason was kind and flexible through a small hiccup we experienced with the venue and offered up a lot of help for next year's venue, and Travis and his setup partner were fun, energetic and got the job done quickly. Best experience with a rental company ever.

I have always used them for seventeen years now!!!! Even if I have no reservations they will assist you on accomplishing your goal!!!!!

Don't fall for these fake reviews, these people are down right rude and unethical. Great price for horrible service, just do a thorough check on all the items and god forbid you utter a word to your defense to them, they'll yell at you.

My company, Sincerely Yours Events, worked with All Event Rentals at a wedding recently. They were on time, helpful and their inventory was beautiful. Highly recommend them!!!!

Made our Ribbon Cutting Event look Miraculous. Great bunch of guys who were willing to work with our every need.

I went to Alll Event Rentals because of the great reviews on Google. Had I gone to Yelp to read those reviews as well I would have gone somewhere else. My husband and I rented 25 white folding chairs from them for our Christmas dinner. They were a good price. Comparable to what we found around town. After the dinner and everyone was gone I started to noticed gashes and marks on the floor around the house on our hardwood floors. I immediately walked to every place in our home where we'd placed a chair and sure enough there was a gash, scratch or gouge in the floor in EVERY place. We turned over every chair to find that EVERY plastic tip at the bottom of the chairs were warped or worn down and exposing the metal from the chair. When people sat in them they went into the wood. I went to calmly return the chairs on Monday and both the lady at the counter and the owner Mr. Causey said "It Was OUR Fault!" They don't make the chairs and they are not responsible for defects of an item." What? I explained to them that this was not a chair defect but a result of the chairs not being maintained with heavy use. This is negligence. I explained to them because the protective tips were worn down they did not protect the chair from scratching the floors. I even showed him pictures of the damage in the multiple places and he shrugged it off and said the best he could do was give us our $40 back but it wasn't his fault. It was our fault for using chairs we rented from your reputable business and not looking at them to ses if they were usuable first!? We have AT LEAST $1,000 worth of damage to our floors (if we're lucky) and he offered us $40. He didn't even care. This is NOT how you do business. I don't care how many 4 and 5 star reviews a company has. Their character lies in how they treat EVERY customer. He didn't even apologize. Be Aware! If you are rent something and it is damaged they will not help you. Check each and EVERY item you rent BEFORE you leave also read the back of the forma you sign because that is where their disclaimer is.

Great company. My wife and I came to them for various tables and table cloths for our wedding, and even with last minute changes, they were able to get everything we needed. Thanks for making our special day possible, and with such good customer service!

They had everything I needed ad provided it at reasonable prices with friendly staff.

Opening Hours
Mon

Closed

Tue

5:00 pm - 9:00 pm

Wed

Closed

Thu

5:00 pm - 9:00 pm

Fri

Closed

Sat

Closed

Sun

Closed
Authorize your self with either of these to view contact details, your information will not be shared to any one
Newsletter Subscription for Virtuous Reviews LLP
One more step and you will be subscribed to our newsletters
We have sent you a verification mail on your email id, please verify it.