Allure Esthetic Plastic Surgery
Surgeons
600 Broadway Suite 320, Seattle, WA 98122 USA
Claim Listing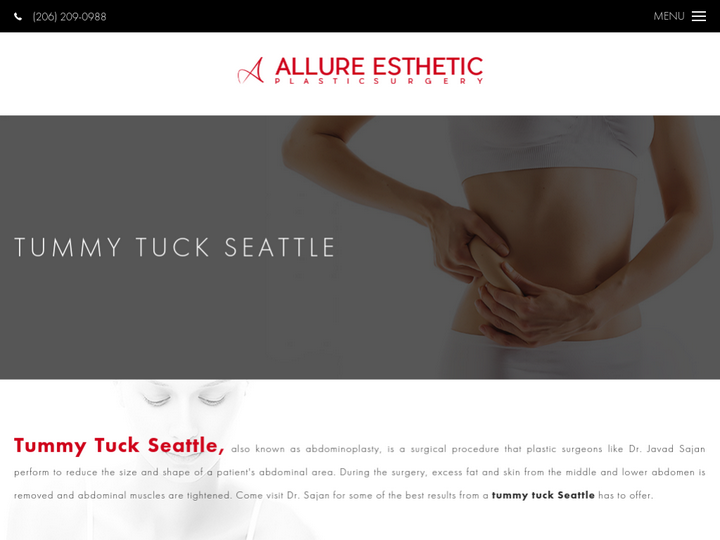 Company Description
At Allure Esthetic, we believe our patients deserve more from us than our technical skills and expertise in plastic surgery. They deserve respect, confidentiality, compassion, and acceptance from the moment they walk through the doors to the time they complete their final treatment.
Review & Rating

I just had my chest reconstructive surgery with Dr. Sajan on 8/18. I can't tell begin to explain how happy I am with the results! Dr. Sajan is incredible at what he does and he's honestly the nicest and most caring doctor I have ever interacted with. He addressed all my concerns and I even had to reach out to him on the weekend and he was always there for me. If you're looking for a fantastic surgeon and a great team, look no further. I traveled from Anchorage, Alaska and couldn't be happier with my decision. Thank you so much to the entire team for your care and professionalism. I am beyond grateful.

Can I give them 500 stars? No? Too bad, because the doc and his team deserve every single star! BuJust wow! Him and his staff are the best! I will never ever go to someone else. Amazon is customer obsessed and this office is patient obsessed!

I had surgery with Dr. Sajan and his amazing team a couple months ago and I'm still breathless! Everyday when I look in the mirror I am reminded at how much more I feel at home in my body and how much more I smile (since I can't walk past a mirror now without smiling;). The results are beyond incredible and I'm so so happy! It was also very apparent from the beginning that Dr. Sajan has a very in-depth understanding of the procedures he offers (even sometimes the history behind them), as well as his team as he is constantly explaining everything he is doing in a very easy to understand way. But more importantly, Dr. Sajan really seems to have a strong understanding on why people want these procedures, which in my opinion is the key element to giving someone exactly what they want. His team is also incredible! Throughout the entire process I felt completely respected and cared for and there was an incredibly nice assistant of his by my side as soon as I woke up from surgery. You really won't be disappointed with the work of Dr. Sajan and his team!

Dr. Sajan and his team are incredible. I was looking for a high skilled surgeon to perform my top surgery, after meeting with him the first time, I knew he was the one. Not only is he a highly skilled surgeon, he is also very knowledgable about trans related issues. During our first consultation, he started it by asking me to explain how I viewed my gender, as he didn't want to make any assumptions. We had a great conversation around the kind of results I was hoping for. The Allure staff were equally as great, very communicative, kind and always happy to answer any questions I had. Their positive energy was infectious. My surgery results are amazing, and I couldn't be happier with the outcome. I have a lot of respect for Dr. Sajan and what he is doing to advance procedures in the trans community. Definitely highly recommended.

I was thinking about a mommy makeover a long time before I decided to go on consuls. I went through all of the top doctors in Seattle and consulted with many of them. Dr. Sajan at Allure Esthetic is the nicest and most sincere person I have ever met. He spent an entire hour on the consult. I originally thought I would only need breast implants and wanted a tummy tuck. He told me that breast implants alone would not work for me and I would need a breast lift with augmentation. He did also say he would do the tummy tuck at the same time. I was really worried because I wanted a mommy makeover with minimal scarring and did not want scars on my breasts. Well its been 1 year since my mommy makeover and the scars aren't even visible! I love my results and so happy I had my plastic surgery done with Dr. Sajan.

I can't say enough good things about my experience with Dr. Sajan and the Allure Aesthetic team. After having a terrible experience with a different doctor in Portland, I am so glad I was able to find Dr. Sajan and his team in Seattle. It was 100% worth the drive. I felt autonomous over my own body and that made a HUGE impact on my experience. I had double incision top surgery and I didn't have to wear a post-surgery binder for more than two days. I also didn't have any drains (which was AMAZING! because I have heard that they're terrible). I had no noticeable swelling and (thank god) my nipples survived the experience. My incisions look great- not too curved and they are quite small. The anesthesiologist, the nurses, the staff, everyone was wonderful and enjoyable to work with. Dr. Sajan and his team made the procedure less intimidating, more empowering, and absolutely smoother than I had even hoped. Dr. Sajan is improving top surgery by making it easier to recover, and by using informed consent, showing that he respects personal bodily autonomy. I would recommend him and his team to anyone looking for a plastic surgeon.

I had top surgery with Dr. Sajan in December and could not be happier with my decision. Everyone who I worked with to get my insurance in order was patient and informative. I felt very at ease with Dr. Sajan, the nurses and the anesthesiologist before and after surgery. They were very kind and welcomed the people who had come to support me. I had bandages on for only four days after surgery and NO drains! As a non-binary person I felt supported in getting what I wanted out of this surgery, like having a neutral chest with no nipples. I would definitely recommend Dr. Sajan for other trans people and for anyone in general. I have had no issues over the past six months with healing and am now using the products they offer to help reduce the visibility of scars, which seem to be working very well.

Very happy with the results and the staff here. My case was unusual and one of the more complicated ones that Dr Sajan has worked on. With pronounced scoliosis my rib cage caves in on one side making it difficult to choose appropriate sizes. Dr. Sajan worked hard in the operating room, trying several different sizes until he found the ones that worked for me. They look beautiful and much more symmetrical than before. Exactly what I was hoping for.

I really enjoyed my consultation in the Seattle office for my upcoming breast augmentation procedure. I loved the fact that I was able to try on different sizes of implants and was able to decide on the perfect size! Dr. Sajan's demeanor is what sold me. He is the best plastic surgeon in Seattle by far!! He's so down to earth and doesn't try to push you for any plastic surgery. He explains what he can help you with if you desire it. Love Dr. Sajan!

From start to finish this has been an amazing experience for me. Dr Sajan is so professional and makes you feel listened to and validated. Dr Sajan and his staff answered every question I had with ease. The staff is also so sweet and always made sure I was comfortable. From the nurses to the anesthesiologist to the doctor they were all amazing. I'm almost 3 weeks post breast augmentation and I am ecstatic with my results!

Opening Hours
Mon

Closed

Tue

5:00 pm - 9:00 pm

Wed

Closed

Thu

5:00 pm - 9:00 pm

Fri

Closed

Sat

Closed

Sun

Closed
Authorize your self with either of these to view contact details, your information will not be shared to any one
Newsletter Subscription for Virtuous Reviews LLP
One more step and you will be subscribed to our newsletters
We have sent you a verification mail on your email id, please verify it.