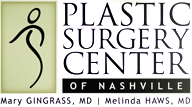 The Plastic Surgery Center of Nashville
#83 in USA
#5 in Nashville
Surgeons
1915 State Street, Nashville, Tennessee 37203 USA
Claim Listing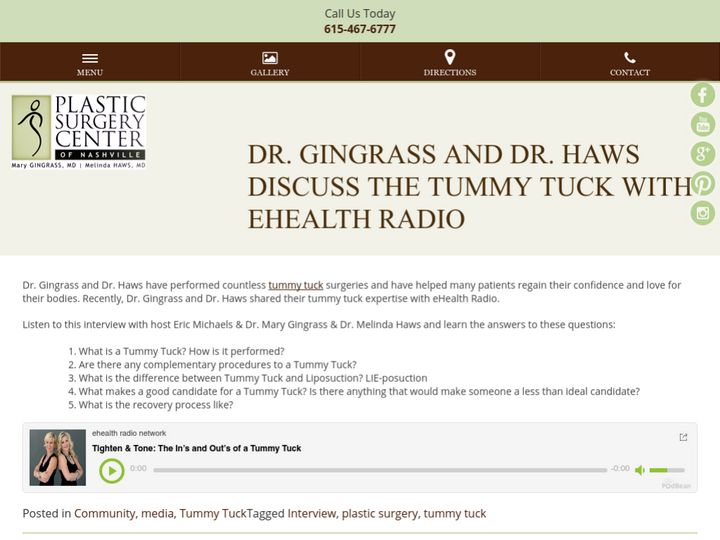 Company Description
Dr. Mary Gingrass is a leading Tennessee cosmetic surgeon who, together with fellow female plastic surgeon Dr. Melinda Haws, performs a variety of cosmetic procedures.
Review & Rating

Helpful staff, highly organized and professional

I am about to hit 1 year post-op for my breast augmentation and I could not speak more highly of Dr. Gingrass and her team. Every aspect of the experience, from choosing specifics like size and profile to the day of surgery (SUCH a great experience), their willingness to take calls when I had questions post-surgery, even up to my one year post-op appointment - it's all been above and beyond what I expected. Make sure you do your research about plastic surgery, have realistic expectations, and keep in mind that breast augmentations more than anything will just amplify what you currently have, not work transformative miracles. Familiarize yourself with what could happen - capsular contracture, breast or nipple numbness, etc. so you know what you could be getting into. That said, they take every precaution and do an amazing job at trying to give you your ideal look and shape while also looking out for your optimal health and well-being. I appreciate that while Dr. Gingrass is understanding and willing to deal with concerns, questions or just overall feelings of being unsure, she's also realistic and will bring you back down to earth and get you out of your head. She tells it like it is and I needed that in a surgeon. I will be going back in for scar revision in one month and look forward to adding to the list of great things I have to say about this facility and the team that makes it so great.

Such a great experience here. The nurse helped fix a bad lip filler done by another place. So appreciative of her help and professional work!

I'm a lawyer who researches every decision carefully, so when I decided to have breast reduction surgery, it wasn't a decision I made lightly. After much careful consideration, I chose Dr. Gingrass, and it was one of the best decisions I've ever made. Dr. Gingrass and her staff were very professional and compassionate. They respected my privacy and answered all of my questions thoroughly. The process went so smoothly, and I am thrilled with the results. Every member of the staff at The Plastic Surgery Center of Nashville--EVERY MEMBER--is great and makes me feel welcome every time I go there (which is a lot, as I've made them my go-to for Botox and other treatments as well). Whenever I need something (a letter to my insurance company, to have a question answered by a nurse, anything), they respond to me as if I'm their only client! Whatever procedure you need, I recommend Dr. Gingrass and her practice very highly.

Megan is not only personable and kind, but is excellent at her craft. I knew I was at the right place the moment I met her and now five days post injections I couldn't be more pleased.

I can't express how pleasant it has been being under the care of Dr Haws and her team! My procedure couldn't have gone any quicker or smoother. I have already told many family and friends about the center and the services they provide. Thanks gals! ;-)

Do NOT trust your face to this place unless you want to be defrauded. The other 7 reviews were from the staff. This place is a scam. Do NOT trust them. This is your fair warning. My 30days of Nightmare is over. When I found out I was defrauded on my 2nd visit it was my mistake for trusting they would make it right. The truth is if a place is a cheat now they will always be and were to me. Don't make the same mistake I did. Find a place that is honest. Fair warning!!!!!!

Megan Spivey is amazing! I found her for a correctional facial procedure when another doctor did a horrific job. She is extremely knowledgeable, professional, and is a facial artist and perfectionist with what she does. She pays great attention to detail. She is someone who has refined her skill over time and really knows what she is doing. I have been to several injectors and she ranks in the absolute top for facial aesthetics! I wouldn't see anyone else.

Couldn't ask for a better experience. Dr. Gingrass was wonderful and so is her staff. It's been 18 months since my reduction and I'm still very pleased.

Dr. Gingrass is an awesome physician. She is like a body artist! The procedure she completed for me was absolutely perfect and she was very professional yet approachable the entire time. I would highly recommend Dr. Gingrass!

Dr. Haws is AMAZING!! My results are better than I could have ever have imagined!! I have contemplated having a breast reduction off and on my entire life. I weighed the options, asked opinions and read reviews. No matter how many great stories I read or heard...I couldn't bring myself to do it. I've never had any type of surgery in my life and the fear always superseded the great testimonies. I finally knew I needed to do this not only b/c of my limited options in cloths but, for my health and well being. This surgery has changed my life for the better in every way! The daily sever back pain is gone making my job much more easier for me to do. That alone will continue to enhance my life. Everyday tasks I take for granted are 10 X easier to do! My breasts have never looked this good in my entire life! I look the best I ever have which makes me feel even better! ....and to my surprise there was little to no pain afterwards! Same goes for the scars! Not only do these women truly have a gift for what they do on the operating table but they're after care plan for you is seamless as well! I am so thankful to these ladies for changing my life!

Authorize your self with either of these to view contact details, your information will not be shared to any one
Newsletter Subscription for Virtuous Reviews LLP
One more step and you will be subscribed to our newsletters
We have sent you a verification mail on your email id, please verify it.