Aviation Institute of Maintenance
Posted in :
Claim Listing
2025 Satellite Pointe, Duluth, GA 30096
(+1) 678-377-5600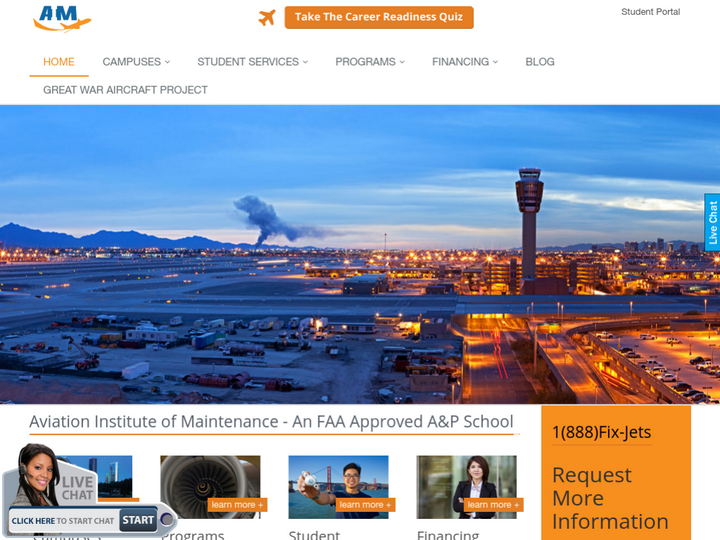 Opening Hours
Mon

Closed

Tue

5:00 pm - 9:00 pm

Wed

Closed

Thu

5:00 pm - 9:00 pm

Fri

Closed

Sat

Closed

Sun

Closed
Company Description
The Aviation Institute of Maintenance (AIM) is part of a successful group of companies, which first began in Norfolk, Virginia, in 1969. We have maintained a tradition of excellence in education throughout our expansion of aviation career schools over more than four decades. The FAA demands the world's highest and strictest standards for training aviation professionals. The training our grads receive not only meets but exceeds these standards. We are proud of the technicians we have placed through the years with companies all over the world. Take a look at what some of them have to say.
Review & Rating

The school will try to back door you after your done.....

As a former student, graduate and now licensed Aircraft (A&P) Mechanic I can vouch for the quality of education that a person is able to receive here. All time is federally regulated an accounted for, be in class on time. The instructors are highly knowledgeable and are all very capable of educating the students adequately, providing them with the information that they need to pass the courses and learn the required federal material for the Federal Aviation A&P license exams. It is up to each student to carry and develop that information into the career of a Airframe and Powerplant mechanic for the aviation industry. I enjoyed my time at AIM very much and would recommend it to anyone with the time, interest and dedication to succeed.

Study of aiviation

If i could give this school a zero i would. This school only cares about money and practically robs you of it. Multiple times they took my pell grant with out notifying me that it was accessible for me. Multiple of my coworkers and other students are dealing with this now as well. The courses are situated where you are unable to switch to a more reputable college due to the overlapping of normal school semesters. They will not let you finish out a specific side of training powerplant or airframes untill your last few classes to ensure you do not leave. They force you to pay for a course not mandated by the FAA to graduate called capstone. This course has no curriculum you sit and study which you can do at home because you have met the requirements by the FAA by obtaining your 1900 hrs to become certified. Financial aid workers have no clue what they are doing and the back office bursar and other people in back offices are rude and untrustworthy with your money and wellbeing. Their study material is outdated still in 2011 its 2018 which makes it hard to pass your tests to be certified. If i had a choice or could go back i wouldnt have wasted my time they prey on Vetrans and is definitly wouldnt send my brothers there!! Check out other prograns at the not for profit colleges You get a degree and certifications for a fraction of the cost plus better instruction.

I am a Veteran Student, DO NOT ATTEND OR WASTE YOUR G.I. BILL HERE! I attended all of 2 days and somehow... it went from me not having to pay anything to me owing them $100.00 after returning all their supplies and unused books and etc. So now it is my job to make sure that I pay ppl to do their administrative jobs that they get paid for already?? This is after constantly being told that its my application fee... basically some made up s*#%. I WILL BE SEEKING LEGAL COUNSEL... I am not paying a dime for a service I didnt even use. VETERANS STEER CLEAR

Good way to start a career

Don't ever go to this school, you will have own a big student loan. If you want to get an aviation carrier, you should go to check aviation in TCC located in fort worth, it a lot cheaper , they just took $55/ 1 credit, but AM dallas takr $525/ 1credit . You will get associate degree and A$P license , if you go to AM dallas you only get A$p locense , so i guarantee if you go to TCC you get better than AM dallas. I'm going to AM dallas now, and I'm always regret for my dicision , so io Don't want any of you guys feel regret like me. You have to research very careful before you make decision

Here for school field trip had a great time

Christian Prosser in the Fin Aid department was AMAZING!!! He helped me understand all of my student loan repayment/forgiveness options. Now I'm on the road to financial freedom with a healthy and affordable repayment and forgiveness plan! Thank you

Do NOT go here. Run. I went here after receiving my "general cert" and knew more than everyone about to graduate. Then, when I transferred out, I checked out with the tuition office, signed my paperwork stating I owed NOTHING! These idiots were either mad or too ignorant to handle payments from the student loans. So somehow they turned me into debt collections for $4k for 4 weeks. The instructors don't care and are ignorant. Run far from this place. No one hires from here anyways.

I went to this school and the students in my class talked about sex,drugs or who they are gonna beat up. The instructor spent more time on his compture then teaching the class. Called to move up a payment and they still took my money out. This place will be hearing from my lawyer.

I go to the Houston (Airport Blvd) location and it is completely about money and nothing about the actual students the force you to do things that were not discussed in the original student contract. We are currently being forced to undergo a extra class that was never discussed at the beginning and forced to do a majority of our test within a 2 - 3 week period which basically means we have to compress 18 months of knowledge into that set amount of time while some of us have children to take care of and full time jobs to maintain. A total scam beware of AIM!!!

This place is a joke and it's all about the money, they lied to me when I asked if there was anyway that I could fore go the process of the entire school, as a Vet I worked on aircraft for years in the military and there are programs that will help eliminate this school, every one knew about it but wouldn't tell you until I was talking to an instructor and he helped me out to save my GI bill. But once I notified the school they still charged me for 2 classes out of my own pocket. Which wouldn't have happened if they would have been up front and honest. No more decent helping people in the world, everybody out for self

So far I have been very impressed. Like anywhere there is always a bad egg here and there. But as a whole I feel very confident in a good education. Mr John Parker at the Atlanta location is exceptional and he was only a sub for us. I could name all of the great instructors I have had but Mr Parker just stood out. Highly recommend.

No communication what so ever. The instructors in this school are awesome I have had great classes, the reason this school gets one star is because of the administration they walk around with their heads in the clouds... the "recruiters" have no idea what they are talking about, they lie and make thing up to get you to come. The campus director Will avoids seeing students at all cost, they change the schedule all the time and never tell the students. On snow days they will make you come to school and then release you at the last second so you can get stuck on the road for 24 hours and freeze, and if they cancel they will put a sign on the door so you can drive all the way there just to find out it closed. I have never seen such disorganized people in my life.... I am graduating on Friday and I can't wait. Great opportunity offered by this school but the administration ruins it.

This school is a business. Their main priority is making money. They will lie to you and take your money. If you're a person trying to make an honest living and trying to get the right education then AIM is not the place for you. They will bleed you dry with nothing to show for it. Don't be fooled.

I go to the Duluth campus the security sucks my car has been broken into and everything is broken how are we supposed to learn if everything we take apart is broken and they won't get new tools we never have any of the shop stuff we need but I will say this I love the instructors they are great

As a disclaimer I have my A&P, so I finished the program. I went to the ATL campus and had a "ok" experience. The biggest negative is the type of people they bring in to this program. These people have no desire to be a aircraft mechanics and are there based on the promise of a good paycheck. The career services dept is a joke at best. The biggest thing I have to overcome as a new mechanic is the stigma this school has in the field. With that being said proceed at your own risk. If you don't have a passion for aviation this career will drive you insane!

I find it funny how you can be a Veteran that has actually fixed Aircraft on deployment, Graduate school, and still have to jump through so many hurdles to get into a company. But there's people at the company that Never even worked on an aircraft before or even flew in one. I'm starting to feel like I wasted my GI Bill. Then Student Services only has Mostly Contract jobs. They schedule you for an interview and it's not even a real interview but some person from a Staffing Agency. I gave 3 stars cause the Instructors were cool and very knowledgable. Very helpful. Otherwise from that this school was a joke. The Job Placement is a Joke. Thats why most Companies dont visit and they send some Staffing Agency recruiter who lies and plays Gatekeeper.

Newsletter Subscription for Virtuous Reviews LLP
One more step and you will be subscribed to our newsletters
We have sent you a verification mail on your email id, please verify it.