Colorado State University
Online Programming Courses
7800 E Orchard Rd #200, Greenwood Village, CO 80111, USA
Claim Listing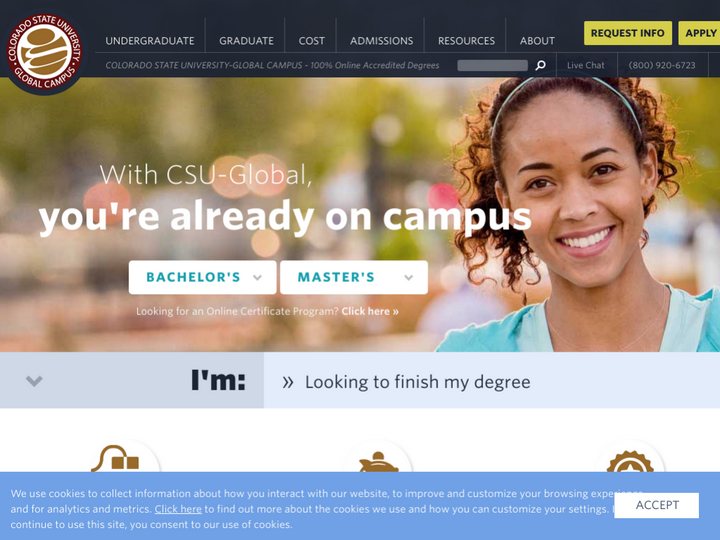 Company Description
Originally funded with a loan from the Colorado State University Board of Governors, CSU-Global quickly obtained accreditation and was legally sanctioned as an independent university on March 18, 2009, when Colorado's Governor Ritter signed Senate Bill 09-086, declaring CSU–Global Campus an online university within the Colorado State University System — not simply an extension of the CSU bricks-and-mortar campuses.
Review & Rating

I was extremely pleased with CSU-Global prior to submitting a tuition appeal for some major medical issues I had been facing. It was denied because I was given Z-pak (antibiotics for bronchitis) a month prior and told that I should have known I had health concerns prior to enrolling (bronchitis vs a major cardiac issue, makes sense). As several have already said, this school is only concerned about money and the bottom line. Instructors were good and the class format is great. But, do yourself a favor and sink your money into a brick and mortar institution that will actually care about its students and will give you a diploma that doesn't say "GLOBAL CAMPUS" on it.

I transferred to Csu -global from Colorado state university in Fort Collins. It was the best choice I could have made. I went from constantly being overwhelmed and stressed to acing my classes and receiving honors. Plus, I get to spend way more time with my children. The staff has also been amazing! I have had previous experience with financial aid so I didn't have to dig too much into that, but each of my advisors have been great! They respond to emails in less than 24 hours and their emails are incredibly thorough and polite. I was looking at a graduation date of 2019 at CSU, but because I made the transfer to CSU-global, I'll be graduating two years earlier. I couldn't be happier that I found this school.

I would most definitely not recommend CSU Global. I've attended several schools before life had pointed me in the direction of online education, and though it wasn't ideal, I tried to make the most of it. First off, the admissions process was a mess. Mainly because the admissions representative kept changing and I was told that they don't pay their staff much so they are frequently having turn-over. Tuition prices are high, but that is common for any online college. Every single time I have had to deal with administration or get help, its been rough.

I needed to withdraw from a course I decided I just didn't have time to tackle. I withdrew the day before the withdraw deadline, but something in the online process I guess didn't work right, and they said I didn't withdraw before the deadline, and were totally inflexible and refused to refund my tuition. I feel that's very unethical and inflexible.

Having graduated from an online college with my Bachelors degree, and having attempted my Masters program with two other universities before CSU-Global, I am finally graduating tomorrow with my Masters from CSU-Global. I have to say that my experience with CSU has been 95% positive. I had one professor that was hyper critical, and just generally a jerk putting out the vibe "I got mine, now try to get yours..." When the rubric for an assignment to earn 15 points in a certai...

I'm in my 6th Master's class at CSU-Global and have managed to already have 2 out of my 3 instructors be hyper-critical as far as grading is concerned, but cannot type out proper sentences with all words actually spelled correctly on the discussion boards and via email. I hate that I overpay for the experience I am getting. I even went so far as to ask for a different Internship Advisor to no avail!

I have looked into multiple colleges and felt that CSU had much more to offer. The tuition is much more affordable compared to other colleges. Furthermore, Maricopa Community Colleges has a partnership with CSU that allowed for easy transfers and set ups. I am currently working on my Master's degree in Management. Its been a great experience so far with knowledgeable and engaging staff. Also, CSU is accredited and ranks among the top for BA in U.S. News.

I received my Bachelors in Business Management from Colorado State University Pueblo, but was looking to enhance my skills with a certificate in Construction Management since I work in the field. Being a CSU-P grad, CSU Global was an obvious choice. I love the online flexibility and convenience. The courses are well thought out, courses are challenging, and the instructors are helpful. My only complaint, I don't recall my brick and mortar school being this hard. Yes, the course work is accelerated, challenging, and you must stay on top of your game. Good work CSU Global!

My experience at CSU-Global has been nothing but positive. The 8 week classes are challenging, but the professors are always punctual with communication, grading, and feedback. My student advisor has also been a tremendous help throughout my program, directing me on the path to success. I am currently working on my capstone class and I'm 7 weeks away from graduating with my Masters degree! Thank you, CSU-Global for making this degree possible for an individual working full-time. I know I will apply this knowledge to positions I have in the years to come!

I am in my second term at CSU-Global. My experience so far has been above what my expectations were. My admissions counselor was helpful, but not too pushy. The financial aid department answered my questions quickly. My student advisor is knowledgeable and has helped me choose the best order for my courses. My professors have been polite, helpful, and answered any emails within 24 hours. The coursework is rigorous, and challenging. However, every course has applicable information to help students further their careers. CSUG offers tutors and a writing center. The school is writing intensive, but as long as I follow APA format and can demonstrate through my writing that I understand the material, I've earned good grades. This is my first college experience where I feel like I'm learning information that will enhance my career, and not just regurgitating information to pass an exam.

I am still currently attending but have been enrolled for over a year now so I've come to know this school and the administration fairly well. I read in a few of the negative reviews that instructors were "hyper critical". Take into consideration that online classes are not for everyone, you have to not only have the discipline but also the ability to learn outside of a traditional classroom setting. There have been a few times where I struggled on a few assignments or an instructor seemed "tough", but you can't expect to have your hand held in this type of classroom setting, or in your professional life for that matter. It takes a decent amount of critical thinking and problem solving at times, but all the resources you need are there. I have never not been able to find what I needed in order to finish an assignment. I have managed to keep a high GPA and have already received Honors recognition, which was really exciting for me. I am an Accounting major and I was contacted for a position at an accounting firm at the beginning of the year despite the fact that I'm still working towards earning my degree. I of course accepted the job and one of my coworkers happens to also be a CSU Global graduate with his Bachelors and Masters. It's up to you in what you take away from online learning, there are more than enough materials in the classes to teach you everything you need to know. As far as the administration goes, I have had no problems at all what so ever. they are always on top things, respond quickly to my emails, I actually can't even remember the last time I needed to call my advisor because she's always on top of everything for me. Admissions were a breeze, they even assisted me in a little problem I was having with my prior school. I recommend CSU Global to anyone looking to obtain their degree and don't have the time to go to campus classes or your degree choice is not available to you locally.

Opening Hours
Mon

Closed

Tue

5:00 pm - 9:00 pm

Wed

Closed

Thu

5:00 pm - 9:00 pm

Fri

Closed

Sat

Closed

Sun

Closed
Authorize your self with either of these to view contact details, your information will not be shared to any one
Newsletter Subscription for Virtuous Reviews LLP
One more step and you will be subscribed to our newsletters
We have sent you a verification mail on your email id, please verify it.