Colorado Technical University
College
4435 N Chestnut St, Colorado Springs, CO 80907, USA
Claim Listing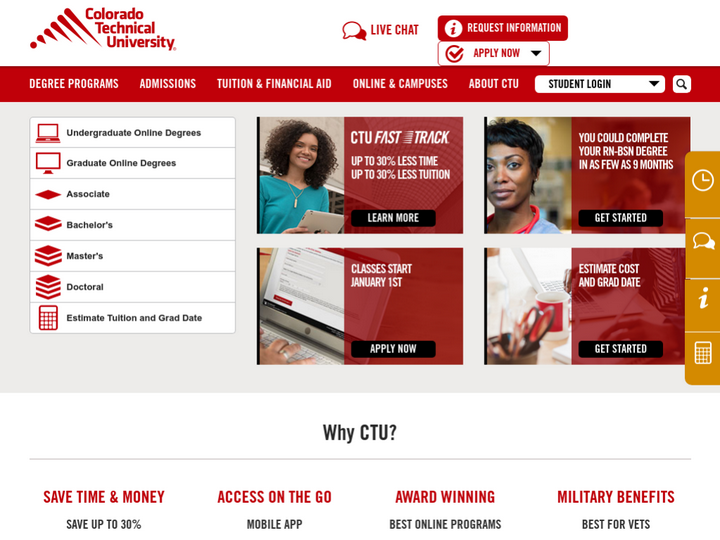 Company Description
As president of Colorado Technical University, I am very proud to be part of an institution of higher learning focused on serving a diverse student population through innovative technology. CTU offers you choices in the type of education you receive – and how, when and where you pursue your degree. We are dedicated to providing excellence, innovation and flexibility in education and lifelong learning options, from the Associate to the Doctoral level.
Review & Rating

I was in the second graduating class with a Bachelor of Biomedical Engineering Technology in 1976. The school was located in Manitou Springs in those days. I've had a rich and rewarding career with Siemens Medical Systems and am grateful for every step of the way. I miss my instructors and crazy class mates, we had quite a time together. Good memories all.

So far so good I am almost half way through my BSBA with a concentration in finance degree and plan to obtain my MBA through CTU aswell. I have not experienced any of the problems some other students mentioned in their reviews. I am active duty military and so far have not had a problem with financial aid. My advisor and financial aid contacts are amazing and very responsive. I have nothing but good things to say so far about this University. Everyone is going to have a different experience but if you're pretty independent and can learn easily though reading material you will have no problem here.

I enjoyed the two years of study at CTU. My success coach and the instructors were amazing. If I emailed them with a concern, they would answer me in a timely manner. I enjoyed meeting new peers every session, and sharing my ideas and thoughts in my weekly posts. My experiences have been awesome. CTU allowed me the chance to achieve my dream of earning my degree and graduating from college. Thanks again CTU! The only help I'm needing is for some assistance in repaying back what I owe. If anyone can assist me in that area, I would greatly appreciate it

I agree with everyone.... I like it cause I can talk to other students in my class and they can be able to answer/ask any questions about the lesson we learned. The instructor are very calm and understandable to answer/ask any questions that we might have.

I wouldnt recommend these guys to anyone they screwed me over and all they can say if it the humans fault and they literally called me stupid. im on the verge of getting a lawyer to help me fight for what im know is right and all they like to do is take your money.

Too bad there isn't a 0 star option. Take caution if you plan on joining this school. I transferred from here last year to Capella and they have been nothing short of amazing. This school however is a joke. Devious financial aid practices, pushy callers demanding payments that either have no explanation behind them, or aren't even due yet, instructors change their mind on assignments last minute so if you turn your work in early you get a bad grade. Can't ever get a hold of your student coach through constant calls, emails and voicemails and when you finally do they basically tell you that the instructors can do what they want. I made a previous bad review on here a few months ago but amazingly I can't find it now. CTU commented saying oh just message us and we will solve it. Nothing was ever solved and never even got a call like I was promised several times. I decided to leave the college last year after completing my last course and they told me I wouldn't owe anything and that everything was covered. Just last month I was being bombarded with calls saying I owed over $4000 in charges to them that they were going to turn over to collections soon. But here's the kicker, when I asked them to explain the charges, they couldn't! BIG red flag. And even after I told them they weren't getting a penny from me, they called me for days multiple times asking me to re-enroll. I basically told them to f*** off and that I was not coming back EVER and they finally stopped calling. Don't waste your time here. Luckily I only had a little over 60 credits and 59 of them transferred to Capella.

I was repeatedly failed and had to take multiple classes over . I also informed my advisor not once but multiple times that i needed to take 1 class at a time but that went no where . I was dropped from classes and then received a bill that i owed 6,000 in loans when i never took any loans out to begin with . I am in the process of getting a lawyer . I won't be getting charged for loans i never took out. Financial aid told me to sign a paper Incase i took out a loan , In the future i know to not sign anything about a loan

I attended CTU for my BSIT in Security. I absolutely loved the time I spent taking the classes and most of the professors were fantastic. Of course, with any school, there were a couple of not so wonderful professors. I do not count that against the school, though, because this is my personal opinion. From beginning to end, CTU staff were up front and aided me in any question or problem I faced. The classes require a lot of work, which could be a challenge at times. All in all, I am thankful that I began and ended my degree program with CTU and I would recommend them to anyone.

This is the first school i have ever attended that when you call up your admissions rep they know who you are by name without you even having to tell them. I am currently enrolled in the Bachelors of Science, Computer Science degree program. I wouldn't be paying out of pocket if i felt like i was being treated poorly, and i assure you that, that is not the case. I'm more than happy to pay 100% of this degree based on the service i have received. Keep up the great work and I would recommend this school to anyone. I am a veteran as well and I'm sorry others have had a poor experience, but i assure you it's not a regular thing.

I have been going here since 2014. Had to drop out for awhile due to PCS. But re-enrolled and having a wonderful time. My success coach contacts me back as soon as he can. Financial Aid department has helped me a great deal. Only real issue I can come up with is they enrolled me in fast track after I told them that I would not be able to do that due to my schedule. But Communication is key. I spoke with them and it got fixed to where I am now on a traditional schedule and still a full time student. I will graduate in December of 2019 with a BS in Criminal Justice with a concentration in Human Services. Only real reason I give it a 4 is because no matter where you or what you do there is always room for improvement. And that's at any business or college. I would recommend CTU to people as I do everyday. Thank You CTU

Opening Hours
Mon

Closed

Tue

5:00 pm - 9:00 pm

Wed

Closed

Thu

5:00 pm - 9:00 pm

Fri

Closed

Sat

Closed

Sun

Closed
Authorize your self with either of these to view contact details, your information will not be shared to any one
Newsletter Subscription for Virtuous Reviews LLP
One more step and you will be subscribed to our newsletters
We have sent you a verification mail on your email id, please verify it.