Florida Technical College
College
12900 Challenger Pkwy, Orlando, FL 32826, USA
Claim Listing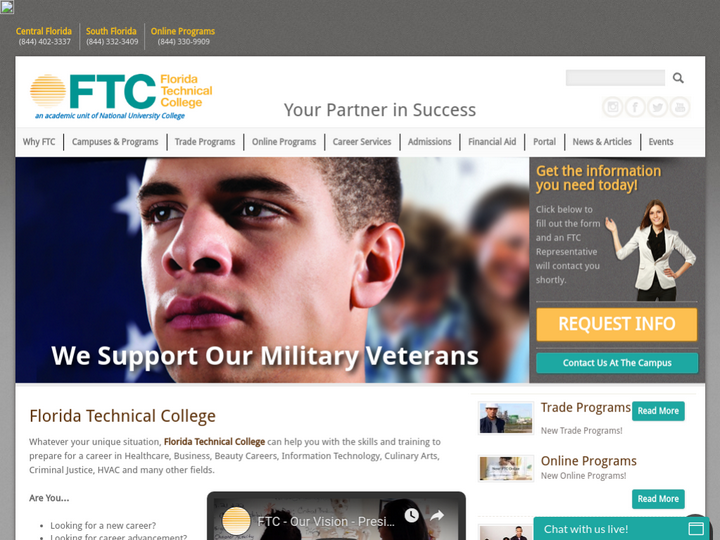 Company Description
Whatever your unique situation, Florida Technical College can help you with the skills and training to prepare for a career in Healthcare, Business, Beauty Careers, Information Technology, Culinary Arts, Criminal Justice, HVAC, and many other fields.
Review & Rating

I ❤❤❤ this school. Professor Forbes was the best instructor. As long as you show up to class, take notes and "do your discussion questions" then you will do fine. Classes are very small. I started this school in 2016 and dropped out due to personal reasons but i am so glad i returned and finished the MA program and became certified. If this school had a nursing program I would be the first to sign up.

This school is very good .But they need to focus more on students that have many difficulties in life. The majority of the students in this school have a language barrier and they need to address this matter . In addition there has to be more support overall not everyone is rich like the professor think .

I graduated from this school. I had good teachers that taught me what I needed to know... No quarrels there. However if you are looking for a place to start because you plan to transfer at some point to a University like UCF, FSU... then this is not the place for you. while they are an accredited institution you will not be able to transfer any of your credits. When you go to another university you will basically be starting from scratch and have a HUGE student debt. You can get the same education at Valencia Community College and pay half or less than what you pay at Florida Technical College and be able to apply your credits at a University.

I do not recommend this place at all. If you are looking for a career please go to Valencia or UCF. Do not waste time of money in this joke of a place. To start they are very unprofessional they do not explain in detail what you are getting in to . Financial aid is a headache, they are no help and every time you try to call they never pick up the phone let alone email you in regards to status on your money. The only way to get anything done with these people is in person and because they have no other choice. Professors are there to pick up a check and nothing else, they do not care about teaching going to class is a waste of time. All they do is talk about their day and nothing related to class. They are not teachers at all do not get fooled by a title the fact that someone has a degree and a title does not mean that they know how to teach what they learned. It takes a lot to be a professor and to know how teach a student, takes time, patience, a gift to share your experience and knowledge. Not just show up and get paid. The administration is horrible. no professionalism nor respect, they hate to be bother ( why work on customer service if you get bother by questions) Why would a so called "prestige" collage hire personnel of this category in the first place. This has been the work decision I have ever made, I was fooled by the director of the school when he assured me that the way I was being treated and all my issues were going to be resolved and it did not. People please take my advise take your time, money, and all your energy to learn and gain a real degree by a real university it will take you longer but it will be worth it. Right now I am stuck with $16.000.00 loan from this worthless place for nothing just for a certification that I earn on my own reading a book because from a professor was not. I can assure you that. And they like to call them selves a good school. Please I hope someone in there looks and reads this message to see if for once something changes. It has been a horrible experience all my expectations have been crush by the staff, from the moment you walk in to the moment you leave. They are all about money and nothing else. Do your self a favor and look else where.

Fast paced classes and the staff is incredible. Great place to get individual attention and hands on practice.

Florida technical college is an amazing school to go to. Great programs, staff, and educators. They guide everyone in the best way for anyone's career. Highly recommended.

this school is amazing and the teachers are very helpful. I would recommend this school to anyone who loves good vibes and likes to do things hands on with no distractions.. The professors and the staff are willing to help as much as they can.. FTC IS GREAT!!!!!

I have to say the reviews made me super skeptical and I have not started yet so I can't speak for that. But Christine has made me feel super comfortable, she is so nice and unlike other schools I feel better about this one. My last University experience was not good and this looks like it will be good. People have to stop looking for the negative in absolutely everything and stop for a moment to to see who is actually in the wrong.

I would like to publicly thank Mrs. Angela Fleming as I said in a previews review it takes more than just a tittle to be an educator and she his a great example of that, not only did she listen to my complain and empathized with my situation but went above and beyond to help me and make sure I finish my goals and move on to my next phase. I really appreciate all her help, support, words of encouragement and respect she showed me thought this month of intense work. I am the kind of person that if I have the courage to speak up and speak about my negative experiences I also have the pleasure to make notice when someone does a good job and goes above and beyond to help and give a quality costumer service. I am very thankful for your help. People like you is what this institution needs to represent. My 5 starts goes strictly to Mrs. Fleming

I'm a Student here at FTC I am currently working to obtain a Bachelors degree in Information Technology. The goal is to get Certifications and the best part to that the school gives you vouchers for the exams. The staff will make you feel at home and they are very understanding.

Opening Hours
Mon

Closed

Tue

5:00 pm - 9:00 pm

Wed

Closed

Thu

5:00 pm - 9:00 pm

Fri

Closed

Sat

Closed

Sun

Closed
Authorize your self with either of these to view contact details, your information will not be shared to any one
Newsletter Subscription for Virtuous Reviews LLP
One more step and you will be subscribed to our newsletters
We have sent you a verification mail on your email id, please verify it.