Columbus College of Art & Design
Design
60 Cleveland Ave., Columbus, OH 43215
Claim Listing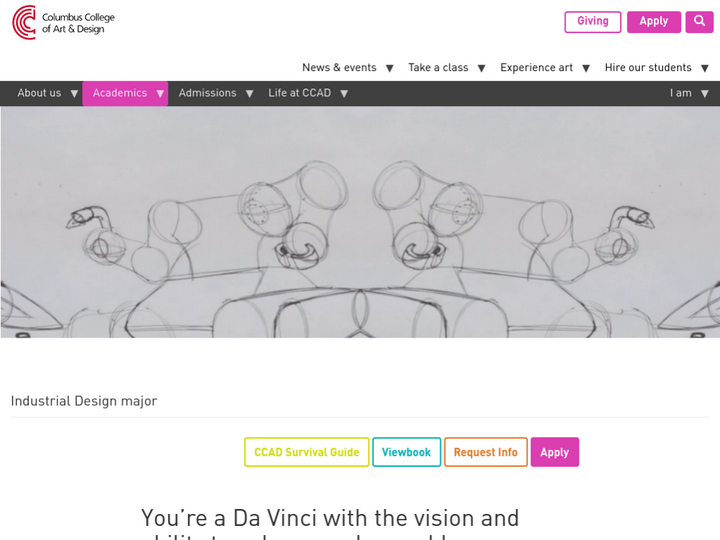 Company Description
Columbus College of Art & Design is a private college of art and design located in downtown Columbus, Ohio. Founded in 1879 as the Columbus Art School, CCAD is one of the oldest private art and design colleges in the United States.
Review & Rating

In my time as both a student and an instructor at CCAD, I've spent 20 years (more than half my life) walking the halls, meeting new faces, and seeing plenty of change. Six presidents have lead since I began taking classes in 1995. One of my earliest memories was attending a lecture by president Joseph V Canzani my freshman year. Using his arm as a compass, he drew a perfect circle on the chalk board, then he sketched a flying figure in perspective (something he knew we couldn't do so well). He challenged us to be proficient at drawing, as a technical skill. My CCAD education was far from a perfect experience, but it was worthwhile. I graduated with the technical and creative thinking skills I needed to begin my career. When I started as a CCAD instructor in 2000, I taught my classes the way I wished my instructors had taught me, and I continue to do so. The biggest rewards as an instructor are the new relationships built with students, working with outside sponsors, and the contributions I make through teaching, albeit small ones. CCAD has improved much over the past 20 years, and continues to do so. I'm happy to be a part of the team!

Went to Chroma 2017 event tonight. Discovered an excellent showcase of the next generation of creative artist. It was awe inspiring. I wish I grew up in this time in artistic expression. I applaud all the seniors of Columbus College of Art and Design (CCAD) and their achievements. They have inspired me to get back to the nitty gritty if what art is. Exploration.

No need to look past the amazing caliber of the faculty but if you did, you'd find an exceptionally caring, capable and talented administration and staff that all contribute to create a unique community.

I am adjunct faculty, the majority of the emerging professional I teach are awesome! I love their energy and passion they appreciate being pushed to be their best!

From day one, CCAD has welcomed my organzation and myself onto their campus with open arms. The faculty and staff are very willing to help direct you to resrouces that will help your organzation build a lasting partnership with them and get you connected and enganged with their talented pull of students. What I like best about CCAD is that their students are open minded and willing to use their creativity to make a lasting impact not only on their campus but for the community that surrounds them.

You can't park in the parking lot even though you paid for it. The teachers are awful and it's literally not worth it. Don't go here.

Not only did this school put up with my crap, they accepted me after I seemed to keep msssing my grades and semesters up. As a senior here now I am very glad and proud to attend a great school. Some teachers may be rude, but what you learn from them is so much higher than a disagreement! If I had to choose again, CCAD. Would still be my first and only choice!

My daughter is entering her senior year. Going to CCAD is the best thing she has done. To see her grow in confidence as her instructors help her unlock the artistic talents she has been blessed with has been rewarding to me as her mother. The smaller campus with smaller classes has helped her to thrive as a student. I have been to many of the school's events and have been treated with nothing but warm kindness. I am proud of her and proud to say my daughter is a student at CCAD.

I highly recommend this college, can't wait till the fall so I can be a CCAD dad. Very impressed with the campus and staff. I'm just a proud dad watching his daughter's dreams come true.

I am so very proud to say that I am a graduate of CCAD!! It is a tough school because it produces the best! Freshman year they told us after Christmas half the class will not return because it is a tough curriculum and they were right. But for those of us that toughed it out, had our meltdowns, and celebrated our triumphs - we were and have always been the best. I was lucky enough to have Canzani throw one of my Color Concept pieces across the room announcing that it was a piece of crap - and after the tears, I picked myself up, really looked at my piece and he was right it was a piece of crap but the next week he praised my piece - it all comes full circle and you learn. I have had a wonderful career in Graphic Design - 34+ years and counting. It was a wonderful education and it is amazing to see the growth CCAD has had. No it is not a curriculum for the weak, it is tough to produce the best. Believe me, as a manager reviewing resumes and portfolios - you can tell the CCAD students because they are the best!!

Columbus College of Art and Design is for the gifted Artist. If you think it's easy get prepared to work. We have a lot of talented people in the world. Focus your mind on what you want to be and go for it. You will learn a lot and hopefully you'll get the job of your skills. If not you are definitely ready for the world. Work hard to be the best you can be. Life is what you make of it. Stay focused. Very good school.

Colleen Michaels Morris
UK
Very enjoyable visit for National Portfolio day. The art students were so helpful and friendly. The professors reviewing the art work were honest and gave great advice. Great visit.

Opening Hours
Mon

Closed

Tue

5:00 pm - 9:00 pm

Wed

Closed

Thu

5:00 pm - 9:00 pm

Fri

Closed

Sat

Closed

Sun

Closed
Authorize your self with either of these to view contact details, your information will not be shared to any one
Newsletter Subscription for Virtuous Reviews LLP
One more step and you will be subscribed to our newsletters
We have sent you a verification mail on your email id, please verify it.