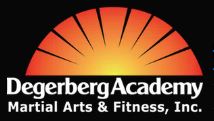 Degerberg Academy Of Martial Arts
School
4717 North Lincoln Avenue, Lincoln Square, Chicago, Illinois 60625
Claim Listing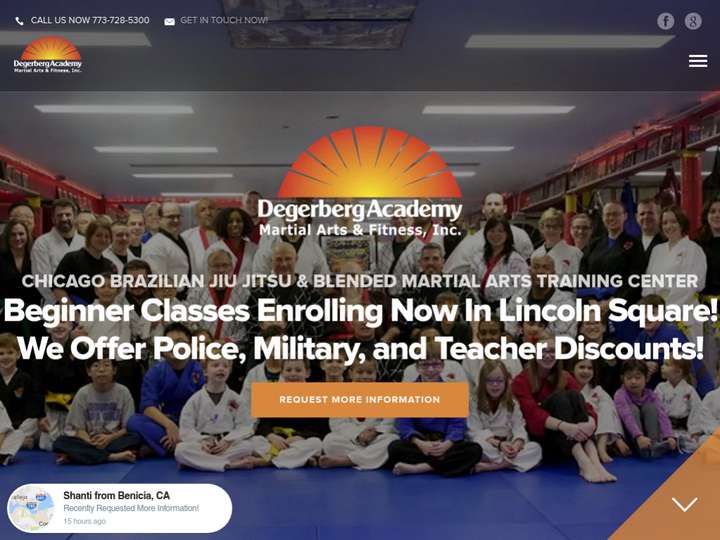 Company Description
Learn from the best Martial Arts instructors in the area who are dedicated to providing a stable, family environment where you can excel in your personal goals and find a varied and supportive community. Whether your plan is to compete, lose weight, meet new like-minded people or increase your day-to-day life, we will help you get there faster than you ever thought possible while having fun doing it! Degerberg Academy is the premier martial arts school in Chicago, Illinois.
Review & Rating

I have been a member of the Degerberg Academy since 2005. In that time, I have never once been bored. That may not sound like a stellar review, but that's what people who go to one-system schools often say about their experience: "It was ok for a while, but then I got bored". No way at D.A.M.A. The core classes called Blend or MMA have more than a dozen arts combined into them. You train in stand-up techniques as well as grappling, weapons and invaluable Krav Maga self-defense. Then there are the specialty classes that you can also get ranked in: Savate (French Kickboxing), Muay Thai, Jun Fan/Jeet Kune Do, Kali or Filipino weapons and Brazilian Jiu Jitsu. Whatever class you go to, you are sure to get a great workout, have fun, and learn some serious skills. The Degerberg Academy changed my life. I am now in shape, I feel confident that I can defend myself or that I can even just get up and speak in front of a crowd of people, and I know that I always have a class that I can go to, and goals to set.

I have been a student at Degerberg Academy for 5 years and an instructor in the Kids Martial Arts program for over 3 years. This school and the training I've received here have drastically changed my life and confidence levels. I started taking classes after an assault and I knew that I needed to learn how to protect myself. A friend helped me take the first difficult steps into the school, and once I did, I found that I was accepted into an incredible family of martial artists and started training Muay Thai and Brazilian Jiu Jitsu almost immediately. Since I started training here, I have become physically and mentally fit in ways I never was before, I have a positive outlet, and I have the confidence that I can protect myself if need be. The Academy has given me an opportunity to teach mixed martial arts to kids, too, and that is one of the most fulfilling aspects of my journey as a martial artist! One thing you won't notice right off the bat is that there are so many world class instructors at the school who specialize in different martial arts: Kali, Savate, BJJ, Muay Thai, Jeet Kune Do, etc... You will NOT get specialized training like that anywhere else in Chicago. Period.

The Practice of Martial arts in here is outstanding!

I have been a student at Degerberg Academy for many years. When I started, I was 38 years old and I earned my black belt in the Degerberg Mixed Martial Arts this year. Degerberg is a part of my family now and I cannot imagine a life without it. I am also ranked in Muay Thai Kickboxing and Brazilian Jiu Jitsu through Degerberg. If anyone is interested in getting thorough, well-rounded martial arts training for a variety of disciplines where you are taught by masters in each art, this is the place for you. In addition to great classes that provide a fantastic work-out, the schools instructors, staff and students will become your best friends. My daughter attends the Kid's Martial Arts classes and loves all of her instructors!

I've been a student at Degerberg Academy for more than nine years; my wife has also attended that entire time, and all three of our kids have been students (our youngest currently) so it's been a real family affair. I can't say enough about Degerberg – the teachers and level of instruction in the mixed martial arts classes are excellent; the specialty classes (Brazilian Jiu Jitsu, Muay Thai Kickboxing, etc) are excellent; the kids martial arts classes are excellent – it's quality and excellence all around. The teachers are passionate, positive, and committed to helping you become your best, and there's a real sense of community and pride – everyone's in it together! – which is one of the things I love about the place. The training is intense and intensely rewarding; stick with it and you'll know you've achieved something lasting and real. Degerberg Academy is the real deal – it has been a big part of our lives for going on ten years, and I'm very glad I found them.

Degerberg Academy has been a tremendous experience for me since I've joined. The school has provided me with the avenues for staying fit, increasing my self-awareness, my self-discipline, and helping me in my personal and professional growth. When I first heard about Degerberg Academy, I was immediately intrigued about the blend of Mixed Martial Arts systems taught at the school and joined without hesitation because I knew this system would be the best for me. Utilizing this blend of Mixed Martial Arts, Degerberg Academy provides you with a tool box of self-defense to choose from if ever confronted in the streets so one is not limited to one style. Self-defense is emphasized to all the students in the Blend classes. It really is comforting to have that confidence walking on the streets of Chicago or any environment that you just might have an extra edge to defend yourself, avoid it, get away, and save your life. Individual arts can also be focused on and are encouraged to take at the school as well and there are excellent instructors in kickboxing, boxing, Brazilian Jiu Jitsu, Muay Thai Kickboxing, and Kali Silat to name a few. Developing great friendships and camaraderie with other instructors, students and teammates is an additional benefit. We go through a lot on the black belt journey and having instructors teammates willing to sacrifice time and effort and help you achieve your goals is tremendous.

Once upon a time I was actor who was looking to expand her tool box in the trade. Figuring that I loved to watch action on stage and screen that I may like doing it, I tentatively stepped in the doors at Degerberg Academy. 3+ years later I will claim to be a martial artist before claiming to be an actor. The Mixed Martial Arts classes are an easy entry point for anyone looking to get in shape or try something new. My other personal favorites are Brazilian Jiu Jitsu and Muay Thai Kickboxing. The instructors at Degerberg are outstanding and exemplify that training continues (most argue it begins) long after receiving a black belt. I have always been athletic so getting in shape wasn't my goal but martial arts changed my body in ways running and lifting never did, both physically and mentally. There is also a social aspect to Degerberg that would be remiss of me to not mention. Classmates become friends and friends turn into family. People, both classmates and instructors, who will push you to be better; cheer you on when you struggle; and support you in your training and life. For anyone contemplating a class, I invite you to take the leap! Stick with it and you won't regret it. I certainly don't!

I absorbed a variety of skills at degerberg, especially kali and dirty boxing. Then I passed those skills onto my children. Fred Degerberg truly is a great instructer who gathered other highly skilled teachers around him. Degerberg Academy also afforded me the opportunity to train with Daniel Inosanto and Bill Wallace. Truly a life changing experience

I am a father of three and we have all been students at Degerberg Academy for almost three years. It has been physically and mentally challenging, learning practical application of many different fighting styles that incorporate punching and striking to kicking and grappling, as well as stick and knife fighting and defense. There is a large staff with a wide variety of skills. There is emphasis on real world defense, as well as fulfilling workouts. Children especially are taught discipline and respect that carries well into school and home life. Don't let the old facility dissuade you. Your life will be enriched, if you put your mind and effort into your training.

Been learning from so many great martial artists here since 1994. Such rich lineage and connections to all kinds of arts, cultures, fighters, and legends. Great kids program focused on respect for others, confidence in oneself, and real world self defense if needed. DAMA has changed my son's life in the best way and has helped mold mine since I was a teenager.

Opening Hours
Mon

Closed

Tue

5:00 pm - 9:00 pm

Wed

Closed

Thu

5:00 pm - 9:00 pm

Fri

Closed

Sat

Closed

Sun

Closed
Authorize your self with either of these to view contact details, your information will not be shared to any one
Newsletter Subscription for Virtuous Reviews LLP
One more step and you will be subscribed to our newsletters
We have sent you a verification mail on your email id, please verify it.