Diamond Dental
Dentists
8106 Brodie Ln Ste 108, Austin, TX 78745 USA
Claim Listing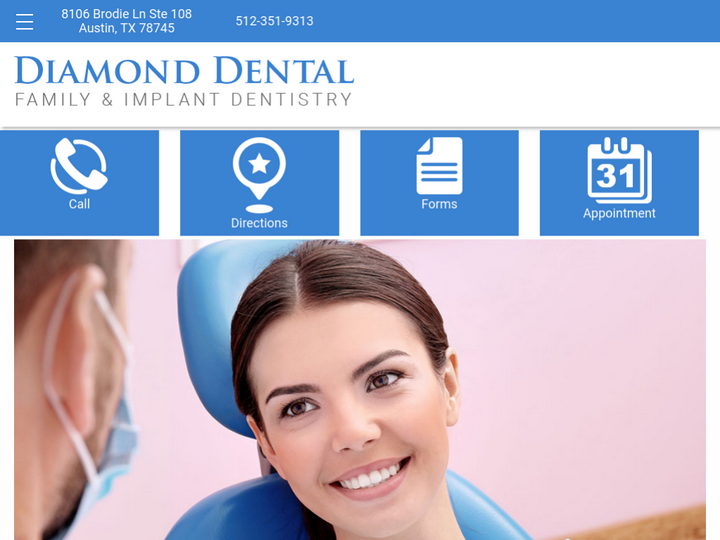 Company Description
Dr. Tom Supakorndej is a native of the South. He grew up in Athens, GA, home of the UGA Bulldawgs. Like everyone in his hometown, he bleeds red and black but knows the value of southern hospitality.
Review & Rating

Diamond dental really goes the extra mile to get every little thing exactly right, and they have bent over backwards for us. Would recommend to everybody.

My son's teeth look so fantastic now! This was definitely the place to go!

Visiting Austin this week from Houston for some fun! Unfortunately I had terrible tooth pain! It was so bad it was keeping me from eating, drinking and sleeping! I never had problems with my teeth so I didn't know what was wrong. When I called, the assistant was very understanding of my situation and thankfully I didn't have to wait to be seen until tomorrow! The doctor and his assistant are top notch! They both explained everything they were going to do, and then the few procedures that would benefit me best. I didn't expect to be there long, but they spent 3 hours with me! I like how comfortable I felt, especially being that I was very nervous and his assistant kept checking on me during the procedures making sure I was OK. The doctor was very attentive and so very patient with me! I live 2 hours away from here and I will come back for next treatments!

Great dentist office, staff, and doctor. I had wisdom teeth pain that was causing headaches, earaches, and I couldn't even lay down because it felt worse! I emailed them at 1am and got a response back within 30 minutes to come in that morning to have a look. I was so nervous for the procedure because I've seen and heard about people dying from dental surgeries. The doctor and assistant were so great. They kept me calm and assured me that I didn't have to worry. They explained what was going to happen and even checked on me during the procedure and gave me updates as to what was happening. They were so patient with me and even let me rest my mouth a little before moving to the next side. I would definitely go there again for any dental work that I need done.

My teeth look better than they have in over two decades. Dr. Tom Supakorndej strives for perfection. The outcome for me is miraculous. I had two extractions with bone grafting, deep cleaning, and multiple, multiple fillings. I also had staining on every tooth from braces and coffee etc. The stains are gone, and I am very proud to smile now. I will be back to have two crowns replaced, along with anything else that is needed. I've had many a bad experience with dentistry in my life. I have also neglected my teeth many many times. I am happy to say that it's in the past. I have found professionals that care about their work(because they love what they do), and put in the time and effort to achieve incredible results. In addition, it's refreshing to work with professionals that don't judge you for the obvious neglect that I had put my poor mouth through. Great experience!

This was the most pain free and pleasant experience I've ever had I felt the need to write a review. I went to a different dentist before finding Diamond. They took some X-rays, gave me antibiotics, and told me it was gonna cost 3k to get a root canal. 4 days of misery I finally came to diamond desperate to get some relief. They took care of me at a reasonable cost and no pain. They care about their patients and it shows. Good music and friendly people!

Had 4 wisdoms taken out last month. I went to 2 different places before and they were expensive as hell. This place was much cheaper. I was sore for a wekk, which is expected. Smooth experience.

I had a great experience when I needed dental work while traveling to see family. I had a filling that was painful and Dr. Tom was able to fix it without any pain. I often have a hard time getting numb but he did a great job. He also tackled some cosmetic issues I had on the side of a couple teeth during my same appointment. I appreciate that he made it so convenient for me and took his time to make my smile beautiful again. I would highly recommend him and Diamond Dental for any regular dental or cosmetic needs!

I love my neighborhood and really wanted to love this Oral Surgeon. The convienent location, the staff, (Abby was a joy)! However it was not meant to be. While my husband and I were at work my young adult child was able to walk to the consult, (awesome)! Maybe this is where it all went wrong- perhaps the provider was annoyed to have to talk to a patient that was 18, maybe he was having an off day, really none of my buisness either way. He was short, dismissive and made my child feel uneasy and unwelcomed and was downright rude. I hope this is not the norm but we went to someone else in the immediate area (as bedside manner is EVERYTHING). I was very dissappionted and frustrated to have to restart the whole wisdom tooth process all over again. Big time bummer.

I was having severe tooth pain and this office was the only one able to help me so quickly - this is why I am giving this office one star. Otherwise I'd be wishing there was a way to give none. This dentist treated his assistant so poorly it made me extremely uncomfortable and almost get up out of the chair and leave. He was yelling at her and rolling his eyes and speaking to her like she was a piece of garbage. Funny to see them on the top of his website page like they're best buds. Then, on top of him treating his assistant like a dog, in the MIDDLE of my procedure he answered his cell phone (this happened multiple times), WHILE HIS HAND WAS STILL IN MY MOUTH. He answered to schedule his next appointment while he was literally in the middle of my root canal. This is how desperate he is to get patients in his office. And just when I thought it couldn't get any worse, his mother and brother showed up, and his mom sat down in his assistant chair to be his assistant. I'm not even sure if she was qualified to, but she was right there with her hands in my mouth too. After the procedure, I found out that he broke a piece of the dental file off inside of my tooth canal. I understand this is normal in some cases, but now two months later I'm in severe pain because the canal was not properly cleaned out under the file/he didn't fill it properly after and I am having to get thousands of dollars of dental work done to fix his screw up. Seeing all these good reviews completely baffle me. This was the worst experience I have ever had and if I could stand outside of his office and tell incoming patients to leave I would. Seriously, go down the street to Swish. You'll be MUCH better off.

Opening Hours
Mon

Closed

Tue

5:00 pm - 9:00 pm

Wed

Closed

Thu

5:00 pm - 9:00 pm

Fri

Closed

Sat

Closed

Sun

Closed
Authorize your self with either of these to view contact details, your information will not be shared to any one
Newsletter Subscription for Virtuous Reviews LLP
One more step and you will be subscribed to our newsletters
We have sent you a verification mail on your email id, please verify it.