Diane's Alterations & Tailoring
Clothing Alterations
3211 NE 45th Pl., Seattle WA 98105
Claim Listing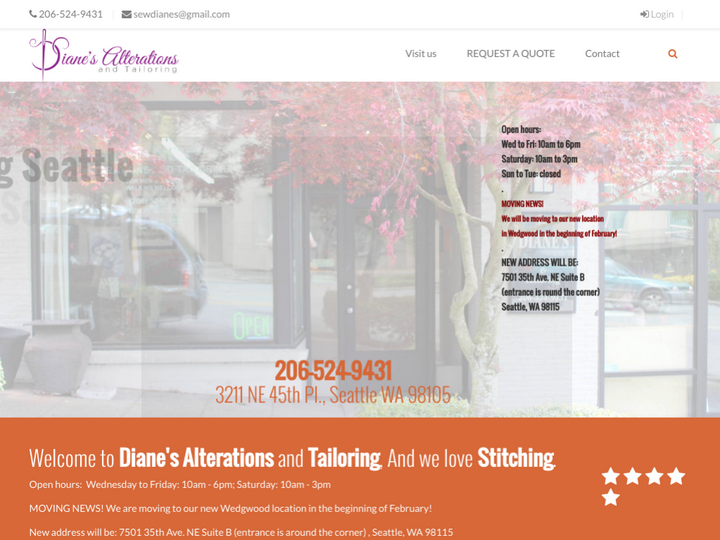 Company Description
Do you have a garment that you absolutely love? We can help. You can visit us in person seven days a week in our University Village location, or simply tell us a little bit about what you'd like done, and we'll let you know how we can help. The process is simple, and you'll know exactly what the repair or alteration will cost before you decide to proceed. Within days, you'll have your beloved garment back in your hands.
Review & Rating

I'm so happy to find Diane's Alterations. I bought 3 pair of jeans which needed a tuck here and there. I also needed them hemmed. They did a great job and fast turn around time. The staff was super friendly. I like the location there is easy and free parking I will be coming back soon.

Good at repairing my items. However, I came in twice in one day & 2 of the 3 people I interacted with seemed to be annoyed that they had to assist me.

I have had many, many different tailors in Seattle, but I have used the same person now for the last 3 years. I can tell you from experience, both on a skill level and price level, not to mention the onerous attitude of Diane, that this place doesn't cut it. Well, the work is fair, I'll give it that. But, the prices are very high and I believe Diane sets the tone for the attitude of her staff. Such a shame, would love to have this as my back-up tailor shop.

There is plenty of parking in front of the store. Enough for three cars and most of us are drop off or pick up and dash.

I came by to get an estimate on a possible tailoring project. Service was terse and borderline rude.

Never actually been to this establishment, but I did call over the phone to get a rough price estimate on a garment alteration, the estimate seemed outlandishly expensive for such a job and the lady on the phone was very dismissive and rude. She raised her voice at me when I elaborated more on what I wanted done on the garment, so....decide for yourself if you want to give deal with a business where employees are so rude and unhelpful. A lot of other google reviews state this place is overpriced and does mediocre work and I believe that fully.

I called & asked for a rough estimate for a simple hem to slim down the sleeves on a jacket but the lady on the phone was incredibly rude about it & made repeat it about 3 times because she still "didn't know what I want(ed) done". After reading all these similar reviews of the whole staff acting like this & their ridiculous prices, I will be taking my money somewhere else.

I took a sweater in to be shortened, and the hemline stretched the knit. I have a small waist yet after they made several nips and tucks I still look like I have an intertube around my middle. Over $60 later I have a ruined sweater. Never again!

The two most unhappy and rude women I have ever seen in a customer based business. They seem miserable to have to get up and help a customer. A waste of my time, as well as being over priced with the inability to recreate the look desired even with an actual physical example for reference.

The owner is rude, angry, disrespectful. The simple hemming was done sloppily and very unprofessional.

Bad experience. Dropped off my wife's sweater which was in need of a repair, received a ticket and was told I'd receive a call with approximate pricing before they would begin to do the work. Left very satisfied and waited for call. A few weeks later and two days prior to the date on the ticket (when it was supposed to be ready) I called and couldn't get anyone to answer. Called again later in day and spoke with someone who knew nothing of the sweater status and she suggested that I call back later when Diane was around. I simply asked that she leave her a message with my number instead which seemed to frustrate the person I spoke with. Later that night Diane called me and asked what I needed help with. After explaining that I had a garment ticket, described the sweater and that it was due 2 days from being "due" for pickup she said she didn't recall anything about the sweater or our conversation about her calling me with a price first. She initially couldn't even locate the sweater and when I expressed concern on the phone about this entire process she became angry and told me she was no longer interested in repairing it because I was being "nasty" - which those who know me might laugh at because I rarely am nasty about anything. I was just expressing frustration that she knew nothing of our sweater, I never received a call and that it was due in 2 days. Once she located it she essentially "fired me" as a customer and said it would be waiting for me and that she had no intention of working on it because she "didn't like how this was going". I won't be going back to Diane's which seems to be in their best interest too because I am so "nasty" by asking about my garment status when they didn't call me- which was THEIR suggested next step - not mine. Proceed with caution! We all have bad days but this was hard to understand?

Opening Hours
Mon

Closed

Tue

5:00 pm - 9:00 pm

Wed

Closed

Thu

5:00 pm - 9:00 pm

Fri

Closed

Sat

Closed

Sun

Closed
Authorize your self with either of these to view contact details, your information will not be shared to any one
Newsletter Subscription for Virtuous Reviews LLP
One more step and you will be subscribed to our newsletters
We have sent you a verification mail on your email id, please verify it.