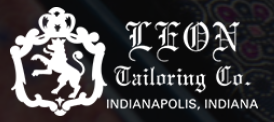 Leon Tailoring Company
#84 in USA
#4 in Indianapolis
Clothing Alterations
809 N Delaware Street, Indianapolis, IN 46204
Claim Listing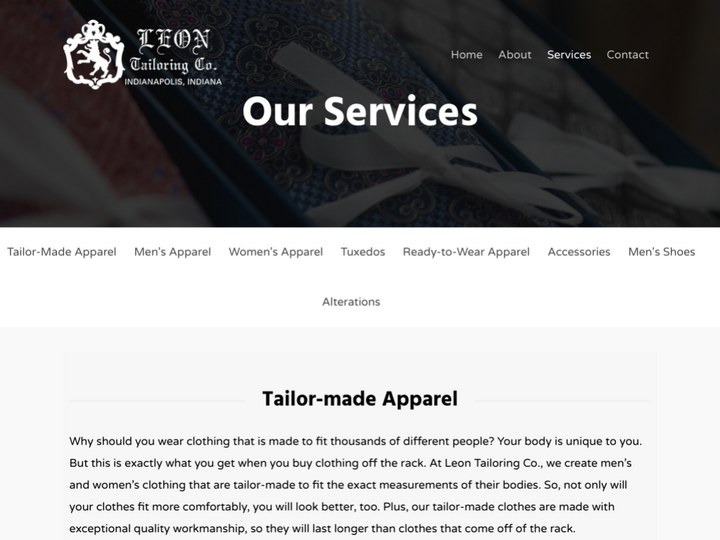 Company Description
Leon Tailoring Company, Inc., was founded by Leo (Leon) and Sadie Ettinger in 1905. They emigrated from Europe to the United States, settling in Indianapolis, Indiana. Leo was a tailor, and Sadie was a dressmaker. Together, they started the business as a small tailoring operation on Indiana Avenue, where they lived upstairs above the store and made the clothes downstairs. Their hours of operation were 7 a.m. until midnight to ensure they accommodated the working customers of their day.
Review & Rating

Kim is so sweet! She's professional, knowledgeable and patient! Our son needed suits for prom, baccalaureate and graduation. She gave him all the time he needed, listened to what HE wanted and made certain it fit him perfectly! Marc and Jamie Roland

Went in for a standard jacket sleeve alteration. After pickup I noticed they took two buttons off and the other two were literally against the bottom of the sleeve, so they shortened the sleeve but didn't undo the stitches or moved the buttons up. Norman tells me the job is very complicated because of the stitches and that the whole thing looks better as is. Not having the energy to deal with it I left - but I came back the next day and kindly asked them to finish the job. Norman said it would be an additional $30. After protesting he said it sounds like I should take my business elsewhere. Exactly what I did. Also, had I not asked, they would've kept the 4 buttons they took of the sleeves.

Best Tailoring in Indy! Amazing quality clothes, with a personal touch. Everyone who works there is friendly and accommodating. Quick turnaround on tailoring of clothes.

Got a jacket tailored and it came back crooked! The bottom of the jacket doesn't fall to equal lengths on both sides -- a totally obvious mistake. Plus the shortened sleeves did not have the internal material shortened so it just bunches up on the inside. Lacking an attention to detail that I would have otherwise expected from an establishment that charges $70 for those two alterations.

An Indianapolis institution. You will get personalized service from the same folks who have been making and altering classic suits for generations.

I love this place! One of the best if not the best bespoke tailors in Indiana. Great service, good prices, and the tailoring that comes included makes it worth the extra money! There is a notably higher quality level here than any off the rack suit you can find in this price range!

Wonderful family owned tailor with a very large selection of suits, tuxedos, business wear and casual wear. Everything purchased there is tailored to you for free. Being a short man who can't buy suits 'off the rack', this was very important to me. The sales people are very helpful and not pushy at all. As I also have a hard time finding styles that won't clash, they were helpful in finding suits and shirts and ties that I could mix and match and still look good, which is awesome for the 'fashion challenged' person I am. The materials are all very high quality and you should have no complaints with anything they sell. They even sell jeans. The prices are not cheap, but you are getting a quality product with great tailoring included.

I already knew this store carries beautiful clothes and provides very flattering tailoring based on my own experiences. (They're really kind and interesting people, too!) I gained a deeper appreciation today for their abilities when they helped my very hard to fit eight year-old with some new pants. Their talent and experience is spot on.

Great selection of clothing, wonderful staff and a good place to rent a tux from. If you are looking for quality clothing, this is your place.

I had a custom suit made for my wedding. I can't say enough about how awesome my experience was from start to finish. Finding a good women's suit is nearly impossible but Leon rocked it. I will never go to anyone else to buy suits and shirts but Kim!

Just go in and ask for Larry. He took such good care of me and went above and beyond to help me. We were not an easy bridal party to fit and Larry handled it all, never missed a beat, and never complained. Julie is also amazing. Go to Leon's...no one else in Indianapolis is even close to their quality and customer service

Not the best quality work. Pant hems showed thread marks; were not slimmed down as requested, nor was length adjusted as requested. Not likely to use again. Perhaps they're better for men's clothing.

Authorize your self with either of these to view contact details, your information will not be shared to any one
Newsletter Subscription for Virtuous Reviews LLP
One more step and you will be subscribed to our newsletters
We have sent you a verification mail on your email id, please verify it.