FIDM/Fashion Institute of Design & Merchandising
#92 in USA
#43 in Los Angeles
Design
919 S Grand Ave, Los Angeles, CA 90015
Claim Listing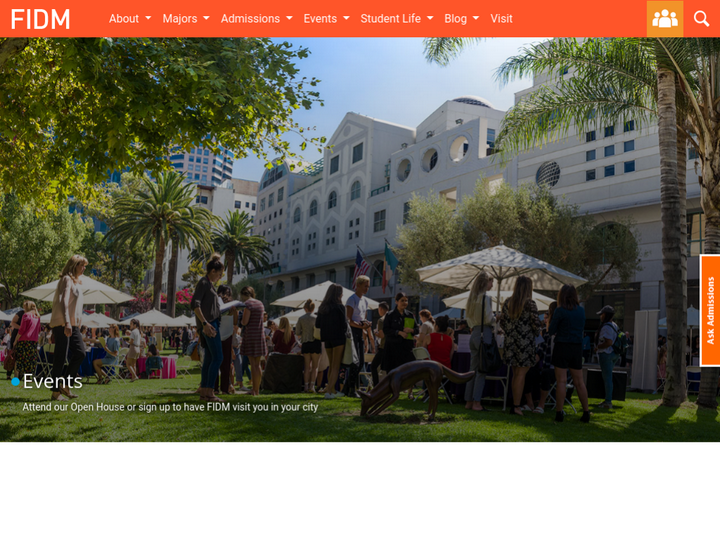 Company Description
In 1969, we were urban pioneers starting a one-of-a-kind college with two Downtown L.A. classrooms. We've grown to become four campuses with a student body of 4,200 and nearly 70,000 graduates worldwide. Our driving force has been to stay focused on our goal: to create an educational environment that fuses student desires with career realities. We're always thinking about how we can adapt and expand to meet the challenges ahead.
Review & Rating

I am currently looking for someone to sublet my apartment to! I live at The Lorenzo Near USC. This building houses many FIDM and USC students, as it is the perfect building for students. The dorm has 3 bedrooms and 3 bathrooms and the rent is $899.99/month. I would love to stay here but unfortunately, I cannot due to a family member becoming very sick back home. There is currently one other male living in the room. He is very polite, respectful, quiet, and clean. And he is almost never home as he is very focused on school. Please message me if you are interested!!!

You guys messed up. You were supposed to put me on medical leave so that i could take 2 incompletes and 3 withdrawals. You did it too late and let my grades fall down to F's and D's from A's and B's. I called and you guys said you a favor because my grades were so low? I have a baby , took the classes then so i wouldnt have to take so much now. This is my last quarter that i have had to repeat twice now. I left a message at FIDM LA. Call me back so we can come to a resolution instead of just "oh well". Thanks.

Hey everyone! I'm looking for someone to sub lease my apartment at the Lorenzo. It's a 2x2 bedroom for $994 a month. It includes wifi, cable, water, trash, etc. You'd share the apartment with 3 other girls, but they're all friendly and very clean. There's a lot of FIDM students there as well. It's a two year lease, but it's amazing. Please contact me if you have any questions :)!

i believe is a nice place to be, to visit and be visited

A new quarter has started and it's only right to inform any LGBTQ students that not every instructor is professional. I'm well aware that some people dont care at all, but black/brown and students should know to avoid BJ Sims and ethnic LGBTQ or non-gender binary students should know to avoid Surdo's effective speaking class. Sims warned her non-white students not to ever pull the race card because as a white woman she was the minority in America and Surdo may choose to misgender you after you've already corrected him. Don't subject yourself to any unnecessary grief when you're trying to better yourself by getting an education. Especially when you're shelling out this type of money!

I recently got accepted in the junior advantage program and I love everything about this school! The workers are so friendly and truly want you to succeed and prepare you for your interview and everything if you network with them soon enough. I have never felt more welcome and I love how you are not just a number at this school! Excited to attend in 2017!

Hi... Is there any Bachelor's degree in fashion design and management??? Please say kindly it's really urgent for me to know... Regards

Hiring: Merchandising Consultant Firm based in NYC is seeking a Retail Merchandiser for brands at TopShop LA and Bloomingdale's LA. Fashion Merchandising student a plus. Pay $15/hr. Immediate Start. Inbox me for more details.

I am subleasing my bed space at the Lorenzo for the spring quarter. My rent is $994 and this lease ends July 31. I can extend the lease to next July, however you will need to be confirmed first. I am in dire need for somebody to take this lease as I am leaving FIDM for a quarter and will not be here. Please somebody be willing to take it. I live with 2 other FIDM girls, as well as a LACC girl. There is a shuttle that will bring you to FIDM campus at convenient hours for class times, and it is only steps away from USC. You can also find me on the schools app. Every Tuesday and Thursday there is free food in the courtyard, and during the spring and summer there are pool parties on the weekends. Message me if you have any further questions (I left a lot out for this post)

I'm subleasing my place at Hanover (0.2 miles away from FIDM). From July second up to October. Rent is approximately $1.850 per month (no deposit needed) and it comes with a gym, free coffee machine, an area for barbecuing, tv room, a pool, rooftop, a balcony and even free popcorn on Thursdays! There is also a closet, private bathroom and it is already furnished with a queen size bed, chair, desk and two nightstands. Note: The furniture is optional. If you wish to bring your own, not a problem! That was just an option, since I'm moving back to my home country :) My roommate is from Singapore and is very friendly and also very clean, and knows how to respect her roommate's space! Email me in case you're interested! If you wish to stay here for a shorter time, that can also be negotiable! My email is: marianabmourav @ hotmail. com xx

Relet opportunity! I am currently looking for someone to take over my lease at The Lorenzo near USC (offers free commute to FIDM directly from apartments location). Room is 2x2 and is $994 a month with all amenities included (water, electricity, gas, etc) private message me if interested! Lease starts 1st of August.

Opening Hours
Mon

Closed

Tue

5:00 pm - 9:00 pm

Wed

Closed

Thu

5:00 pm - 9:00 pm

Fri

Closed

Sat

Closed

Sun

Closed
Authorize your self with either of these to view contact details, your information will not be shared to any one
Newsletter Subscription for Virtuous Reviews LLP
One more step and you will be subscribed to our newsletters
We have sent you a verification mail on your email id, please verify it.