Fondue Cowboy
#94 in USA
#38 in San Francisco
Restaurant
1052 Folsom St, San Francisco, CA 94103, United States
Claim Listing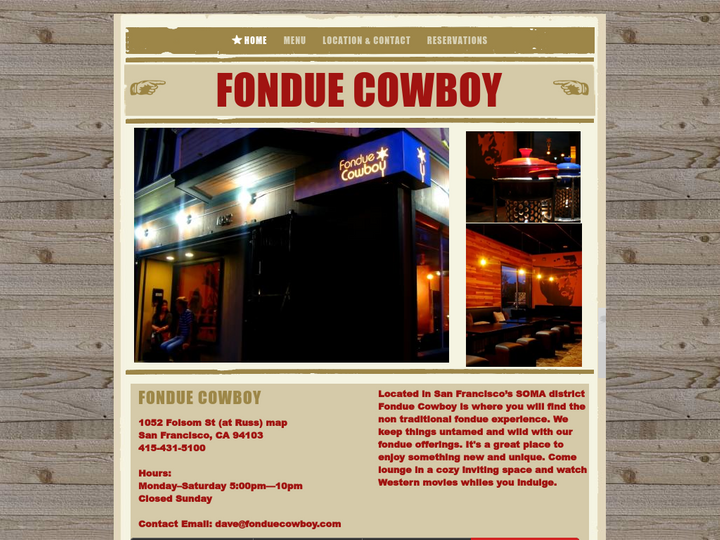 Company Description
Located in San Francisco's SOMA district Fondue Cowboy is where you will find the non traditional fondue experience. We keep things untamed and wild with our fondue offerings. It's a great place to enjoy something new and unique. Come lounge in a cozy inviting space and watch Western movies whiles you indulge.
Review & Rating

This place is great! Food is delicious and the dipping options are plentiful. One fondue is plenty for two people. The westerns playing in the background are a lot of fun.

What a nice and quirky little place. The fondues are amazing and come with ample selections to dip with from grapes, to bread, to apples, to olives.... you name it, and it's on the plate. Choose from a variety of cheeses and don't be afraid to ask for recommendations. The staff is knowledgeable, friendly, and happy to be there. Grab a glass of wine or sangria (no spirits) and dip away!

Excellent all around. Friendly but subtly intimate atmosphere. The food was obviously fresh and delicious. Simple but sophisticated menu. Service was excellent.

Fantastic! Enough to choose from, great choice of beer, cosy environment. Very friendly personnel. One of only two fondue places in SF.

If you are looking to have a real fondue experience do not go to this place. If you just want a drink and have a mcdonalds-style fondue, then...its ok to go to this place. The fondue is tiny and the toppings very cheap pieces of veggies and marshmallows. Very disappointing and pricey for the quality.

Went for the fondue and promise of old westerns. Fondue was quite good, but also very expensive and pretty small portion. They only had on one movie all night, The Three Amigos, which kind of sucks. Service was good and not too slow considering how busy it was. Make sure to make a reservation on Saturday nights, it was still packed by the time we left. All in all, I would go again maybe for the bar and hope they play more than one movie. Fun for the novelty.

Cowboys and fondue is defo not formal! Super fun. Good and tasty fondue, friendly service. Try the traditional with a side of meatballs! Recommend getting one fondue per person, they're only little. :)

My friend came here before and recommended that we go here. We got here around 7 pm and they informed us that all the tables were reserved, but the bar was open. We sat at the bar and ordered drinks first. We asked for some recommendations and ended up getting the lonestar. When it first came out, it looked a bit small, but cheese is a super heavy food. The cheese automatically come with bread, potatoes, broccoli, apples, grapes, olives, and pickles. It didn't seem like much at first, so we ended up ordering the meatballs after. It was a little hard to get our servers attention, but the meatballs came out with enough cheese left for it. We also wanted to get some more bread and potatoes, but the server didn't really come. The meatballs tasted really good, and went really well with the cheese. The food was amazing, but it was pretty difficult trying to get someone to help us after. I would definitely come back to try their other cheeses. One order was perfect to split between two of us.

This cozy little place has a great feel to it, although the seating seems like form over function. I don't care for sitting on an ottoman during a meal, I appreciate a chair back . That aside the experience here is a pleasant one. The wait staff if friendly and really make you feel welcome. The food is good, although the portion of fondue you get seems just a tad smaller than it should be. Perhaps the trick is to order more than one, but that seems like it would be too much for a party of two.

SO YUMMY. I wish that they offered larger portions but the meal was absolutely amazing and had a good variety of dippers. A really romantic setting for a date would highly recommend

Opening Hours
Mon

Closed

Tue

5:00 pm - 9:00 pm

Wed

Closed

Thu

5:00 pm - 9:00 pm

Fri

Closed

Sat

Closed

Sun

Closed
Authorize your self with either of these to view contact details, your information will not be shared to any one
Newsletter Subscription for Virtuous Reviews LLP
One more step and you will be subscribed to our newsletters
We have sent you a verification mail on your email id, please verify it.