La Fondue Restaurant
#93 in USA
#19 in San Jose
Restaurant
14550 Big Basin Way, Saratoga, CA 95070, United States
Claim Listing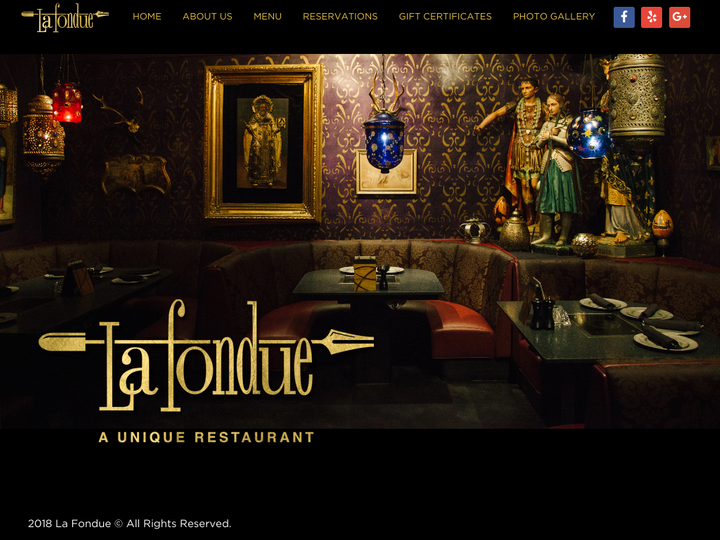 Company Description
La Fondue is located at 14550 Big Basin Way at the corner of 4th Street in Saratoga. The restaurant's interior reflects a new interpretation of European design that avoids cliché interpretations.
Review & Rating

Been here a few times over the years, and always enjoyed it, whether doing the 4-course meal or just a cheese fondue + chocolate fondue a la carte. Note that many (I think all, but not positive) of the prices on the menu are for 2 people - so while it's still far from cheap, it's not as expensive as a quick glance on the menu makes it appear.

The restaurant is nice and roomy, the meals was yummy and the prices were very fair. quickly, effective service and very personal staff. I recommend this place.

I called ahead and reserved a table here for my husbands birthday and when we show up, the hostess showed us to a horrible open area table near the entrance. When I asked for another table, she "checked with the manager" and told us the wait would be alteast an hour. We got the hint.. "sit or leave". When I am paying good money and have made a reservation in advance for the service, I expect to be treated with dignity at the least. Horrible place, even more horrible staff.

I very much enjoyed the food and customer service, good location right next to where I live. The cashiers are always super friendly. Will come back again.

This was the second time I have been here. It was very good and we had a nice time. The dining experience took about 2 and a half hours. We enjoyed everything. The 1 bummer part of the experience was that they lost my leftovers. However they made up for it. Id would come back for sure

This place is the best... Best food best service... Ask for Elijah and he will have you set all night.

The general manager Samantha did a great job ensuring our large party was set up to accommodate for my partner's and her aunt's severe gluten allergy (celiac). Our server Rod was super helpful in communicating each item and serving gluten items to only half our party, who ate from a separate pot...we had a great meal!

The food and atmosphere are excellent. We always eat too much, but it's a great place for a special occasion. Very expensive though.

The cheese fondue was awesome. Table-top cooking! We got the meat sampler and enjoyed all of it, though I think we overcooked a few. Awesome atmosphere here earned it 5 stars overall. Highly recommend the Groupon for weekday dining at an awesome price.

Super confusing menu, only to have server talk you into eating way too much. Artificial happiness. Outrageously expensive. Absolutely NOT authentic. Go to Switzerland, if you want to eat a good Fondue. You will not get it here. Never going back.

Authorize your self with either of these to view contact details, your information will not be shared to any one
Newsletter Subscription for Virtuous Reviews LLP
One more step and you will be subscribed to our newsletters
We have sent you a verification mail on your email id, please verify it.