Independent Motors
#97 in USA
#16 in Boulder
Autobody Parts
5440 Arapahoe Ave, Unit A, Boulder, CO 80303
Claim Listing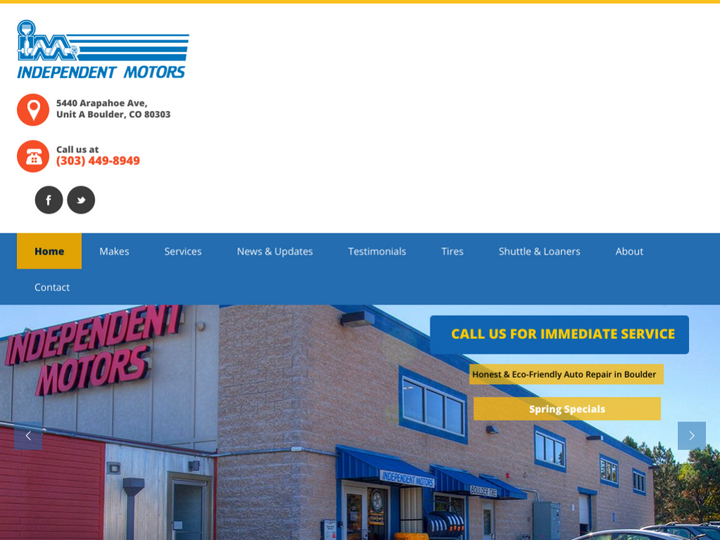 Company Description
Our crew can service any domestic or Asian import car, truck and SUV. What's more, they're a good bunch of guys. That's why some of them have been with us for well over two decades now.
Review & Rating

I'm writing this review now because I'm getting ready to sell the vehicle and I need some work done on the muffler before selling it. I recalled the awful experience I had at Independent and felt remiss not to have warned the public at large of their questionable business practices. Over the summer of 2017, I brought my vehicle in, asking them to replace an o2 sensor. I'd used my own OBD2 (car computer) scanner to diagnose the issue myself and didn't have time to do the repair before I left town to see the Great American Eclipse. They called me later in the day quoting $2000 in extra repairs they found during their "diagnosis" (which I didn't ask for) and told me they changed my oil because they engine was completely dry. I had changed my oil 3 weeks previous, have done so many times since, and there is NEVER any signs of oil consumption. The car was very old (170k miles) and I'm a software developer type, so I think they figured I was easy prey. In the end I paid something like $275 for the o2 sensor replacement, an unnecessary $35 oil change, and a $75 "diagnosis" I didn't agree to. I await management's crybaby reply asserting that I agreed to a diagnosis (I didn't) and/or implying what I've written is untrue.

A few weeks ago, my 2004 Toyota Tundra had a misfire and ran very poorly. Originally I took it to Midas, and they were very helpful, but they recommended that I take it to a dealership because they couldn't get into the truck's computer to find the cause of the misfire. When I took it to the dealership (Larry H. Miller Toyota), they gave me a long list of "necessary" repairs.These repairs totaled to around $5,200, approximately the value of the truck. I figured I should get a second opinion before either selling the truck or spending as much as it is worth to fix it, so I took it to Independent Motors. Independent Motors has the full Toyota factory setup, so they have all the capabilities that the dealership has. After the diagnostic, they were able to fix the misfire for $480, a fraction of the invoice from the dealership. Furthermore, the problem they identified (bad spark plugs and wires) was never found by the dealership, so that $5200 would not have fixed the misfire. I asked that they run a full inspection to see if they find the same "necessary" repairs that the dealership found. They recommended replacing the front brake pads and a gasket, but found no real issue with the most of the parts that the dealership said were broken. Independent Motors was extremely helpful and friendly, and they saved my beloved vehicle along with thousands of dollars that I (a full-time student) cannot afford to spend.

My brake pads had totally worn down, and I went in for a full front brake job. About a month after this my brakes started squeaking. The squeak only got worse over the next month. I finally brought it back in and during a ride along they confirmed there was indeed some cosmetic brake squeak, nothing dangerous but annoying. At absolutely no additional cost to me they completely redid the brake job, and I've had no problems since. I was impressed by these guys standing by their work and making things right. Thanks!

No one wants a bad tire the day before impending snow, or to sit in an auto waiting room, but I gotta say thanks to Ian and Fidel for getting me in same day and out within an hour with replacement and a reasonable cost for their great service. This is my new spot for everything auto!

I started taking my older Toyota truck to Independent Motors on the advice of a friend's dad back in 2001. I was always pleased with the work they did, and especially that I could feel like Bill would stand by the work. Later I inherited a Camry and needed some work done on it that was under warranty, so I took it to a dealer. Often the work was not done per the discussions I would have with "the guy that doesn't want you talking to the mechanic," or "service manager." That kind of workmanship has never happened since I returned to Independent Motors. One day I was lucky enough to get a courtesy ride with Bill and I didn't know he was the owner. We laughed about strange ways to repair air-cooled VWs and then he asked why my car was in the shop. I was getting an oil change and having a belt checked. He said you don't need a belt until x number of miles, get a tune up, and he was right. In fact, Independent Motors has been there during emergencies, too. I hit a huge chunk of storm drain in the middle of the road last year, and ruined two wheels and two tires. I had the car towed there, and they called me before I could call them, and repaired the wheels, etc. as quickly as possible, and found affordable options as well as newer options— maybe took three days. They have affordable courtesy rental cars, too! I buy my tires there and they rotate them and check your air for free. Well, today I realized I had a screw in my tire and was a bit late on a rotation, and these guys got me in last minute on a busy day and took care of me. I can't ask for more from an auto repair shop. You get what you pay for and I always recommend them to all my friends! Thanks Bill and everyone at Independent Motors.

Had car towed to shop because of good reviews and was given estimate for strut, wheel, tire, etc. replacement from the car hitting a curb, that was way more than cost of repair at shop that I should have had car towed to in first place ($3.6k instead of $1.7k). Asked why strut was almost three times more and response was that they use better quality parts. Make sure you get a second estimate when going here. Breaks Plus in Superior actually replaced more parts for half the price. They didn't recommend unnecessary replacement parts that Independent Motors seemed to find and recommend for replacement. Independent Motors supposedly had an auto body shop look at scratched paint and charged me extra ($130). They said the "scratched" wheel will throw the balance off and should be replaced. "The knuckle might cause the alignment to fail, you'll have to pay an extra $1100 if it fails". Again, you should always get a second opinion if you bring your car to this shop.

My family has been bringing our cars here for a long time. Recently, I found out my Audi had a puncture in one of the tires and Audi told me that I would have to replace all 4 of my tires. Fortunately, I took my car to Independent Motors for a second opinion and they were not only able to repair my tire, but keep its warranty in tact! Thank you!

Do you remember the scene in The Mask where Jim Carey goes into the car shop to pick up his Civic? Where two less than reputable gentleman inform him that his brakes are shot and he needs a new transmission when all he wanted was an oil change? You don't have to understand the finer points of film to see that these two are trying to screw over poor Jim Carey and probably make a business out of that same practice with other customers... After two visits to Independent Motors, the only nice thing I can say about them is that they reminded me of that scene in a beloved childhood movie. I took my 99 Lexus in last Friday due to some piston misfires. I was also, admittedly, pretty overdue for an oil change. Long story short, they replaced my #2 ignition coil and gave me an oil change. After two days, the same problem persisted with my car. I took it back on Thursday to see what the issue was. After a brief re-inspection, I was told that the problem was with my variable valve timing solenoid and that the cost to replace it would be anywhere from $1,000 to $2,000 and that I would be better off trading my car in for credit to get a different used vehicle. After a brief google search while discussing this with Jason, my BS meter was going off at an alarming rate, so I left with the intention to try a different mechanic my family has used for years. "Why didn't you go there in the first place?" you may ask. "Because that mechanic is down in Colorado Springs and I now live in Boulder" I would answer with a slightly condescending tone. I made my way down to Colorado Springs and dropped my car off. After only an hour, I was told that the problem was indeed my VVT and that it would need to be replaced. Which would cost a grand total off... $271.68. Far less than the 1-2k I was told that morning. Needless to say, they fixed the problem and now my car runs flawlessly. I never write reviews, but this business in particular broke me of that. I spent the rest of the afternoon calling everyone I could to tell them never to take their car in to Independent Motors. Friends, relatives, cheating exes I haven't spoken to in years, even a couple radio stations. In the end, I am appalled, and would never recommend this place to anyone. Not even to use their parking lot in case the one for the bar down the street is full. Thanks for making me want to rewatch The Mask though, guys.

Been using this shop for years. Having an older Subaru, there's always work to be done. Greg is awesome at helping me prioritize repairs while keeping safety and cost efficiency as the top priorities. It's awesome to know I can always call or drop by the shop and get my car checked out. Plus, we should all support local Boulder businesses.

Independent Motors is AWESOME. I've been bouncing around different local shops for our family's vehicles, but after a few months with Independent, we're settled. They have saved us so much money with good, honest, mechanics. They found workarounds on two of our vehicles that saved us in total about $1K. It's refreshing to have confidence in our mechanic. These guys are the real thing.

Authorize your self with either of these to view contact details, your information will not be shared to any one
Newsletter Subscription for Virtuous Reviews LLP
One more step and you will be subscribed to our newsletters
We have sent you a verification mail on your email id, please verify it.