Inside Car Guys
#99 in USA
#19 in Calabasas
Sell Cars
2671 Ventura Blvd, Oxnard, California 93036
Claim Listing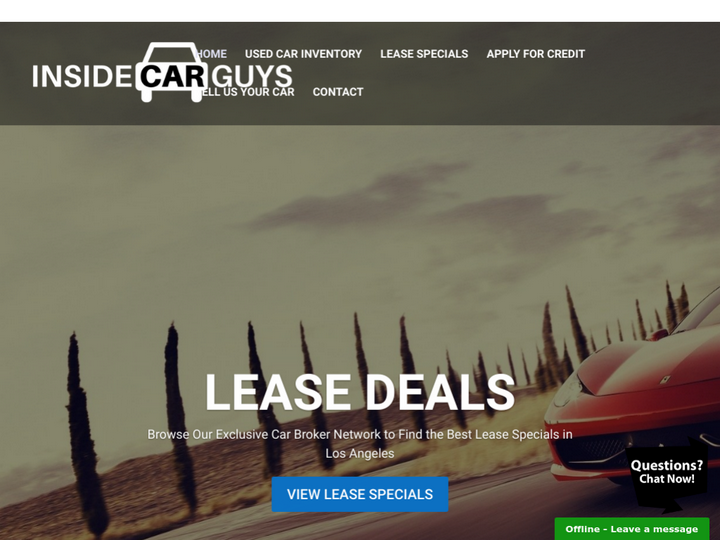 Company Description
New Car Superstore is an auto brokerage company specializing in new auto sales and leasing . We offer an alternative to the more conventional car dealership experience offering our clients upfront pricing, the ability to shop 100% online for a new car and the option to have it delivered to their home or office.
Review & Rating

Loretta Zanfardino Condelles
UK
I am car shopping and came across Inside Car Guys. I spoke with Marcus who was very helpful in giving me tips on how to negotiate a good lease deal on a new car. I am happy I came across this site because you don't realize the ins and outs of making a good deal for keeping the money in your pockets and not the dealership's pockets. So thank you Marcus and I certainly will tell others of your service. Loretta from Forked River, NJ.

Yes, I got the Ford Fiesta from Jenniffer Richter. It broke down, with transmission problems. I brought it to Carmax, to see if I could get rid of this piece of junk that Marcus sold me, so he could help Jenniffer. It happened to be, that the frame of this car was repaired after a non disclosed accident. Thank you for that, Jennifer! Very honest of you. FAIR deal? To you maybe, Jenn. I got stuck w this piece of junk you sold me. In fact, I'd really like to see if Marcus is as good as to help me get rid of this problem that is causing me financial hardship. Thanks Jenn. Thanks Marcus. I hope nobody does to you what you did to me.

Wow! Enough can not be said about how easy it was to work with Marcus. I was given a true challenge of a gem of a car. A 2012 Ford Fiesta with over 100,000 miles. I had no idea how to sell it but knew I wanted to get a fair price and sell it privately. I had it priced at Car Max, and they weren't going to give me anywhere near Blue Book. Then I found Marcus. He took the car from me, we had a written contract in place, and guaranteed to get me the fair price I was looking for. Anything above, was going to be his, so great motivation to get as much for it as possible. Marcus did everything. Posted it online, spread the word, spent countless hours meeting with unfortunately people that would back out, but he stuck with it and in almost no time, we had a solid deal! I was completely amazed! I got my check right away and was more than happy to send him his share right afterward. What kind of guy is so amazing to get you all the money up front and to do all the work? I was so impressed with Marcus and can tell whether buying or selling, he is just dedicated! And will get you a perfect and FAIR deal.

This place sold us a car that was in terrible condition. They told us that the trouble would work itself out after we drove it a few thousand miles. Now we found out that the piece of junk they sold us was previously in an undisclosed accident and that the front end had been repaired. The transmission fell apart apart and we got stuck with this unusable car. It has caused us tremendous repercussions and financial hardship. Worst car but I g experience of my life.

Marcus was so helpful last week in helping me get the car I wanted, the best part was he saved me 95$ a month compared to what the dealership was telling me!

Car shopping can either be fun or frusterating. depends on how much time you have and options available. Also what resources you have, how much experience and who you know can help. It's great to have an inside guy that is your dedicated car guy leasing a new car or financing one can take 4 to 6 hours. With Inside Car Guys the car is delivered and paper work takes 10 minutes.

Best place to get your car. Marcus the owner is the best. He really cares about his customers needs. Saved me over $10k woo hoo. Thanks Guys.

Marcus was excellent at getting me the deal I wanted!

The best car buying experience imaginable. Sat in a dealership for 4 hours to purchase a vehicle, haggled prices and ended up taking it back because it didn't meet my expectations. Marcus delivered my car, sat down and filed paperwork within 30 minutes. Truly unbelievable. Thank you Inside Car Guys. The new way to buy a car

Authorize your self with either of these to view contact details, your information will not be shared to any one
Newsletter Subscription for Virtuous Reviews LLP
One more step and you will be subscribed to our newsletters
We have sent you a verification mail on your email id, please verify it.