Ladin Subaru
#93 in USA
#14 in Calabasas
Sell Cars
3725 Auto Mall Dr, Thousand Oaks, CA 91362
Claim Listing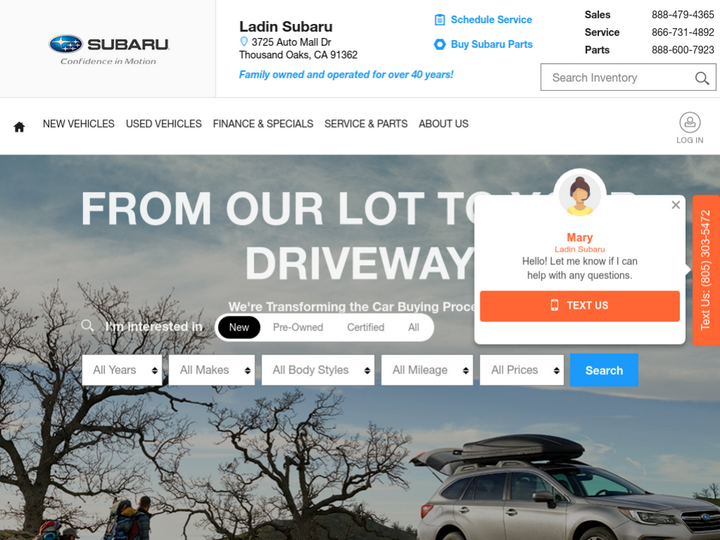 Company Description
Welcome to Ladin Subaru, your one-stop shop for all of your Subaru sales and service needs! We've been doing business at our 3725 Auto Mall Drive location for over 40 years, and we're proud to say that we've developed a reputation for being the place to buy and service your Subaru in the greater Oxnard area.
Review & Rating

Very helpful and professional no pressure

The service department has gone above and beyond to make sure that I am satisfied and I have complete trust in them. I feel like they hear my concerns and take the time to help me; even when I have neurotic questions or needs. I did not purchade my car at this location but they would be my first choice for another car if I trade this one in.

I was really hoping to buy my new Subaru at this dealership, as it's closest to home. However, the Dealer I worked with here was, well, your typical old-school Dealer where its all about making the sale and not so much about customer service and satisfaction. There was one point where he exploded at me in a phone conversation when I wasn't interested in an offer, which I had to just hang up. Inappropriate. Perhaps back in the day that was OK and expected, but in today's day and age, customer service wins the day.

Faultless service from this location and Amir. I went home with my new fabulous car, he and the dealership always got back to me, answered my questions and were super friendly. Some sales people here like being credited to the final purchase, but most of them are agreeable. When buying a car you can't always end up finalizing the sale with the original person who helped you. The whole process was very organized and I got clear delineation from the financial department. They treat their buyers and shoppers right as far as what I experienced, and have great service options and deals.

BE REALLY CAREFUL in finance department. My 83 year old Mom, after recoverying from heart attack, thought she was getting a good deal. Finance Manager said u could get 3 year extended warranty for just $2 more. Unfortunately when I read the details, that was true but he added without telling us, 3 more payments. I called costco and spoke with costco rep at the dealer, basically we could not reach an agreement. It's been 10 days since I told the salesman who helped us. THe sales guys are awesome. But the finance manager committed fraud, yet the dealership will not fix it too our satisfaction. If the finance manager would snooker my mom with me there, and with costco auto buying, I'm afraid to think what they would do without costco. PROBLEM IS the dealership lied about this being a costco purchase although they are costco dealer. COSTCO is a great company and protects their customers, but what happened shows how dishonest some people are in the car sales people. Unfortunately this might have to go to litigation and even criminal, as the finance manager, IMHO committed fraud, I would hate to see this to happen to anyone else's mom. edit spoke with NAPA Parts Guys in TO, 4 of the guys there said they have heard bad things about this dealership, but at the same time great things about subaru cars. I starting to think there is a pattern, not a mistake by the finance manager, but they know all the legal stuff so they think they are bullet proof. To costco's credit, they are trying to help me with the dealer. Anyway, if anyone wants a good deal on a brand new forester, only miles on the car was when it was driven home, u should see the car for sale in a few days, it's a shame u have dealers like this. THE SALES GUYS WERE AWESOME, especially RICK....he took care of my 83 year old mom, the finance guy .... let the lawyers figure what they should do with him. If this was an aberration, the dealer and owner would of fixed the problem the next day, instead there making my life and costco like difficult. cheers DOUG

Great sales team Randy was very helpful

I bought my Subaru outback from here after I got a better online quote than any other place around the area. Yara was my rep and she was very helpful and professional . I definitely recommend it

First time at the service department and everyone was helpful.

We just purchased a Subaru Ascent from Harris Brazina. He was so wonderful and patient with us. We could not be happier with the service we received and our car. Highly recommend :)

We had a wonderful experience with Ladin Subaru. We greatly enjoyed working the the internet sales contact Jim Anderson. He was so helpful in getting a car for my parents. Everyone there made things very easy for us. Thank you so much!

Authorize your self with either of these to view contact details, your information will not be shared to any one
Newsletter Subscription for Virtuous Reviews LLP
One more step and you will be subscribed to our newsletters
We have sent you a verification mail on your email id, please verify it.