Lakeway Cosmetic Dentistry
Dentists
401 Ranch Road 620 S #300, Austin, TX 78734 USA
Claim Listing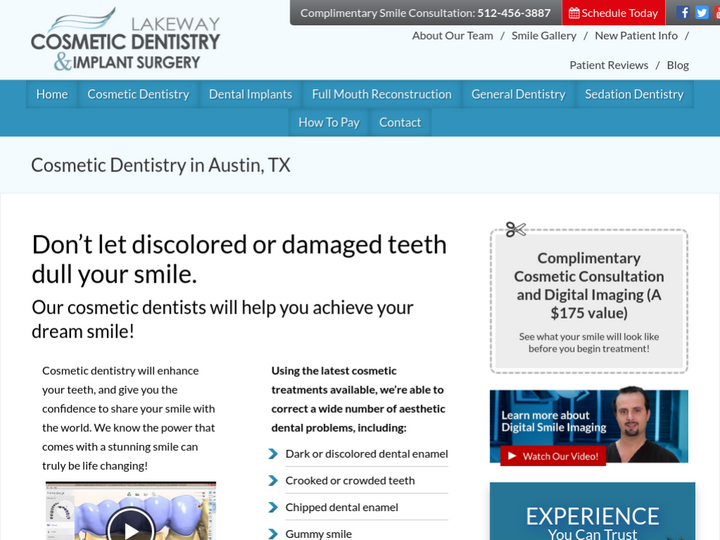 Company Description
Dr. Robert D'Alfonso is a leading cosmetic dentist in the Austin TX area. Located conveniently in the heart of Lakeway, Dr. D'Alfonso has over 20 years of experience treating patients with a wide variety of dental issues such as dental implants, full mouth reconstruction, porcelain veneers, and has performed countless total smile makeovers.
Review & Rating

Robert and his staff are the most professional, caring and friendly staff I've ever encountered in the field of dentistry. The quality of the work they perform is top of the line in all respects; be it a simple cleaning to the most complex dental procedure. I highly recommend them for all your dental needs. Our entire family goes there.

Dr. D is one great dentist and I consider him a great friend as well. The first time I saw him I was in tremendous pain and he immediately zeroed in on my concern. In no time at all I was on the road to getting better. He listened and did something when no one else could figure it out. He has a great team and they are all like family to me. My whole family goes there and I always recommend all my friends to go see #TeamD'Alfonso in Lakeway. You will be impressed, I guarantee it! MB

Dr D'Alfonso is such an amazing dentist! He fixed my front tooth that was discolored and I've been so much happier since I feel comfortable smiling again! He's also repaired some other work a previous dentist admittedly did a terrible job and did not offer to fix it. I would have saved thousands of dollars if I found Dr. D'Alfonso sooner!

Dr. Robert D'Alfonso and the entire staff at Lakeway Cosmetic Dentistry are very caring and compassionate about their patients. I've been to other dental offices in the area and this practice is by far superior. Definitely a pain free experience. Thank you! ★★★★★

I called to make an appointment here because I had a crown fall off and needed it re-attached ASAP. I was a new patient and understood that I would need a quick exam before they could reattach the crown. When I made the appointment I gave them all my insurance information as asked how much the visit would cost, I was told that I would be given an estimate prior to any work being done, When I arrived for the visit, I was taken back to the exam room. Without seeing the doctor a dental tech then proceeded to take multiple x-rays of my entire mouth. I was very confused and asked "wow that is a lot of x-xrays". When the doctor finally came in he did a quick exam and re-cemented my crown. He told me that they would do a more comprehensive exam when I cam back to get my teeth cleaned. When I went to check out they told me that my share after insurance would be $71.00 - that sounded reasonable and I paid. I later received a bill for over $200 (after my insurance paid) - I tried calling the office multiple times with no call back. I finally wrote the office a letter asking how they got to that number, I also asked about the standard of care. The doctor responded back with a trite letter that was not helpful at all stating that if I wanted to come back in to have my teeth cleaned to call the office. I was then sent to collections for the $200 bill.

i am VERY pleased to be a patient here. I moved away from the neighborhood but won't change to another dentist. The knowledge and skill are really excellent most of all (and I have a lot of "dental experience"). The business side is both reasonable and considerate of a client's financial status. I have been to an office that was heavy on marketing and that is just wrong. Cannot fake the integrity and sincerity Dr. D'Alfonso exhibits in all aspects of this practice.

The office is state of the art and extremely nice and clean. Dr. D'Alfonso and his team listen to all your concerns and do a great job explaining everything. I highly recommend going here for all your dental needs. It's truly a joy to go to this dentist!

March 29, 2018: I had a loose veneer that was done by another dentist in Georgia. I moved to Lake Travis and called Lakeway dentistry and they was able to get me squeezed in on the same day. Dr. D'Alfonso and staff were very professional, and he explained the exact problem and fixed it the same day; just in time for my photo shoot. Thanks a lot! Joplo Bartu (Atlanta Falcons)

Best Dentist "EVER"!! 1st my son and wife went and loved working with him for years. I had never been. Then, I had an emergency, with a broke front crown, he had me come in when they were closed on a Friday to take care of my smile. (A MESS) Now I am hooked and going in for more small procedures. I HATE DENTIST, but not this 1. His team of staff are friendly and care about your pain and comfort. I highly recommend this dentist to anyone in need. P.S. They stay in touch with you before and after your visit. Great, Great Experience!!!

Authorize your self with either of these to view contact details, your information will not be shared to any one
Newsletter Subscription for Virtuous Reviews LLP
One more step and you will be subscribed to our newsletters
We have sent you a verification mail on your email id, please verify it.