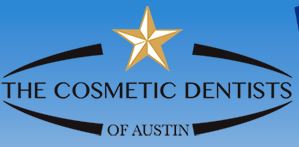 The Cosmetic Dentists of Austin
Dentists
2700 Barton Creek Blvd. Suite 130, Austin, Texas 78735 USA
Claim Listing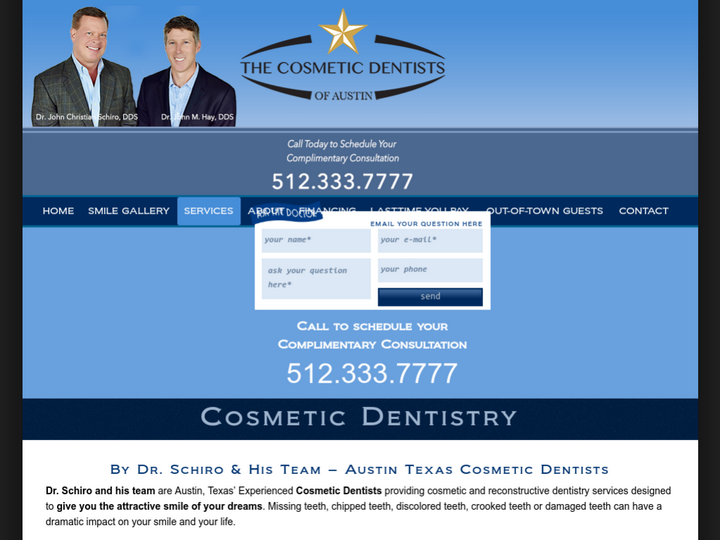 Company Description
John Christian Schiro, DDS is a Dentist in Austin, Texas providing cosmetic dentistry, sedation dentistry, and full-mouth reconstruction dentistry.
Review & Rating

Dr. Hay and the rest of the staff are amazing. Everyone was so personable and took the time to go over everything and make me feel comfortable. I finally have the smile I always wanted. Calling the Cosmetic Dentists of Austin was the best decision I ever made!!

If I could leave a TEN MILLION star review here, I would, as this team deserves it!! From the initial help of Amber and Ashley, these ladies make you feel welcome, and remember every detail of what you are seeking, and they make the process FUN!! ::HUGE SMILE:: Then once your ready to roll, Kevin, Sarah, Danielle, Jen, (and all of the other girls) make each visit unique, trust-worthy, and offer comfort and EASE!!! Dr. Hay asked how I was doing and made each visit memorable with fun stories to make me feel reassured about the entire process! The Cosmetics Dentists of Austin have about a million touch points in these visits that are above and beyond making my heart filled with JOY. Thank you so much to each of you! ::LOVE LOVE::

This is the best, most thorough team of individuals I have ever met. The first time I walked in, I was a nervous wreck and thought I wasn't worthy of having a nice smile anymore. I left there that first consultation feeling like a million bucks and already my confidence had boosted. I am so proud of my smile now and it has only been a little over 24 hours since my procedure!! My anxiety can get the best of me at times, but, if I ever had any questions they answered-even at 10PM! The real service lies within how personable these folks are-every single one of them. Ashley-is such a doll. Amber- is so intelligent on all procedures. Kevin-he's just a hoot and a holler. Julie and jenn- are awe inspiring in themselves! I was worried about finances going in, but, they will make sure whatever you have or can do will work comfortably in your favor. I recommend this place if you have minor dental work or extreme dental work!!! You'll feel right at home.

The Cosmetic Dentist of Austin is Amazing !!.. The feeling you get when you arrive is like it was personally designed for you. The staff is excellent they form an internal family of loving people from the nurses to administration and they welcome you with open arms. There work creates happiness and a life changing experience for you as a patient. Everyone deserves to smile 😃 with confidence. Thank you to Dr John Schiro , Dr John Hay and all the staff ecstatic with my new smile !...🤩 Five stars ⭐️ is not enough to say the least

Unbelievable experience at The Cosmetic Dentists of Austin!! Dr. Schiro, Dr. Hay and the entire team were incredible from beginning to end. I had a completely new, beautiful smile within a month. Scheduling was a breeze and everyone was so good about working with me, even when I had last minute scheduling changes. I can not recommend them enough and I am absolutely thrilled with my new porcelain veneers!

The Cosmetic Dentists of Austin is awesome! I am an out of town patient (from Philadelphia) and it was such an easy process to receive porcelain veneers since they offer Saturday appointments (the entire process took two visits). I am more than happy with my new smile, I feel amazing. The process was pain free and the staff is comforting and competent. Dr. Hay and Dr. Schiro are the best in the industry.

The attention and treatment I received at The Cosmetic Dentists of Austin has been amazing. The office is so elegant and everyone treats you like family. My smile looks great and I couldn't be happier! Every time I walk out of this office I have a big smile! Definitely recommend this office.

My mother is a patient at the cosmetic dentist. I have taken her to all her appointments. She is so happy with their work. We have rave reviews about the staff / dentists and the excellent care they have given her. We would especially like to mention her dental hygienist Danielle! She is absolutely amazing at what she does. We highly recommend their services!

I have been going to The Cosmetic Dentists of Austin for 5 years and I could not recommend them more highly! The entire practice is outstanding! Every person I have ever interacted with has been professional, knowledgeable, helpful, friendly, willing to listen and answer questions, focused on putting the patient at ease...kind, nice people to deal with. The doctors, hygienists, assistants, front office, receptionists are all first rate...very good at their jobs. The doctors are expertly skilled and their work results in beautiful smiles! The "one time pay" policy is an added plus as it enables me to keep my teeth professionally clean and healthy. I am a very pleased and happy client and I'd definitely recommend this practice!! 😁

If you are unhappy with your appearance because of the way your smile looks, it can really affect your self-esteem. And, if you're having bite issues and jaw pain along with the misgivings regarding your appearance, it can sometimes feel overwhelming. That's how I felt at the time I first went to the Cosmetic Dentists of Austin for a consultation. Dr. Schiro and the staff were all very sympathetic to what I was experiencing, and they explained to me how the procedures they offered could help. Once I made the final decision to go forward, I decided to get porcelain veneers for my full mouth. This was a big step for me, because I have always been fearful of and uncomfortable with dental procedures. Dr. Hay, along with Corey, Jen, and Danielle, did everything they could to make the process less intimidating and were very patient with me. Dr. Hay is a perfectionist, and made sure that everything that was done was no less than optimum. Amber and Kevin were very helpful with regard to discussing financing options, and helped me to make the best financial decision for my situation. And the entire staff has made me feel like I am part of their family, and seem genuinely happy that I am so pleased with the results of all their efforts. Now that my new mouth is complete, my family, friends and co-workers are amazed at what a difference it makes in my overall appearance and demeanor. If you are considering cosmetic dentistry, please do yourself a favor and consider the Cosmetic Dentists of Austin. The level of professional service and care they offer is no less than superior.

Authorize your self with either of these to view contact details, your information will not be shared to any one
Newsletter Subscription for Virtuous Reviews LLP
One more step and you will be subscribed to our newsletters
We have sent you a verification mail on your email id, please verify it.