Lewis & Clark
#88 in USA
#17 in Portland
School
0615 S.W. Palatine Hill Road, Portland Oregon 97219 USA
Claim Listing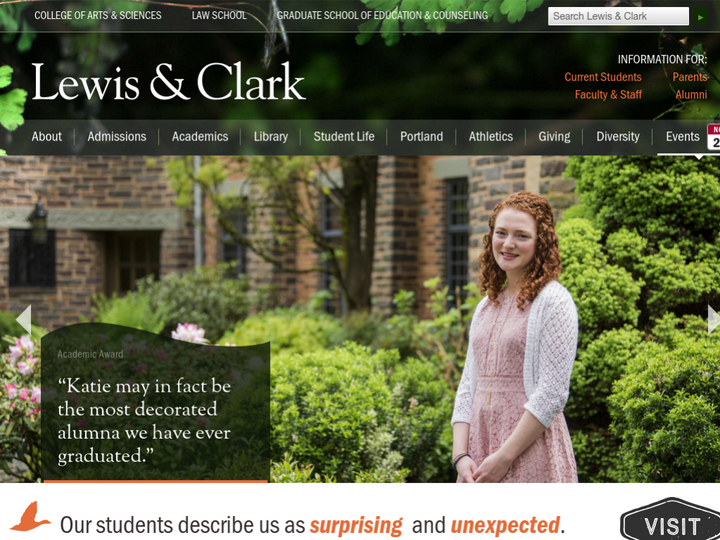 Company Description
Lewis & Clark is a private institution with a public conscience, a residential campus with global reach. Students and faculty throughout all three of Lewis & Clark's schools—the College of Arts and Sciences, the Graduate School of Education and Counseling, and the Law School—pursue new ways of knowing by combining classic liberal learning with pioneering collaboration.
Review & Rating

Great liberal arts school. Really nice on campus accommodations and lots of activities and organizations. Very good professors but as with any small school do research on the exact field your interested in studying and the course track and professors. I studied psych and thought it was a really good program with a variety of options.

I was wearing my L & C cap, today, when I picked my grandson, Noah, up from 1st grade. Another parent asked me about it, saying her niece, too, had been a student at Lewis and Clark.

I am a graduate and had an amazing experience as a student at Lewis & Clark and I was very proud to show this beautiful campus to my daughter. I am impressed with the new building and dorms. I highly recommend this College to any student serious about academics.

Amazing college that I am glad I attended. The faculty were impressive in their care for the students and focus on teaching. There were good opportunities for studying abroad and summer research with faculty (science departments). The actual college grounds are the most beautiful I have ever seen and it's situated in the great city of Portland, Oregon. I'd highly recommend a visit!

Saw a video of your students shouting down a conservative speaker at your law school. As an attorney, I am appalled that the Bill of Rights has no meaning to your students. Certainly speaks poorly of your education.

Shouldn't lawyers be able to hear all sides rather than limiting their views owing to ridged political ideologies? I'd shudder to think of law students of your college acting as lawyers on my behalf, especially if they find a case they deem problematic. Perhaps you need to allow (and provide better security to ensure) a more varied environment of discussion so future legal-eagles can learn to appreciate more than just their own narrow side of a situation.

Everyone was very nice and helpfull. The campus was beautiful. The stadium was very nice and stadium seating was awesome. I was disappointed with the view we had of the Long Jump and High Jump events. The control center building totally blocked it. Some alternative needs to be found. The terrible weather made it hard to sit in the open bleachers. Especially for seniors. Also...events were constantly in the way of each other. Runners and jumpers. Poor setting for the athletes.

Lewis & clark is a great university. My daughter was the first Hungarian student attending (but not the last). Oregon is the best state in the U.S. and the campus takes your breath away. Who would not want to live in a botanical garden?Thank you to the university for the scholarship, and support, and to the professors for their help, inspiration, and constant availability. This is a university that is able to share the happiness of its students and inspires, motivates them. The environment is beautiful, the dining facilities are great, professors are wonderful and the facilities are amazing. For those who like hiking, Lewis & Clark is a dream. They were wonderful 4 years. Thank you for everything Lewis & Clark!

Excellent school, but the commencement speaker, Maria Hinojosa, or the graduating class of 2018 was just horrible. An embarrassment for such a distinguished college.

We were there for new student orientation. While helping our daughter get into our dorm, the staff is incredible. I could go on about the campus and all the wonderful things about the campus, but most important was all the staff - even spent time with the staff supporting the president and they are all fantastic - really let's you feel as a parent that your child will have all the support they need as they start their college career

I'm not sure when Lewis & Clark will stop making my life difficult. In the past year I have ordered transcripts that I was told would cost ~$16 for expedited shipping, they cost $100. I also learned that they terminated my health coverage without notifying me. The visible racism of this institution (it's called Lewis & Clark College just to start) and the continuous failures by the administration of this college make me severely regret accruing debt for a degree that has repeatedly failed to get me a decent job. The only sigh of relief at this school was a select set of faculty, many of whom the school failed to provide adequate job security and were subsequently forced to leave, who went above and beyond to support their students and guaranteed we received the education we needed.

Authorize your self with either of these to view contact details, your information will not be shared to any one
Newsletter Subscription for Virtuous Reviews LLP
One more step and you will be subscribed to our newsletters
We have sent you a verification mail on your email id, please verify it.