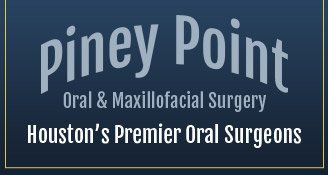 Piney Point Oral & Maxillofacial Surgery
Surgeons
2450 Fondren Rd., Ste 320, Houston, TX 77063 USA
Claim Listing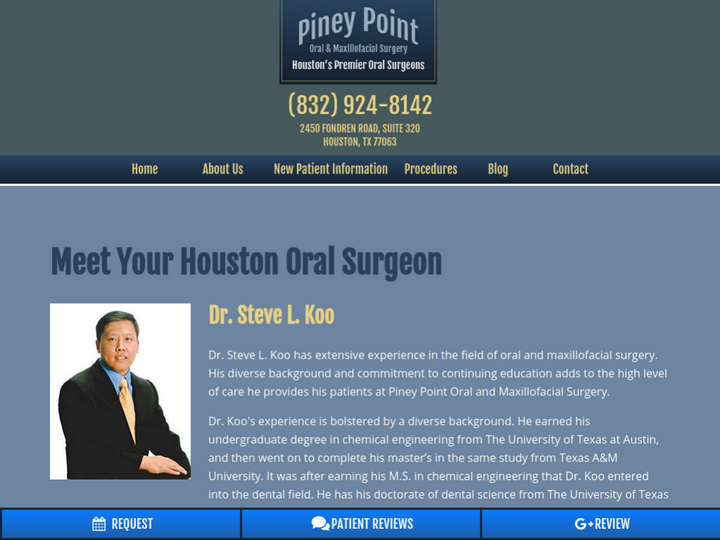 Company Description
Oral and Maxillofacial Surgery is a medical and dental specialty of surgery, which involves the diagnosis, surgery, and adjunctive treatment of diseases and defects involving both the functional and aesthetic aspects of the hard and soft tissues of the oral and maxillofacial region.
Review & Rating

Dr. Koo and his staff are very professional. I recently got all 4 of my wisdom teeth taken out. A day after my surgery a nurse called to check on me, to see how I was feeling. I'm very grateful to have my surgery with such professional and sweet people.

I was referred by my dentist who I trust thoroughly for a wisdom tooth extraction by Dr. Koo. I was very impressed by the staff and Dr. Koo. The extraction was seamless, post-op was smooth with minimal recovery time. The staff called to check on me the next day which I really appreciated. They also kept me informed of steps along the way. I have been very impressed and would highly recommend them to anyone considering surgery or any other services.

DR.Koo did my surgery and he was awesome. He was very understanding and highly knowledgeable on what he was doing. No pain and the best part of all the bleeding had stop by the end of the first day. The staff at the front desk were very kind and always greet with a smile. You never come or leave unanswered or uncomfortable. I highly recommend you do your surgery here, you won't be disappointed.

Getting my wisdom teeth out was so much easier than I thought it would be, I wish I would have gotten them taken out sooner. With the friendly and knowledgeable staff at Piney Point, they walked me through every step before the procedure, and even called a couple times after the surgery to check up on me. Minimum swelling and no issues after, I am very satisfied with the results. Big thanks to the staff at Piney Point OMS

I had a tooth extracted. Everyone on staff in Dr. Koo's practice was professional and friendly. I especially appreciated how forthcoming they were with information. They listened to my concerns and responded supportively. Dr. Koo carefully outlined my treatment options and then supported my decision. He acknowledged my financial as well as health concerns. The staff functioned efficiently with each other, serving me as a caring team. The procedure and recovery went exceptionally well! Dental visits are not high on my list of fun activities but I really felt well taken care of here. Thank you!

Dr. Koo is ABSOLUTELY THE BEST Oral Surgeon, hands down!!!! He took out my wisdom teeth back in December. Quick and easy. I choose IV sedation. So I went in, took a nap and woke up...it was over. Just like that and with no pain. What more could you ask for? He made me feel very comfortable and he took the time to listen to my concerns and answered all my questions. Dr. Koo is very knowledgeable, confident and caring! Love him to pieces! He even took time with my post op visits. I work in the dental field as an assistant so I know a good Dr. when I see one! He is for sure a good man with a good heart.

I would definitely recommend for anyone needing any sort of oral surgery especially wisdom teeth removal. I was referred to Dr. Steve Koo by my dentist. I had complicated wisdom teeth with a cyst. Dr. Koo looked at the X-Rays and made it seem like no big deal. Apparently it wasn't to him, because the surgery went well as expected. The office provided thorough instructions for post op care and my follow up appointment also went smoothly as well. So all in all with the exception of the first front desk girl I spoke to when trying to schedule (She was very rude whomever she was), everyone was nice and professional. Dr. Koo is top notch and after 2-3 weeks finally getting back to eating regular diet.

Dr. Koo is amazing!!! I just had all 4 of my wisdom teeth removed here by Dr. Koo December 2017 and he did such an amazing job!! I was in and out within an hour, I had no complications whatsoever which I loved!! I was anxious because I have heard bad stories about wisdom teeth removals and I was not looking forward to it at all. However I had a very good recovery and followed their instructions every step of the way and everything came out better than i thought with no complications!! Thanks Dr. Koo! I also received a courtesy call from them when I was in recovery to make sure that I was doing okay. Will definitely recommend them to anyone that needs oral surgery!!! Staff is very friendly and welcoming!

I would highly recommend Dr. Koo to anybody in need of wisdom teeth extraction! My dentist had me a little worried about this procedure, as the roots of my wisdom teeth were potentially too close to a nerve to safely operate on. After a quick consultation with Dr. Koo, he assured me that this procedure was nothing out of the norm for the technique that he uses. The procedure was quick and easy, and my post-op care was incredible! I called Piney Points number on 2 different occasions the weekend following my Friday procedure while the office was closed. They picked up and answered my questions immediately. Dr. Koo even called me in an additional antibiotic prescription when I had an allergic reaction to the first one. A huge thank you to the whole staff at Piney Point and especially Dr. Koo for making this procedure as pain and stress free as possible!!!

My experience at Piney Point with Dr. Koo was phenomenal! I went in to get 4 regular teeth extracted because I recently got braces and i had to get those teeth out because of crowding issues. The whole booking process from consultation to procedure day to follow up visit were all booked smoothly and efficiently even at times after their regular business hours! The procedure was smooth and painless and i recovered fast and correctly with the proper medicine prescribed as in the antibiotics, mouth wash and medicine for pain. I could not be more than pleased with everything! The staff were all nice and friendly as well! When i get my final 2 wisdom teeth taken out, i know exactly where to go!!! Thank you Dr. Koo and company!

Opening Hours
Mon

Closed

Tue

5:00 pm - 9:00 pm

Wed

Closed

Thu

5:00 pm - 9:00 pm

Fri

Closed

Sat

Closed

Sun

Closed
Authorize your self with either of these to view contact details, your information will not be shared to any one
Newsletter Subscription for Virtuous Reviews LLP
One more step and you will be subscribed to our newsletters
We have sent you a verification mail on your email id, please verify it.