Rio Hondo College
#93 in USA
#44 in Los Angeles
Online Colleges
3600 Workman Mill Road, Whittier, CA 90601
Claim Listing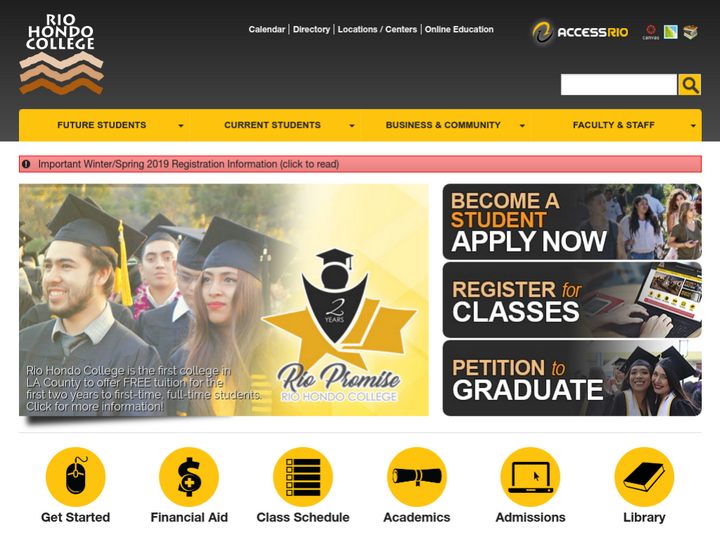 Company Description
Nestled in the hills above Whittier, the District was created in 1960. The College officially opened its doors for instruction in 1963 and celebrated its 50th anniversary in 2012-2013. As a comprehensive community college, Rio Hondo offers many strong career-technical programs, such as nursing, fire and police academies, automotive and alternative fuels, a full transfer curriculum, and basic skills courses and services.
Review & Rating

Hello I recently drop a cit 109 class taking the 101 first to be prepared I already ordered the book for the class look to sell it brand new book for 60 bucks message me if interested book will be coming in sometime next week will update here when book arrive or to the person who wants it before hand I will bring book to school at mutual best time thank you

Rio became my second home. I have met great professors, amazing friends and awesome staff. I enjoy the club rush days so much, and I learn a lot from this college everyday. I work in the EOP&S/CARE office and I could have not asked for more. I'm surrounded by loving and caring counselors, and my coworkers are the best. The RioCafe is great! It has a lot of space to eat, do homework, or just relax, and the food is good!!! I Loveee that they have a mini starbucks in there. Ohh and the fitness center is sooo cool!!!

Cary color party Shows is an entertainment company located in whittier Ca seeking for female and male 17 years and older to portray princesses heroes and costumed characters most be abailable on weekends have reliable transportation lived around whittier area love working with kids please call at 5626595792 for an interview starting salary 50 per hr thanks companys owner

today was a good day to register, it wasn't hard that I thought it would be it was easy. now It going to be cool when start the school but now it up to me to do the hard work. I have faith I could do it I just thank god for this opportunity I wouldn't do it with out him when I go this school I'm going to pray for strength and patience.

I graduated from Rio Hondo in 08' came back to transfer. Big changes and seems new people are taking over the old regime. I have mostly good things to say about Rio Hondo. Yes I've had bad experiences but also good ones. That is what happens in all colleges and universities. You learn and you grow.

I graduated in 1979, but continued to take classes on and off for years until about 6yrs ago. The school was wonderful and in a few ways less complicated in the 70's then now. I really enjoyed and needed what this school had to offer. It definitely sent me on my way in life.

When you don't have anything else to compare it with, yes this is a good a school overall. However, I think there is lot of room for improvement (I mean not just infrastructure ). They are sooooo many students that is not a joke. The need to improve their parking lot. o don't understand why they can make a multi level parking lot. They have so much land! Also, their customers service need to improve and hire people who really cares about the students.

Beautiful college. Thank you for letting Science Olympiad Competition held here last Saturday. It was so nice to see all the middle school and high school students running around competing and getting themselves familiar with the school grounds. Was a very good experience here

Horrible! disorganize graduation ,not enough chairs ,can't even see the stage. the screens were not big enough and the stupid lady that was announcing the names could not even say the names right and then she kept stopping making it about her as if the ceremony was not long enough. shame on her! the bathrooms were terrible the ran out of water to wash your hands after using the portapotties, no signs that said handicap, crowds were just walking wherever they wanted. I'm sorry to say this is one terrible graduation.

Congratulations to the class of 2018 Good ceremony a bit late in the evening great sound and screen monitor the lighting of stage was an issue as it was dark at the end of ceremony A pleasure to be part of the experience only one very sad thing not having cellphone reception it drained my battery & was not able to use cellphone

Opening Hours
Mon

Closed

Tue

5:00 pm - 9:00 pm

Wed

Closed

Thu

5:00 pm - 9:00 pm

Fri

Closed

Sat

Closed

Sun

Closed
Authorize your self with either of these to view contact details, your information will not be shared to any one
Newsletter Subscription for Virtuous Reviews LLP
One more step and you will be subscribed to our newsletters
We have sent you a verification mail on your email id, please verify it.