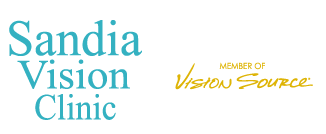 Sandia Vision Clinic
Clinics
3701 Eubank Blvd. NE, Albuquerque, NM 87111
Claim Listing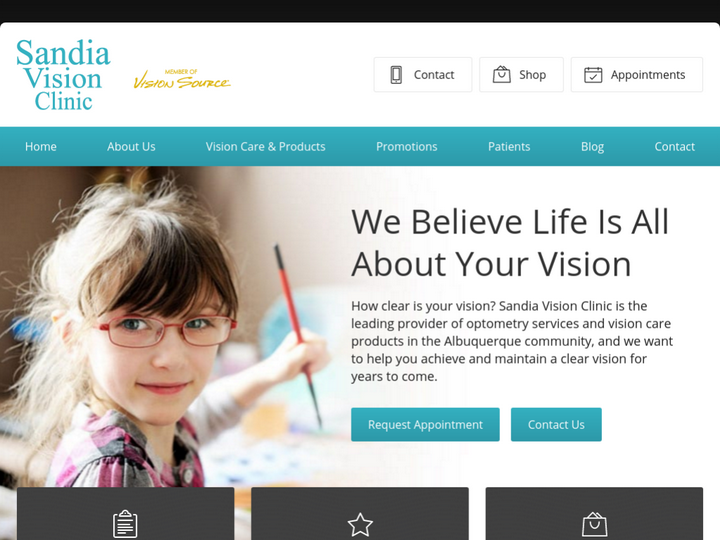 Company Description
Since 1989, Sandia Vision Clinic has been the leader and preferred provider of quality vision care products and personalized optometric services to our patients in Albuquerque and the surrounding areas. Our experienced doctors and staff offer comprehensive vision examinations and specialize in the diagnosis and treatment of a wide array of eye diseases, conditions, and problems.
Review & Rating

Great place, wait was a little long but it's a busy organization so no complaints. They had a excellent variety of frames as well. Everyone involved with my visit was friendly and it was a comfortable process. Keep up the good work!

The whole process the day of my appointment was very organized and seamless. Professional staff and on time. No long wait times. As waiting way past appt time seems to be the norm these says in most offices. I highly recommend this place!! A+

Wasn't pleased with the service. I was told my glasses would be ready in 7 to 10 business days its been 15 business days and still haven't received my glasses i call one day and waa told my lens are in and they're waiting on the frames call a few days later and was told theyre waiting on the frames and that they'd be in the following day. They keep giving excuses instead of being honest. Was called this morning 3/29/18 that my glasses would be ready today so went to pick them up and now they only have the frames. Was aslo told the frames and lense come from the same company. They cant be honest about anything

This lab can't get anything right and they will blame you for their own mistakes, after making my glass four times there still not right. The lens on one side is mounted at a different depth in the frame then the other side, and the bevel on the edges is very messy. Very poor workmanship, and at top dollar I might add. When I pointed out their mistake I was rudly told I could have a refund because they wern't going to do anything for me again. If you want to pay top dollar for the worst workmanship then this is the place for you!!!

Sandia Vision has the worst customer service. Their staff has absolutely no communication skills and they have no problem accepting your money however when it comes to giving you the full scope of what's included in what you are purchasing they can't relay information. I regret visiting Sandia Vision. Don't waste your money at Sandia vision.

Possibly the worst optometrist appointment I have ever had, and I've been in glasses for over 20 years. Dr. Estrada made me feel like my concerns were a hassle. That I was just a number in her salary. When I asked for contacts she seemed almost put out to have to do that for me. Then during my contact fitting she just stuck her finger in my eye! No warning! I have never felt so violated! Last year when I got glasses from them both pairs were so bent that they could barely get them to stay on my face. I decided to try again because Dr Hockett was amazing! Now I'm not sure.... If you do try this place make sure your not getting Estrada as your doctor.

Got in and out at a reasonable but not rushed pace; everyone was so friendly and nice. My frame consultant was knowledgeable about what my insurance would cover and did not push me into spending more for extras I did not want/need and was upfront about warranty information and the like. Dr. Adams was the best! She made me feel at ease during the appointment and actually improved my prescription and gave me in depth information about my eye health. Though they may be priced higher than the "big box" eyeglass places (Eyeglass World, Costco, etc...) the way you're treated here is worth the little extra expense. Personalized and you feel like you're with people who really care.

I've been going to Sandia Vision Clinic for about three years now. I've always been please. The receptionists, technicians, doctors, and folks who help with the glasses have always been friendly and professional. The exam seems comprehensive and questions are always answered. The selection of frames and lens features are very large. And, the clinic always does a great job helping me understand what my insurance will pay for (and will not pay for). Definitely recommend.

Would like to state that the medical side for examinations was great! Professional, prompt and, knowledgeable. On the other hand the optics side was a completely different story, I am writing this this 4 weeks after my initial visit returning home without my new glasses and awaiting a refund for my purchase! Was originally told it would be 7-14 days, after 6 my wife's glasses where ready the next day I called to inquire about mine, I was told they would be ready the next week... Called back and was informed that it would be the end of that week and when I called that Friday I was told Monday. Called Monday to be told Tuesday. Called Tuesday to be told they didn't even have lenses for my glasses!!! I spoke to the office manager that told me they would put a "rush" job on my glasses but it would most likely be the next Monday for them to be ready. I then get a call at the end of the week and that my glasses would be done and ready to pick up on Monday. So this morning I get a call telling me my glasses would be ready this coming Thursday and when I inquired why the difference, I was told the lab had just got my lenses and needed to process them!!! The two times I have visited the optics side I have heard other customers going through the same issues! I have requested a refund and my glasses to be returned. Horrible unprofessional customers service, lies from staff and smoke blown up my back side from the office manager. I understand that after 37. Years of wearing glasses that it may take a couple of days, even a week to get a pair but I really like the frames I have and got them with new lenses twice elsewhere and new insurance led me to Sandia Vision for close and convenient location. Get your eyes examined and go elsewhere for glasses.

Edwin Rodriguez Marquez
UK
Just wanted to mention Sandia Vision Clinic. They have done an amazing job with me and my twin 5yr old daughters. The staff is extremely friendly and very helpful. Special mention to Alma that did an extraordinary job today adjusting our glasses. Thank you for your hard work and dedication. I believe those that take the time to make sure your happy are a special kind of person.

Opening Hours
Mon

Closed

Tue

5:00 pm - 9:00 pm

Wed

Closed

Thu

5:00 pm - 9:00 pm

Fri

Closed

Sat

Closed

Sun

Closed
Authorize your self with either of these to view contact details, your information will not be shared to any one
Newsletter Subscription for Virtuous Reviews LLP
One more step and you will be subscribed to our newsletters
We have sent you a verification mail on your email id, please verify it.