Schneider
#100 in USA
#58 in Atlanta
Job Sites
3300 International Park Dr SE, Atlanta, GA 30316, USA
Claim Listing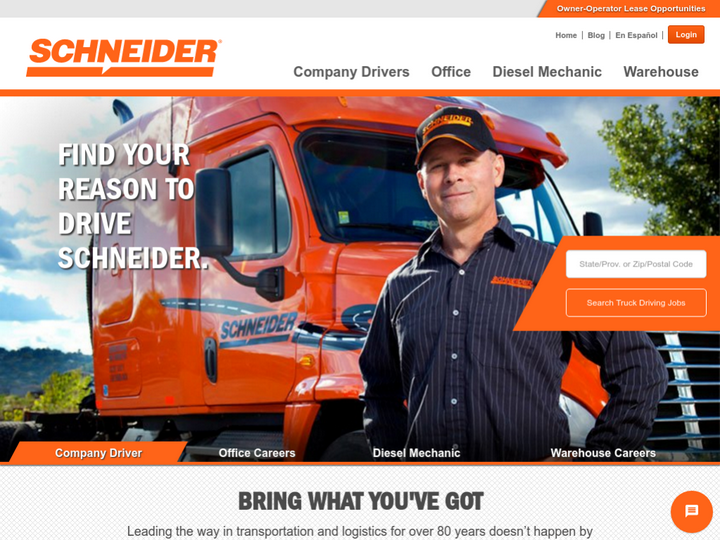 Company Description
Schneider is a superior provider of transportation and logistics services. Our legacy started back in 1935 with just one truck. Since then, we've led the way for the entire industry — growing and evolving into the 10,500-truck fleet we are today.
Review & Rating

Slow disrespectful service. Like they didn't see us in line

Never liked coming to this place always packed never have empty trailers never can get what you need fuel pumps always an issue and waiting for something to get done for too long just always a hassle.

Horrible company!! Went out with my trainer and was not about to take my 30min break 2days straight......the other megA carriers are by far more better!!!

I love working for them. Best move I could ever made. I'm on the dedicated routes

Do they have the car service here?????? *update* Atlanta OC has 2 cars available for company drivers only, they have a few showers, ice machine is in the fuel island, no cafeteria, but they do have an awesome chinese place that delivers and dominoes pizza as well. They also have a laundry room with only 2 or 3 washers and extra dryers. They have a tv lounge and tables to eat here as well as computers. Good luck trying to find an empty here as it is ALWAYS out of empties. Can't complain about the shop the few times I've gone they were good and timely. Overall decent place to take a 10hr or 34hr break. Oh and if you plan to stay with a trailer its a pretty far walk.

I have found the operating centers to be a decent place for parking and showers and laundry but the never seem to have empty trailers in them.

Went there to pick up a friend who is a truck driver. One thing that I can say is that they have high security. You have to know a code to get as well as OUT....

Good showers. Company car there for employees to use. Finding parking can be a hassle sometimes.

This is 1 of the worse OC's,the lot is ALWAYS packed,not a lot of room to manuever.The shop took 6 hours to replace a marker light on our trailer.

Safe place to park. That's about it. Showers were disgusting. And it wasn't just because it was the weekend. The corners behind the toilet had matted hair and dirt pushed into them like whomever has been cleaning the place just pushes a Swiffer around and doesn't actually remove any of the grime. My house doesn't look like this and no one is PAID to clean it. Inexcusable. I checked several of the shower rooms out and they were all disappointing. Vending machines look like they're in good condition. Parking is pretty far away. There is room for about 100 bobtails close to the building and combo parking down the side, which was all full on a Saturday afternoon. Don't park a combo at the end of the bobtails. Dumb drivers make their own spots at the end of the rows and I don't know how people get out at that point. If you have a combo, you might want to play it safe and park out past the fuel pumps. It would be nice if drivers from this terminal would park in the back for their home time.

The mechanic shop here, is the absolute worst that I've ever experienced in my life! That's if you are an owner operator trying to get work done. They gave me their word they would have my truck worked on by Tues. Mind you I submitted my truck Sunday (Truck probably needs a starter) I contacted them on Wednesday. My truck still hasn't been touched. Did they contact me and let me know? Absolutely not. No professional courtesy so that I can get my truck towed to an outside source. Which I asked them on Sunday directly, are you sure you can get me in on Tues, because Freightliner says they can get me in by Tuesday? The shop sup said yes, we will get you in, at the latest, Wed morning. So now it's coming up on Friday and they still haven't touched my truck. The reason they say is, they have to work on company trucks first. Well guess what, there will always be "company trucks" to work on! This place doesn't treat their contractors like they treat company. They make sure to let you know you are an outsider and you are singled out on a consistent basis. You guys need to do better. When an O/O truck sits, we arent making money. So giving us vital Intel is important to assure our business runs smoothly. I'm highly disappointed in your integrity as a person and your professionalism across the board.

Opening Hours
Mon

Closed

Tue

5:00 pm - 9:00 pm

Wed

Closed

Thu

5:00 pm - 9:00 pm

Fri

Closed

Sat

Closed

Sun

Closed
Authorize your self with either of these to view contact details, your information will not be shared to any one
Newsletter Subscription for Virtuous Reviews LLP
One more step and you will be subscribed to our newsletters
We have sent you a verification mail on your email id, please verify it.