The RMN Agency
#85 in USA
#43 in Atlanta
Job Sites
981 Joseph E Lowery Blvd NW, Ste. 100, Atlanta, GA 30318
Claim Listing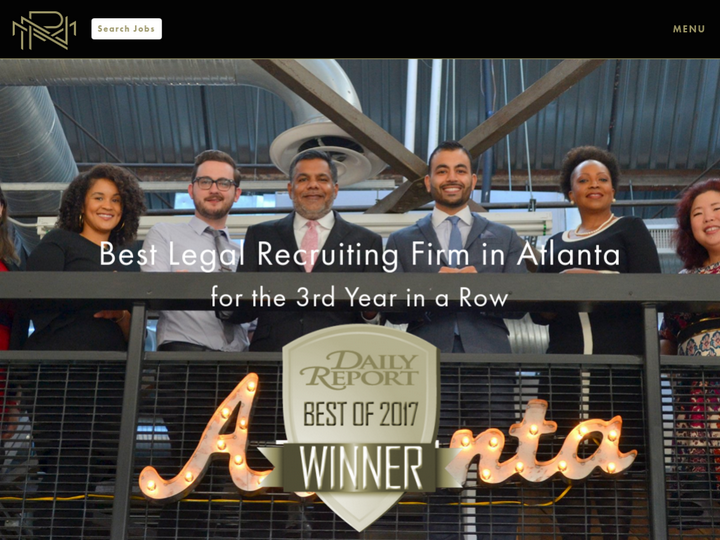 Company Description
The RMN Agency is a full-service legal recruiting agency headquartered in Atlanta, Georgia. We put an emphasis on identifying our clients' needs and conducting a customized search because we know how important that is.
Review & Rating

The RMN Agency is a great recruiting firm. Raj assisted me with my transition from Atlanta to California several years ago, and he has been a great ally ever since. He helped me land a highly coveted attorney job at an AMLaw 100 firm during the economic crisis, and during a time in which I had little industry experience. Thank you RMN Agency!

Everyone at RMN works so diligently to get their jobs done. Extremely efficient and supportive each step of the way.

I have known Raj since before I became an attorney. He has always been welcoming and willing to make the time to assist me, especially as I began my transition into the working world. Now that I am one of the committee chairs of GAPABA with Raj, I see that his is not just a great mentor, but is also passionate about the development of the legal community that we are a part of. As I look to make the next step in my career, Raj and the RMN Agency was definitely my first stop in my search as I know they will work tirelessly to find a position that is a good fit for me. I could not recommend them more.

I was introduced to the RMN Agency through a friend with whom Raj was also working at the time, as I was seeking a career inside Atlanta. I was impressed with the RMN Agency from day one, as they made the process as enjoyable and efficient for me as possible. From the very beginning, Raj was attentive not just to my skill set but also to my preferences and my personality. Between that and Raj's excellent knowledge of Atlanta firms and the overall Atlanta legal market, the RMN Agency was able to place me in a job that I love and at which I feel at home in a very short span of time. I couldn't recommend the RMN Agency more strongly.

Raj and his legal recruitment team at RMN have always been a fantastic source of information and placement assistance to me. He knows the Atlanta legal job market so well, and has placed me (a litigation attorney), and many of my friends and colleagues (in various fields, but many in real estate law and labor & employment law), into both in-house legal jobs and law firm positions at many of the best law firms in town. RMN is always the first legal recruiter I refer people to when I hear that they are planning to relocate to Atlanta, too, because Raj not only helps place them in the best legal jobs in Atlanta, but he can also offer them suggestions as to the city's best restaurants!

I have been working with Raj since 2008 and have watched him grow his business into one of the finest legal recruiting firms in Atlanta. Raj has helped me move from a regional law firm to a large national law firm in the employment law Industry. RMN has an extensive network of business connections and development such depth allows candidates to have broader opportunities. RMN is extremely knowledgeable about the legal market and can help candidates to connect to the most suited opportunity. In addition Raj is a great resource if you are moving to Atlanta to help you find the best legal jobs in Atlanta. His agency also has a lot of contacts in house for those searching for in house counsel positions. Raj and his associates should be your go to firm for the best Atlanta attorney jobs!

I would highly recommend the RMN agency for placement in the commercial real estate law field in the Atlanta area! I got to know Raj and Waqar well over the several months that I worked with them, and I was impressed with their professionalism and their know-how throughout the process. They had great relationships with many law firms in Atlanta and were able to match my personality to a firm with people who had similar values. I am so thankful for their help and that they shared their expertise. They are the best in the business!

I must give a huge shout out (and great thanks) to my friends over at The RMN Agency! They landed me an amazing position in a first-rate Midtown boutique law firm specializing in corporate, intellectual property and tax law. I've known Raj Nichani, the agency's principal and founder, since my earliest days as an attorneys (14 years ago now!), and he has assembled an amazing, thoughtful, energetic and CONNECTED team to place attorneys in roles that are just the right fit for them--whether it be litigation, employment law, corporate law, you name it! And special thanks to Bonnie Youn, my ball-of-fire, diligent and amazing RMN Agency recruiter, who guided me through the process from start to finish and even followed up with me after I started to make sure that all was well--and it was! In short, this is an amazing team, and if you're looking for a legal job in Atlanta, you can't do better than The RMN Agency.

If you are looking for the best legal jobs in Atlanta—whether a law firm job, in-house legal job—or if you want to learn more about legal recruitment, law firms hiring, or relocating to Atlanta to practice, then you should definitely contact Raj and the RMN team! Why? Raj and the RMN team are COMPETENT and have the experience required to get the job done WELL. They are knowledgeable about legal practice and recruitment at different stages of one's legal career: whether you are looking to lateral after two years, five years—as counsel, or a partner—or planning to go in-house. Raj and RMN know where the best law jobs are in Atlanta, and have a particularly wealthy network of opportunities in labor and employment law, immigration, real estate law, corporate law, litigation, in-house, and more. They CARE. Their greatest supporters are their happy clients (employers and placements), which pretty much says it all. They don't just care about filling placements—they genuinely care about your success, fulfillment, and satisfaction. The team advocates for you, ensures that your needs (and wants!) are met, and sets you up for success. The quality of service from Raj and his team can be seen not only in how they recruit, but also in their involvement in the greater Atlanta, Georgia, and national legal community. The entire team can be seen supporting local bar organizations, law students, community service activities, non-profits, and more. They genuinely care about the advancement and success of others.

Raj and his team are simply amazing and hands down the best legal recruiting team. I previously worked for a New York based Vault Top 20 law firm as an M&A associate and was looking to relocate from New York to Atlanta. I was looking for a similar work setting with complex and sophisticated deal work, and would like to continue practicing M&A in big law. Raj landed me three interviews in a matter of a couple of weeks, arranged everything for me from flight/hotel booking to interview scheduling, and coached me on mock interviews with Waqar on his team, who is also amazing. They arranged three interviews for me and I received all three offers (one offer was received within an hour after the interview and all offers were received within 3 business days). If you are in need of a legal recruiter, or would like to relocate to Atlanta from another city, consider contacting Raj, his team and the RMN Agency! They are the best and you would be amazed at how much easier this process could be with their help!

Authorize your self with either of these to view contact details, your information will not be shared to any one
Newsletter Subscription for Virtuous Reviews LLP
One more step and you will be subscribed to our newsletters
We have sent you a verification mail on your email id, please verify it.