Symmetry Physical Therapy
Clinics
28 W. Flagler St. Ste., 901 Miami, FL 33130
Claim Listing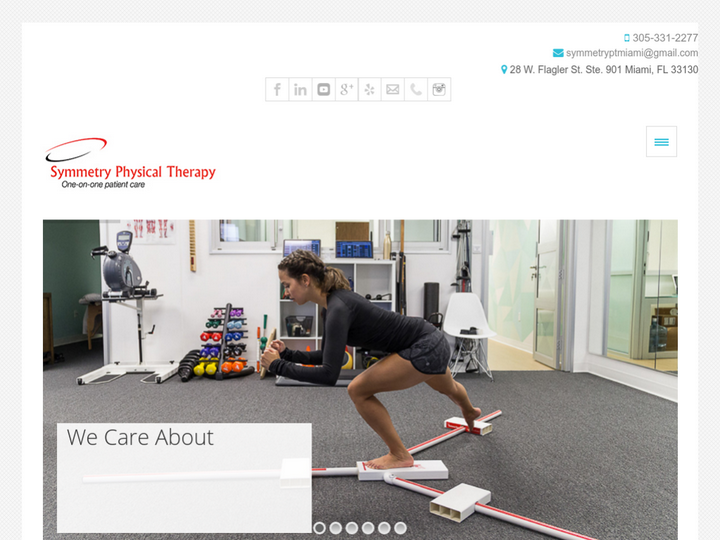 Company Description
The best physical therapy outcomes happen when patients and therapists BOTH understand the plan of care, treatment techniques, and rationale behind the methodology used during every session. The patient should have a clear understanding of why each exercise, stretch, or manual technique is performed during their session, the importance of it, as well as what they can do between sessions to maximize recovery.
Review & Rating

The best physical therapy clinic I have ever been to! I play professional beach volleyball and have been detailing with shoulder pain. Since going to symmetry physical therapy my pain has become less and less noticable along with in increase in my shoulder mobility and strengthening. I truly believe the best physical therapists work in this clinic. From natalia, dan, stan, adrian!! You can't go wrong with any of them. Cant wait for my next visit!

5 stars with 50+ reviews? Can you believe it? Yes, you can. I have been going to Symmetry PT for the past 4 months. They are an excellent team filled with compassionate and knowledgeable staff that have taken my previously frozen shoulder to 95%+ mobility. I'm highly confident I'll be good as new in the next few months. I can't thank the team here enough, especially Natalia my primary PT. If you're injured you cannot do better than to come here. I tried another PT in the Brickell area. They were awful. The 50+ positive reviews for Symmetry PT are spot on. Make the call and get out of pain today.

Symmetry Therapy has been amazing. I waited almost 5 years to finally start treatment and was always skeptical. I've seen 5 podiatrist who have all told me to either get surgery or take too many painkillers. Once I started getting treatment, Natalia, Adrian and Nicole listened and invested their time and energy into making sure it was the best service I would receive. It never feels too easy and they encourage you to push past your limits for a faster recovery. Do yourself a favor if you're always in pain and go see them!

Never been happier to go to physical therapy. The staff is beyond amazing, great vibes and they treat you one-on-one which is awesome and allows you to learn more about your injury/discomfort which is fundamental for a successful recovery. Dr.Natalia was the one who spotted me out at a Marathon expo and invited me to come in to treat my arms and neck injury (Motorcycle accident). It was hands down (pun intended) the best thing that has happened to me during my recovery. Recommend 10/10

Symmetry Physical Therapy is hands down the best in the area. The staff are VERY knowledgeable, experienced, understanding , and genuinely nice people. I am a competitive athlete so getting the best treatment is crucial. I wouldn't go anywhere else in the area. I will continue to come back here as needed knowing that I am in good hands. Not only was the problem I came in for fixed, I was given exercises that I have never been shown before to prevent the issue from occurring again. I am extremely picky with who I trust with my body as I put countless hours into being in peak condition. I highly recommend Natalia and her staff.

Great experience. They give your personalized care and have a thoroughly thought out plan for rehabilitation. I've notice my own progress and am on the way to being back to 100%. The whole team is welcoming, helpful, knowledgeable and all around great to be around. I would recommend to anyone in need of physical therapy.

Being an athlete of many years, personal trainer, and having had many experiences with physical therapy, I know what to look for in physical therapy. I've bounced around 4-5 different physical therapy clinics in Miami and have stayed at Symmetry physical therapy for a reason. I have met with 3 of the therapists Natalia, Adrian and Stan, and have left each session with a sense that the therapist truly care for your progression, and have a genuine interest in you getting better. You are not rushed, the sessions are 1 on 1, and all of the therapists are very experienced, and your goal is there goal. They will help you get back in the game doing why you want to do, and give you the steps to do so.

Natalia and therapists at Symmetry Physical Therapy use the latest techniques available to treat injuries. They treat your injury as well as other anatomical areas that attribute to the injury. Exercises are provided to do outside therapy to continue to strengthen weak areas to help prevent future injuries. They take the time to listen to you and provide the best possible "action plan" for you!

Miracle workers. I've been treated by several Physio therapists in the past but Symmetry's commitment to patients' recovery is above any other I've ever experienced. I came to them with a chronic hamstring/gluteus issue and have come out progressing exponentially after every session. Everyone on that team is an expert and they are super good vibes :-)

Symmetry physical therapy is an amazing company run by truly caring therapists. As an international professional beach volleyball I've been treated for various injuries by some of the worlds best, but Symmetry is by far the absolute best. They use the latest equipment and take as much time as they need to complete my treatments. Natalia and her whole team is amazing and I could not be happier with the time, care, and most importantly the results. I highly recommend Symmetry Physical Therapy.

Symmetry Physical Therapy is simply the best! I train CrossFit 5 days a week and had bad lower back pain. I had the pleasure of experiencing a massage with Latoya the in-house massage therapist. In one session I was 100% relived of ALL of my back pain. Great call Natalia! Symmetry Physical Therapy is in a convenient location with valet parking which makes it so easy especially being in a downtown location. Read the reviews for yourself and look no further! Can I give 6 stars?

Authorize your self with either of these to view contact details, your information will not be shared to any one
Newsletter Subscription for Virtuous Reviews LLP
One more step and you will be subscribed to our newsletters
We have sent you a verification mail on your email id, please verify it.