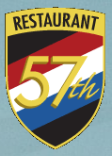 The 57th Fighter Group Restaurant
#98 in USA
#56 in Atlanta
Restaurant
3829 Clairmont Road, Atlanta, GA 30341
Claim Listing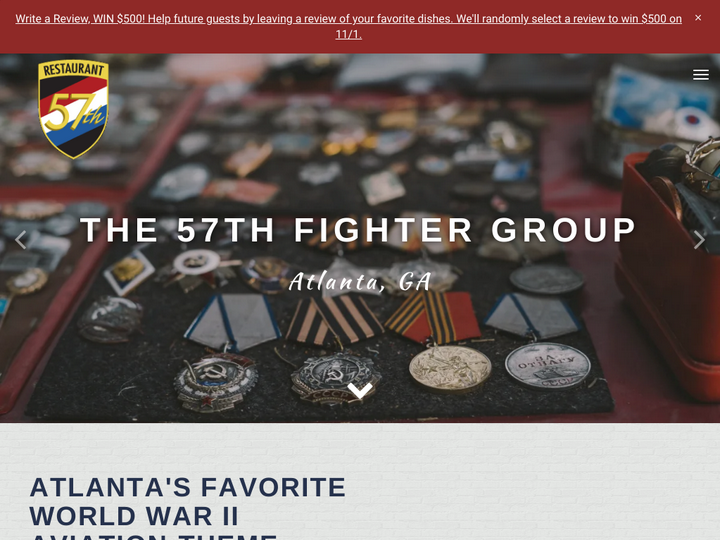 Company Description
The 57th Fighter Group Restaurant is excited to welcome back old friends and make new ones with our reopening in 2009. After entering the Atlanta restaurant scene in 1981 and quickly becoming one of the city's favorite destination restaurants, the 57th Restaurant took a few years out of the spotlight until encouragement by friends and the community to reopen. Renovated and refreshed, the 57th Restaurant is destined to be the place to make memories and celebrate with friends once again.
Review & Rating

Cool atmosphere - you can sit about 50 ft from the tarmac and watch the planes take off but the food is pub grub at best and the beer selection is sub par. Come to hang out on the patio and drink domestics. Anything else will likely be disappointing.

This place is very cool great scenery as well. Try to sit by the window so you can really see the planes take off and land. The food was amazing we had the duck and the trout. I would say that the mashed potatoes could just be taken off the menu they were tasteless. The service was not horrible but it did get a little shaky when our server pretty much disappeared and snapped at me for ordering a drink from the bar she never heard, i guess she didn't realize that they are known for the drink. Overall the food and atmosphere and drinks were amazing!

They hosted a private party for us after work. The wait staff was wonderful and very attentive. The appetizers were likewise wonderful, and we could watch planes take off from our private room. Only complaint was the heat in the room; it's August and it felt better outside than inside. Otherwise, wonderful experience.

Great atmosphere. Such a fun & classy place. Friendly staff, with great food, great drinks & great prices. The nights are active for all ages in their club room with a DJ & dancefloor. Can sit outside & watch the planes take off & land. Just an overall great place.

A very unique place, surprised it took me this long to visit. The menu has a pretty wide range of stuff -- I had the shrimp creole and it was tasty. The staff was all very friendly and on top of things. And even if you don't care about planes, the runway makes it so you get a great view of the sky. Worth a visit for sure.

The owner ( woman) has some kind of attitude. She fights with the customers. Really needs a good lesson on customer service. Great wait staff though. Reggie is the best!

A friend and I came here for brunch and it was spectacular. Tons of food options- and that's saying a lot because we are both vegetarians! Everything was fresh and perfectly cooked and seasoned. We got there toward the end of brunch but they continued to refresh all of the stations until after it was over. I want to recommend this place to everyone but I also like how hidden, intimate and cozy it is. I can't wait for my next visit!

Great food and atmosphere! I loved the WWII theme. The food was delicious and reasonably priced. I ordered the Prime Rib, which was cooked to perfection. The staff was friendly and accommodating. The only reason I'm giving this 4 instead of 5 stars is because the handicapped stall in the bathroom wouldn't accommodate my wheelchair.

Great good old fun here. Great food and fun times on the dance floor. They do themed dance nights that makes it all even more entertaining such as 90s dance or 80s dance. Want to have a great meal and the chance to burn the guilt, well this spots perfect. Enjoy

Burger was great. Server named Jade needs to be re trained. If she were as attentive to making money by paying attention to the table's needs as she was to dancing and chatting, she would be a lot better off financially.. I'd go back again but would ask for a better server.

Authorize your self with either of these to view contact details, your information will not be shared to any one
Newsletter Subscription for Virtuous Reviews LLP
One more step and you will be subscribed to our newsletters
We have sent you a verification mail on your email id, please verify it.