The Proud Bird
#84 in USA
#35 in Los Angeles
Restaurant
11022 Aviation Blvd. Los Angeles, CA 90045 USA
Claim Listing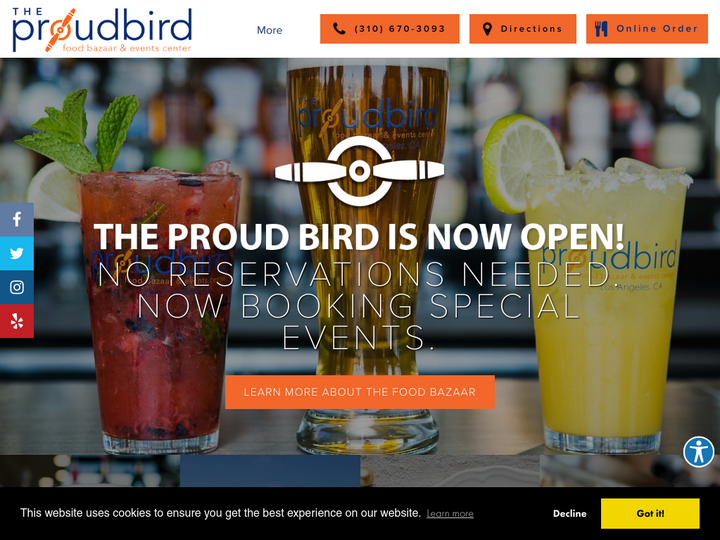 Company Description
The Proud Bird, a historic and iconic restaurant with a strong tie to the local community, makes its triumphant return as a new food hall with interactive aviation exhibits and a renovated events center.
Review & Rating

Wow! What a great modern transition from the restaurant I remember from 25 years ago! Great food and fun location for Banquets, corporate events and families. Was fun watching the planes land in front of us while eating affordable on trend food in a comfortable environment.

I hadn't been here in years...but the recent renovations are superb. We had a church luncheon there and the brisket was great. Not sure what happened to those mashed potatoes, maybe next time. The staff is friendly and helpful. I will be using this place for an event next year. It was marvelous. This was a great comeback.

This place was huge we were celebrating the pastor's appreciation. And two large banquet rooms we had 200 guests. The servers were awesome the food was hot we had cornish hens. The parking lot was large enough to handle all the cars. Add wheelchair ramp if we had several guests and Walkers and wheelchairs. It's right by the airport go outside and watch the planes land pretty awesome place you're in town or nearby they have a nice restaurant to so check it out

This restaurant is fantastic for both wonderful group and individual dining experiences. We hosted my charitable Annual Convention in February. It was a dynamic event and the entrees were superb. In June we held my Church's Annual Leadership Training Banquet. Again our food selections were top shelf. The major problem is parking. There are always many functions scheduled simultaneously and the parking spaces are inadequate for the number of cars. Sometimes this problem poses an enormous inconvenience and you'll either need to arrive very early. Consequently you'll likely to be driving around the parking lot several times in hopes of grabbing any open spot. In my opinion the food, ambiance and meeting facilities rate an A. However my honest parking score for this restaurant is a C- because there are no provisions for alternative routes for extra spaces.

Dynamic and very nice place! Recently I had the pleasure of exploring an event there themed "Paw Patrol." As someone who has seen and attended many events in many different restaurants and extended atmospheres of restaurants (their banquet halls, activity lounge etc.) I was amazed at how many different and dynamic activities were able to take place in such a clean and classy place! The event even hosted a small indoor gym for toddlers!! They had live performers as Paw Patrol characters walking around, a stage set up, different vendors and even face-painters and balloon twisters! It was a lively attendance filled with children of different ages and I felt the energy was amazingly balanced and organized in a fun, festive, safe and professional atmosphere! I look forward to exploring more of the venue and attending more events of the same caliber:)

FUN!! What a fun place! we just went to a Paw Patrol party here and had a blast! Kids were having the best time jumping around in the kids play area, sliding into a ball pit - getting a lot of energy out!! (Always a winner!) The kids all had their faces painted as Paw Patrol characters which were SO artistically done! One little girl had her Skye tee shirt on and her face painted as Skye and I bet that made her day!!! Then the characters were there Chase AND Skye and partied for the whole 2 hour event! Not only did kids get to get photos with them but they danced with them and Skye even did a conga line all around the hall. The squeal of excitement were so fun to watch when they came in! Oh and there were cool balloon animals too! Lots of entertaining fun! Can't wait to come back and explore more of the location as we've never been and it looks awesome! (the event bought this place to our attention!) Fun!

This was a fun experience. Nice playground area for the kids. They have good options for any type of food you'd be hungry for. They were quick in getting orders and the food was tasty.

Enjoyed the event at the Proud Birds, Tuskegee Room.The carpet was clean room was ready on time. Staff inviting, and quite friendly. Food was above average. It was a buffet and the food was hot and presented professionally. Servers made sure the trays were never empty.

I hadn't been to the proud bird since my junior prom over 30 years ago; my how things have changed. It's still a great restaurant to view planes, but its mostly banquet rooms and one large dining room and a bar. It used to be so elegant and a really nice place to go for a special occasion....not anymore. Well, maybe the banquet rooms are but we didn't see them. It was EXTREMELY hot in the bar area and only slightly cooler in the dining room. It was over 80 degrees on the day we went. Dear Proud Bird, your pizza is an embarrassment. I've had frozen pizza better than yours. I recommend going to a Blaze pizza and seeing how theirs are done; same small pizzas, incredible crust and flavor. Maybe we went on a bad day, wishing you well... we've always liked you.

I really enjoy going to the bird for 2 reasons. One the food and drinks! Very tasty and good food, menu has plenty of options, but the show stopper for me is seeing the jets come in and land at LAX! If your an aviation junkie like me, go check it out. Get a cold brew sit outside and watch the planes on final approach! It's awesome!

From the time we entered, everyone was so welcoming. The bartender was super friendly. It made us thoroughly enjoy our visit. They gave a good pour, food was delicious. Will definitely come back. Next time we can even bring the granddaughter to enjoy the playground outside as we sit by the fire & sip our drinks.

Authorize your self with either of these to view contact details, your information will not be shared to any one
Newsletter Subscription for Virtuous Reviews LLP
One more step and you will be subscribed to our newsletters
We have sent you a verification mail on your email id, please verify it.