The Allender Center
#83 in USA
#17 in Seattle
Online Courses
2501 Elliott Avenue, Seattle, WA 98121 USA
Claim Listing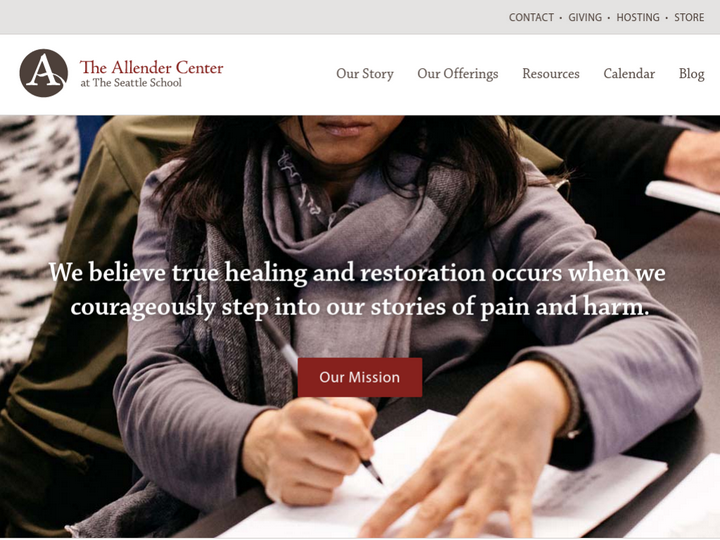 Company Description
Story is the heartbeat of God, the primary form for revealing who we are, who God is, how the world is broken, and how God intends to restore us and the world. We believe, too, that no one escapes harm over the course of their lifetime. Therefore we all have stories that need healing and restoration.
Review & Rating

Me gustaría saber cómo y dónde puedo obtener ina copia del Libro "Corazón Herido"... Amazon ya no lo tiene. Muchas gracias!!

The Holy Spirit used Dan Allender and The Wounded Heart to change my life!

this site really helps me redefine the importance of my story from the perspective of God's compassion, grace, and mercy for me.

Nothing has been more transformative in my life than learning about story and understanding trauma through the lens of the Allender Center. Deeply meaningful experience. I'm so grateful.

I went to the story work shop. As I begin to understand how much one of my simple life stories can shine so bright in the life of others, it becomes clearer how much God loves me and he is the hero in all of my stories.

Story Workshop was exhausting, painful, enlightening, beautiful, and forever has adjusted my heart, mind & soul. Highly recommend!

As I have listened to him and read Dan Allender's books over the years I appreciate him more and more. The work he does has a beautiful mix of courage, wisdom, ended ness with humor. I have learned much from him as I have healed from the hurts of my life. I can not think of anyone I trust more, on this earth, then Dan Allender and those he works with.

Teresa Patricia McGarvie
UK
Actually the course which I have done three times brought me new and precious revelations but after I had posted about an absence of respose from team members I asked for a response. None given so very unwilling to cut ties and due my utmost to make known to the Nevada Christian community to stay clear I called the center. I think I have my answer especially after reading the other journal. Not the gospel of grace preached by The Apostle Paul but some weird stuff. Read Galatians1:8&9 it is a double curse for anyone preaching any other gospel. What a shame but no problem I am the daughter of the Living God saved for a purpose which His grace will transform me into His very face. I will do my best to protect others from you. You are probably just taking money from victims. I am so glad no church said yes to hosting To be told thank you Lord Jesus. I am a social media person and I will flood the zone. How could you, have you no decency?

The Wounded Heart has put the words that I can't describe into pages so I can flow into the power of Gods healing by His Word, prayer and His Holy Spirit all due to the sacrifice of His Son Jesus Christ. With words it would be inadequate to express my gratitude and thanks. I truly believe Dr. Dan was born to write this for me. If you ever need another person to interview for further references in books or seminars, feel free to contact me. Anytime.

I have been a Christian therapist for 25 years. I have enjoyed lots of continuing education through the years, but my training in trauma care from the Allender Center was the best education ever. The integration of theology and psychology blessed my heart. The experience called for greater levels of personal spiritual develpment as well as a fresh approach to trauma that I have found effective in my work.

I wrote about my experience with the Wounded Heart Conference on my blog: Delightful Disruption. The conference was life-changing... and the final impetus leading me to seek thorough counseling and stop the life of denial I had grown accustomed to living. When you find yourself still bound up and fighting depression at 62, there comes a time to stop the madness... thank God for the Allender Center!

Authorize your self with either of these to view contact details, your information will not be shared to any one
Newsletter Subscription for Virtuous Reviews LLP
One more step and you will be subscribed to our newsletters
We have sent you a verification mail on your email id, please verify it.