The Bagel Deli & Restaurant
Restaurant
6439 EAST HAMPDEN AVENUE, DENVER, COLORADO 80222
Claim Listing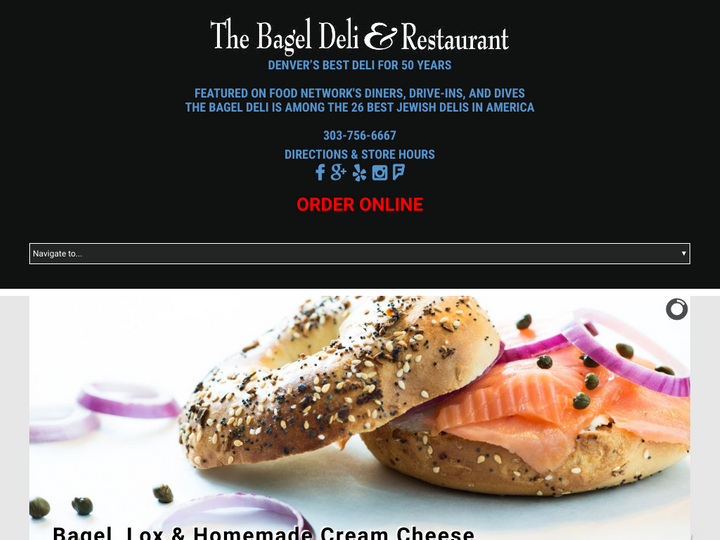 Company Description
We're glad you found us! The Bagel Deli is one of Denver's most longstanding restaurants. Our amazing food is a big part of the reason, but the "personality" of our restaurant is definitely worth experiencing. Come in and meet the Bagel Deli boss, chef, and dishwasher.
Review & Rating

Food was very good decently cheap and affordable. The orange juice comes in one of the dentist rinse your mouth out cups it's so small. I got the onion bagel and they toast it which makes the onions have this weird burnt taste to them but however it's still good. I didn't ask not did I see whether there were other options for the cream cheese. All and all it was good and an enjoyable environment with friendly staff with good food for a good price.

Super friendly staff, amazing food. Noticed this place the other day, leaving tazikis and stopped in for a bagel, blew my mind how amazing this place was. It's basically a hidden gem❤

This is one of our go-to places for corned beef or pastrami. This place is always crowded, but we have never had to wait more than 15-20 minutes to sit down. Once we order our food arrives to our table in quick fashion. I have never had anything that wasn't delicious.

Ate here for the first time today. Pastrami I had in eggs was amazing, and there was a lot of meat for the price. What impressed me most was the service. Only three people working the dining area and service was immediate. Since we had all three people at our table, I'm not even sure who our waiter was. Don't see great teamwork like that often.

Phenomenal bakery in South Denver. My girlfriend and I visited this place not too long ago and loved every minute of it. Old school vibe with a sit down area, and grab and go area as well. The bagels we had were baked perfectly and the bagel sandwich overall was much better than any other bakery I've tried in the city. We now order from here every weekend.

Looks like a hole in the wall from the outside, but don't judge this place by appearances. One of the best deli's I've ever been to across the continent. The pastrami is magical. All of the sides were great. Wasn't even hungry after the well priced gigantic meal I had, but I HAD to try their desert special (apple cinnamon knish), and it was FANTASTIC! Give this place a shot! Guy Fieri did!

Loved this place, a little New York right here in CO. Got the pastrami on an onion bagel for lunch, was excellent! The portions are huge and the service is good. Then you can pick up some bread, dessert, or deli meat on the way out for home. Check it out!

A Denver classic. Home of the best Reuben in town. Great matzo ball soup. Fast service and a take-away deli for to go orders.

Visiting the area for the weekend and found this place online. Amazing sandwiches! We had the pastrami and brisket on rye. Was delicious! The service was outstanding, place was clean, food came out QUICK and the deli had many great options. Highly recommend!

Decent, homey place I've gone to occasionally since it first opened, over 50 years ago. Family-owned and run, good selection of (not all kosher) foods. Fair prices. Not the best deli on Earth, but definitely B+/A-.

Authorize your self with either of these to view contact details, your information will not be shared to any one
Newsletter Subscription for Virtuous Reviews LLP
One more step and you will be subscribed to our newsletters
We have sent you a verification mail on your email id, please verify it.