The Center for Pediatric Dental Care & Orthodontics
Dentists
1560 Beacon St, Brookline, MA 02446 USA
Claim Listing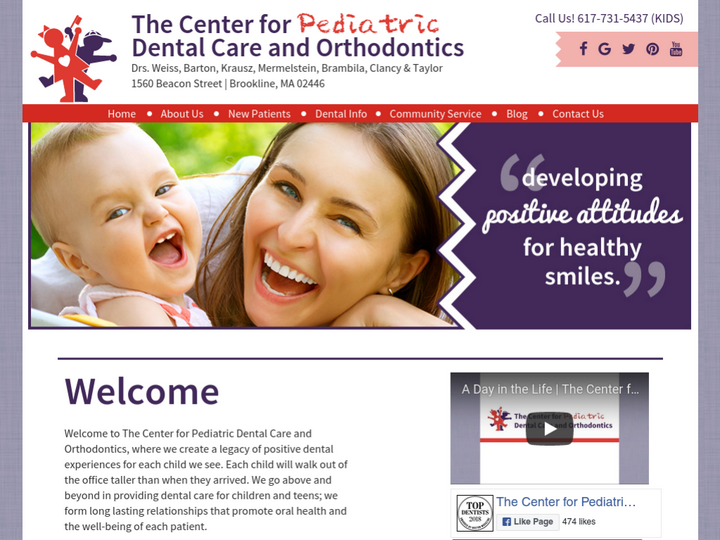 Company Description
We are a caring pediatric dental and orthodontic practice with a specialty in making kids and their parents comfortable in the dental office. Our five pediatric dentists are exceptional in caring for toddlers from age one to three.
Review & Rating

Dr Kraus is awesome! He is really good with children, trying to make them feel comfortable with the dentist experience. He also gives a lot of good tips to help parents care for their children teeth... a challenge when they are toddlers! I really love coming here... my baby doesn't even cry! 😀

I took my two year old here for her first dental appointment, they put me and my daughter at ease from the moment we walked in the door. The staff was professional and so skilled with children. They made what could have been a traumatic experience incredibly painless !

Center for Pediatric Dental Health and Orthodontics was recommended by a friend who is an adult dental hygienist. My child has been in the care of specialists at this practice for the past 5 years. From scheduling an appointment to the care my child receives I have always had a full confidence that dental health and wellbeing of my child is a priority in this practice. All specialists that provide care to my child are outstanding knowledgeable highly skilled professionals. Their love of their work and children is apparent. Specialists we see always take time to inform me of the care that has been done, update me on my child's current dental health, and, in case of developing dental health issue, what preventative measures are recommended and when the most appropriate time for the intervention to take place. The waiting and care areas are clean and welcoming. The waiting room has a play area equipped for children of all ages. I am deeply grateful for the professional care and individualized attention my child received at this practice.

Dr Weiss and the entire staff made this first dentist appointment fun for my toddler. Dr Weiss cleaned my son's teeth while performing a one-man-show complete with bubbles and sound effects - my son smiled the whole time! I was expecting a stressful experience, and was so pleasantly surprised.

A great experience for my 13 month old's first visit. Dr. Barton and his staff took their time to make the appointment playful and introduce dental instruments in a fun way. ❤️

My son was feeling a bit nervous about his cavity filling today but Dr Brambila and Maria did such a fantastic job throughout the whole process. Jacob was totally at ease and even had a big smile when it was done. Thank you! Everyone at this dental clinic is so nice and friendly, from checking in to being seen. I highly recommend this dental clinic to any parents who are looking for one.

Once again, everyone who works there is friendly and understands CHILDREN. It's amazing that my twins who are 6 and my 9 1/2 year old LIKE coming to the dentist and my 2 year old was so happy playing and getting to know the practice. Certainly, this was not the experience we used to have when my daughter was younger and we were at a different dental practice. You all have a way of understanding and making children feel comfortable while getting your job done! Thanks again.

Took care to make my kids feel at ease. Lisa and Berto were so energetic and kind! Dr. Burton took he time to talk with me about my son's teeth and our options. Overall the office was clean and everyone smiled!

Called three times to make a first time appointment for my daughter. Each time was passed to the new patient coordinator where they never picked up and left a message each time. Never heard back. Your new patient coordinator is costing you patients. You should think about that.

Dr Barton was super nice and patient and wonderful with kids! He really made this visit a pleasant and fun experience for my 2-year-old. He took the time to let him touch and feel everything multiple times and get comfortable. The whole visit was also a great example we can follow at home to make daily toothbrushing easier. Our family have been through 3~4 different pediatric dentistry offices prior to this (relocation etc.), and this one is the best we've seen, and completely exceeded our expectations!

Undeniably the best experience one could ever ask for in pediatric dentistry. From checking in, to the appointment, to check out, everyone is excellent at customer service especially for the kids. Facilities are clean and appropriate for children. Dr. Krausz is absolutely incredible and makes what could be a fearful situation as smooth and enjoyable as possible. My kids LOVE going and look forward to it. So happy to have this office as part of our lives, makes parenting a little easier!

We highly recommend taking your child or children to The Center for Pediatric Dental Care! We have four kids from ages 6-13 and have done cleanings, teeth extractions, cavity fillings and have even used the service of the orthodontist team. From the office administration to hygienists to dental assistants, dentists and orthodontists I can say that they are all amazing! They are the most compassionate team that I have ever experienced in a medical practice. From the moment you walk in they put your kids at ease. They talk them through everything in such a loving and supportive way. If you are looking for a qualified dentist or orthodontist this is the practice for you and your kids!

Authorize your self with either of these to view contact details, your information will not be shared to any one
Newsletter Subscription for Virtuous Reviews LLP
One more step and you will be subscribed to our newsletters
We have sent you a verification mail on your email id, please verify it.