The Cherry Blossom Salon
#77 in USA
#35 in Atlanta
Wedding & Bridal Services
696 Somerset Terrace NE Atlanta, Ga 30306
Claim Listing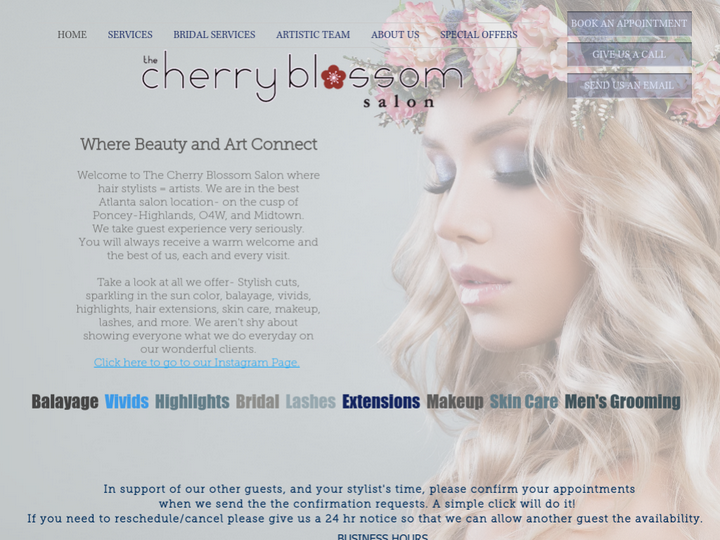 Review & Rating

I visited this salon for the first time this weekend. It has a great vibe and the staff all seem very welcoming. They seem to offer a variety of products and the services are reasonably priced.

I purposely asked for the most experienced person at the salon because I have very thick and long hair. The woman washed my hair then brought out a comb. Then proceeded to complain the entire time about how difficult my hair was being. I ended up combing it out myself (which I only ever use a paddle brush on my hair specifically because combs take too long). Then she got impatient and started drying before it was finished. Then charged me extra for my long hair. I don't mind paying extra for my hair as I know it's a lot. But to complain about it the entire time AFTER I called ahead and specified my needs and make me comb it out and still charge extra for a mediocre cut? Are you kidding. Definitely will not be going back.

Got an amazing hair cut by Samantha. All the staff members were so sweet. Great relaxing atmosphere and friendly people. I'll definitely go back :)

I've found my go to! It's just so sad that I live far away in another state and can't be here on the reg. Thank you Kathlyn for the amazing cut and color, the laughs and your sweet demeanor. Can't wait to come back again!

Kathlyn has never let me nor my hair down! I followed her to Cherry Blossom from a previous salon; some would consider that stalking, but I just simply couldn't resist her fantastic hair-styling skills. She is extremely creative and knowledgeable as well as fun and personable = the best combination! The atmosphere at Cherry Blossom is very eclectic and relaxing and they always offer me a glass of wine to help me relax even more. :) Lastly, they have various products for sale that are made locally, which is pretty awesome. I would definitely recommend Kathlyn if you go to Cherry Blossom! :)

The staff was so wonderful and attentive. I felt very taken care of during all phases of my hair cut and color. Ask for Sam. She is a wonderful artist.

MY HAIR IS PERFECT. I'm always a little warey going to a new stylist and since I've moved to Atlanta, I haven't had my hair done. I thought I'd have to try a few salons in the area but NOPE. Kai made my hair dreams come true and I will be back in a couple months for her to do it again. Edit: I recently switched to Aly and truly enjoy her also! I'm getting my hair done at the end of April and I really can't wait!

A stylist from another salon had ruined my hair. My hair ended up having browns, yellows, blues, greens, and browns in it. I decided to get it color corrected and cut by Samantha. I was nervous, but Samantha's work on my hair left me speechless. She turned my disastrous hair into a gorgeous work of perfection! She was nice, patient, and very helpful. I can't recommend her enough. I stepped out of the salon as an entirely different person, and I've gotten so many compliments already. The best stylist and experience I've ever had.

I was referred by a friend to Samantha. I couldn't be more pleased with my results. She is amazing and made me feel very comfortable when i decided to go with a much shorter style. While getting my awesome new do i decided to get waxed, by Hannah who was also very helpful getting my eyebrows back to a nice clean shape. I haven't felt this great in a while thanks to Samantha and Hannah Thank you so much.

Keirsta took me under her wing as a new client since my first appointment. She's helped me break out into something new... Something more than what I could usually explain with just a little true conversation. I appreciate how she explains every step of the process as we go. She always stops to take in my thoughts and possible inspirations of what I would be looking for. I am not very predictable and she keeps up with me! Thanks Kiersta!

My experience at Cherry Blossom was the best salon experience I've had. I got a cut with Samantha and I felt that she really cared about my hair and how I feel each day about it. I also had my eyebrows done with Hannah and she did a perfect job. With both the stylist and the estitician, I felt very cared for. I'm looking forward to the color I scheduled with Sam and the facial I scheduled with Hannah! I also want to add that the atmosphere was so comfortable and there was none of that dreaded small talk at the first appointment. Both Sam and Hannah were easy to talk to and very down to earth.

Highly recommend visiting Cherry Blossom Salon! Chris is super talented and easy to talk to. He is very thorough and makes sure he understands your vision. All the stylists will make you feel right at home. They will work with you and make sure you are happy. If you are looking for a laid back salon with welcoming, cool stylists then Cherry Blossom is for you.

Authorize your self with either of these to view contact details, your information will not be shared to any one
Newsletter Subscription for Virtuous Reviews LLP
One more step and you will be subscribed to our newsletters
We have sent you a verification mail on your email id, please verify it.