Hotel del Coronado
#90 in USA
#18 in San Diego
Beach Hotels
1500 Orange Ave, Coronado, CA 92118 USA
Claim Listing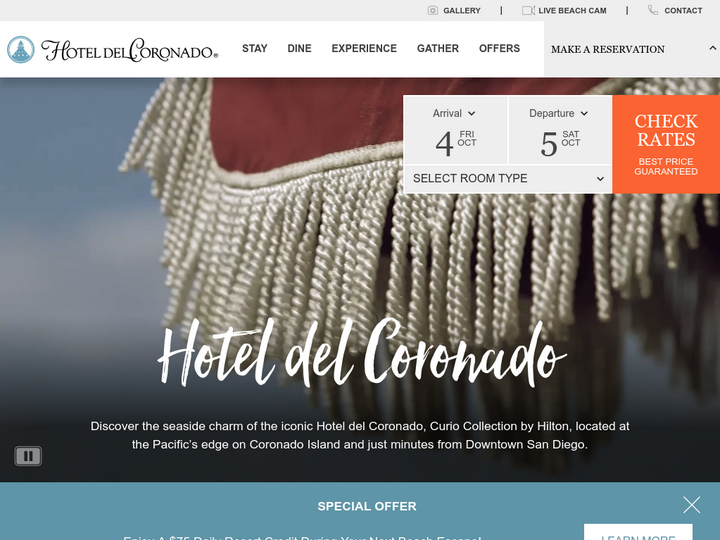 Company Description
HOTEL DEL CORONADO, SAN DIEGO'S LEGENDARY OCEANFRONT BEACH RESORT, HAS BEEN CAPTIVATING IMAGINATIONS FOR OVER 130 YEARS.
Review & Rating

This place has a beautiful view of the ocean and the lounge itself is amazing. Although the bar is open, table service doesn't start until 1130. Additionally the food is good but nothing exceptional. For lunch two orders of fish tacos and 4 beers created a $140!tab. So it's not cheap. You pay for a view I suppose. I suggest lunch elsewhere and a walk on the beach after.

Staying at the Del has been on my bucket list for years. My husband booked 2 nights for us in the historic section of the hotel for my birthday. We were expecting a charming old world experience. I have never been so disappointed, our room was devoid of any charm at all. However, we did have a lovely view of the courtyard gardens and I was able to take the history tour with the hotel historian, which helped to ease the disappointment of our sterile room experience. The hotel elevator operators were kind and helpful as were the valets. Unfortunately one of the women working the check in desk was rude to us, I assumed she was having a bad day and didn't think much about it, but every time I walked past the desk, she was being rude to someone else. She needs an attitude adjustment or a different line of work. It was a memorable experience, just not in the way we'd hoped.

I stayed here once for a work conference and it was incredible. It's old school California at its best. You're right on the beach which is massive. In the winter they set up an ice skating rink facing the beach. It's so unique! ……

A San Diego institution with rich history, 'The Del' has been hosting royalty, politicians and celebrities since the Victorian era, with good reason, too. This beautiful hotel right on the beach offers superior service, charming decor and world-class dining all in one location. Enjoy brunch at Sheerwater, stroll along one of San Diego's best beaches, and dine in style at 1500 Ocean. Sunday brunch in the Crown Room is a feast for the eyes and the palate. Located on Coronado, you can hop on a ferry to go downtown, or simply choose to spend your stay on the 'island'.

Park off premises since they are doing construction on the property and parking is valet only. Great places to walk around and visit. We didn't stay there, but getting around was easy. Just make sure to stay in the common areas since it's easy to go out a door and not be allowed back in without a room key.

Highly recommended. Rooms are clean and bed are comfy. Fridge and microwave is a plus. Free parking was also a plus. Bathroom size was good. I like that they have beach towels in the room already. My favorite was the rooftop and easy access of the beach. It's also nice that they have swimming pool cause most hotels that are right by the beach doesn't have it. The AC was a plus cause there are hotels that doesn't have it because it's San Diego. This is one of my favorite hotel even though It's hard to book a room.

Visited the hotel, did not stay. So beautiful! Love the history. I wanted to take pictures of the crown-shaped chandeliers in the dining room that is for guests only. I asked a staff member if I could go in quickly to take a few pictures, and they kindly let me. Would love to stay here someday. We parked on the street a couple blocks away. There was plenty of parking in the morning, but after walking around awhile, the spaces filled up! There's some bathrooms available, which I certainly appreciated. Very clean.

The Hotel Del is a majestic luxury resort hotel on Coronado island. Its location on a spectacular beach is unbeatable and the amenities on property leave nothing to be desired. Yes, the hotel is over 130 years old, so rooms in the main ……

A little bit of heaven on planet earth. Wow! Also, I would love to give a BIG thanks to the lovely front desk lady, Christina. She was fabulous. I had a small issue checking in but how she handled it was amazing. I truly appreciate her customer service. Hotel Del Coronado Management, please have some words with her.

After Hilton finishes their restoration / repairs, this will be the best spot in Coronado! It's kind of a mess right now with the construction, but still worth it. Warning: currently valet ONLY. We enjoyed walking out the door and immediately being on the walkway / beach. There are plenty of food options within the hotel area (tend to be pricier) and way more to walk to. San Diego is just a quick jaunt back over the bridge, with quick access to everything downtown. Loved it, would love to come back.

Authorize your self with either of these to view contact details, your information will not be shared to any one
Newsletter Subscription for Virtuous Reviews LLP
One more step and you will be subscribed to our newsletters
We have sent you a verification mail on your email id, please verify it.